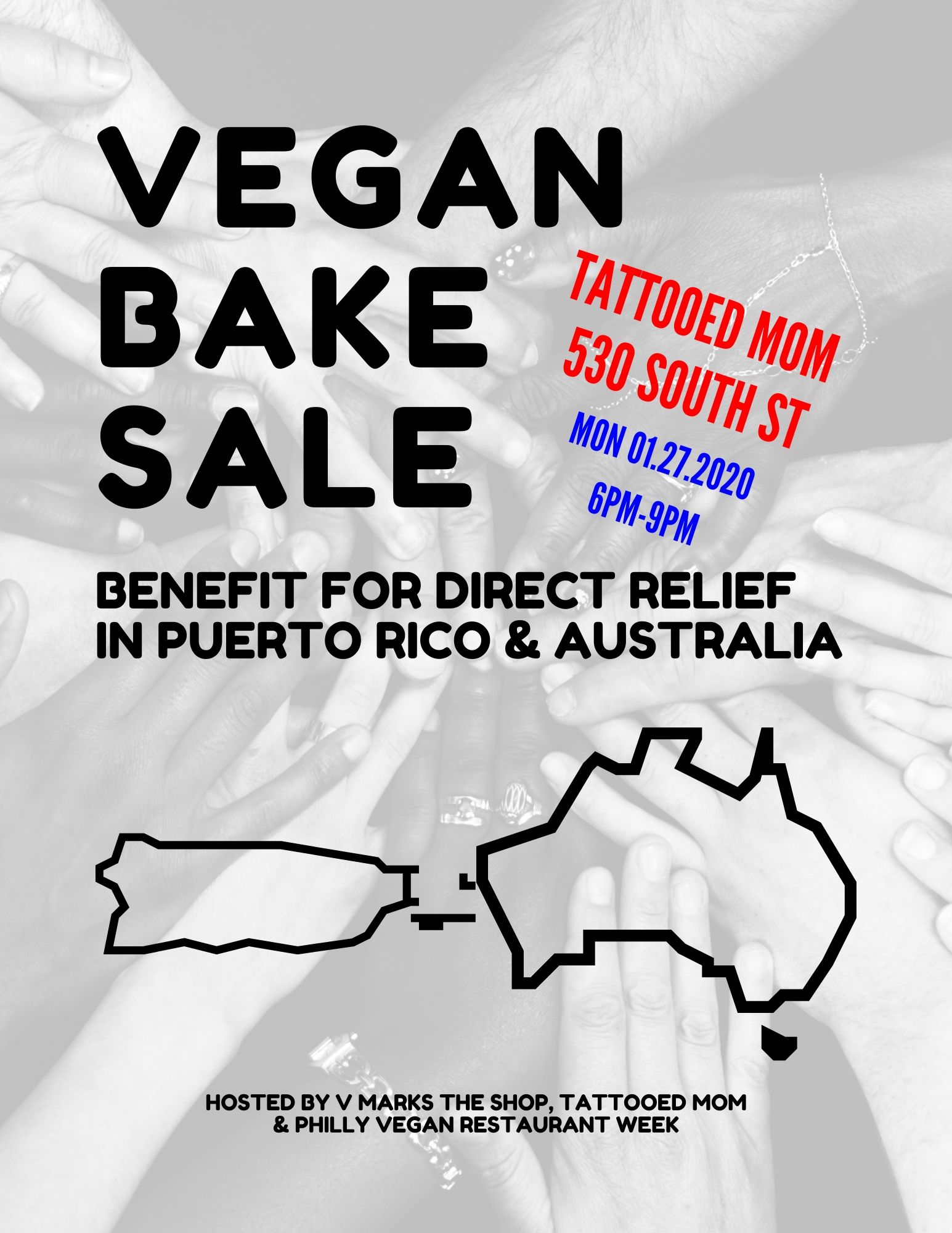 Please join V Marks the Shop, Tattooed Mom & Philly Vegan Restaurant Week for a VEGAN BAKE SALE to benefit those impacted by the earthquakes in Puerto Rico and the wildfires in Australia!
UPSTAIRS AT TATTOOED MOM // FRONT ROOM
MUST BE 21+ w/ VALID ID
FREE TO ATTEND, ALL ARE WELCOME
100% of the baked goods sold will be donated to Direct Relief, an international organization whose mission is to provide medical aid and support to those who most need it, especially in times of natural disasters and emergencies with no questions asked.
SEEKING VOLUNTEERS! If you'd like to bake or just want to help us set-up, we'd appreciate your support! Please sign up with this link.
LOCAL BUSINESSES! If you'd like to make a donation of baked goods, raffle prizes, etc., please reach out to Carmella at [email protected]!
ABOUT DIRECT RELIEF
Direct Relief is a humanitarian aid organization, active in all 50 states and more than 80 countries, with a mission to improve the health and lives of people affected by poverty or emergencies – without regard to politics, religion, or ability to pay. Learn more here. Check out Direct Relief on the Charity Navigator.
Enjoy this event with our Meatless Monday specials:
1/2 off our full veggie menu noon-10pm
& half price drafts 5-7pm and 10-11pm
Join the Facebook Event and invite all your pals!