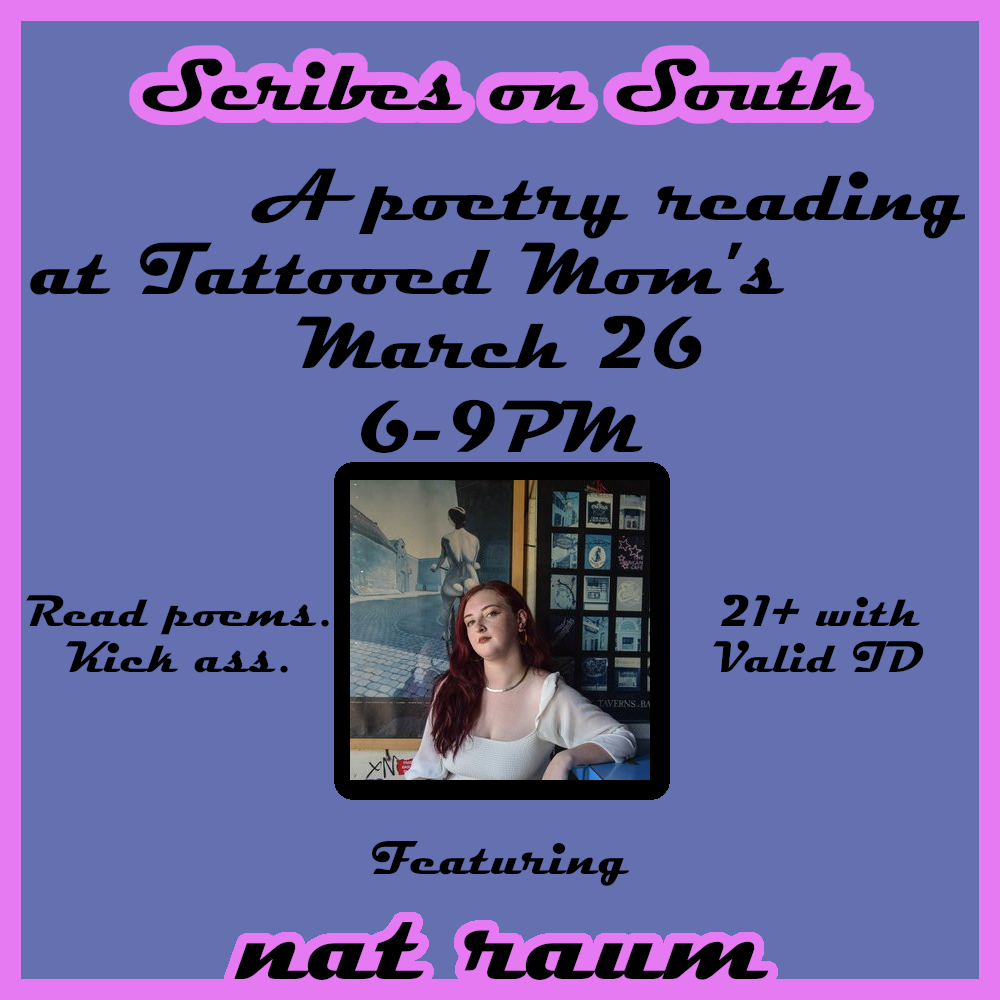 SCRIBES ON SOUTH is a poetry reading and open mic. The reading begins with a 20-minute featured reader and then moves through the open mic list for the rest of the night. Open mic readers have 5 minutes. There will be a space for poets to sell books.
SCRIBES ON SOUTH seeks to create community through poetry. Show out, share, and meet some new friends by sharing your work!
There is no theme; the only theme is poems. Good poems, bad poems, boring poems, fiery poems. The only rule is no snapping (it's distracting to the readers).
The reading is hosted by Noah David Roberts.
This reading's featured reader is nat raum.
Read poems. Kick ass.
SUNDAY, MARCH 26th
6-9PM
NO COVER // FREE FUN
ABOUT THE FEATURE:
nat raum (b. 1996) is a queer disabled artist and writer from Baltimore, MD. they graduated from the Maryland Institute College of Art in 2018 with a BFA in photography and book arts, and they are currently a second-year MFA candidate in creative writing & publishing arts at the University of Baltimore, where they also serve as the managing editor for the school's literary journal, Welter.
nat's creative practice centers primarily upon their lived experience with loss and sexual trauma and subsequent C-PTSD diagnosis, often taking the form of small-edition image/text books and zines. after over four years of working with an art therapist, their work has become an integral part of their healing process. recent projects have focused on performative femininity, queer escapism, gender transition and its relationship to ego death, and intimacy in the digital era.
nat's visual work has been exhibited at venues including the Museum of Human Achievement, ICA Baltimore, BlackRock Center for the Arts, and the Griffin Museum of Photography. past and upcoming publishers of their writing include Delicate Friend, trampset, perhappened, and corporeal lit. nat is the founder and editor-in-chief of fifth wheel press, a queer literature and art publishing space. they are also a member of the newly-revived Plork Press at UBalt.
ABOUT THE HOST:
Noah David Roberts is a non-binary poet and artist based in Philadelphia. They are the author of 4 books of poetry—Us V. Them, Strips, Slime Thing [and other poems], and Final Girl Mythos. In 2022, Roberts won the Judith Stark poetry writing contest. Their 5th book is forthcoming in 2023.
***
What's Up at TMoms:
• Craft Sundays at TMoms? BACK. Googly eyes? BACK. Coloring pages? BACK? Your creative spirit? BACK. Come thru every Sunday for FREE arts & crafts upstairs and downstairs at Tattooed Mom! Sundays, All Day Long.
• Enjoy our new happy hour! All drafts are just $4 every day from 4-6pm!
• Tattooed Mom will also be serving tasty eats and ice cold drinks all evening.
• Upstairs dining, bar access, and event entry is 21+ w/ valid ID.