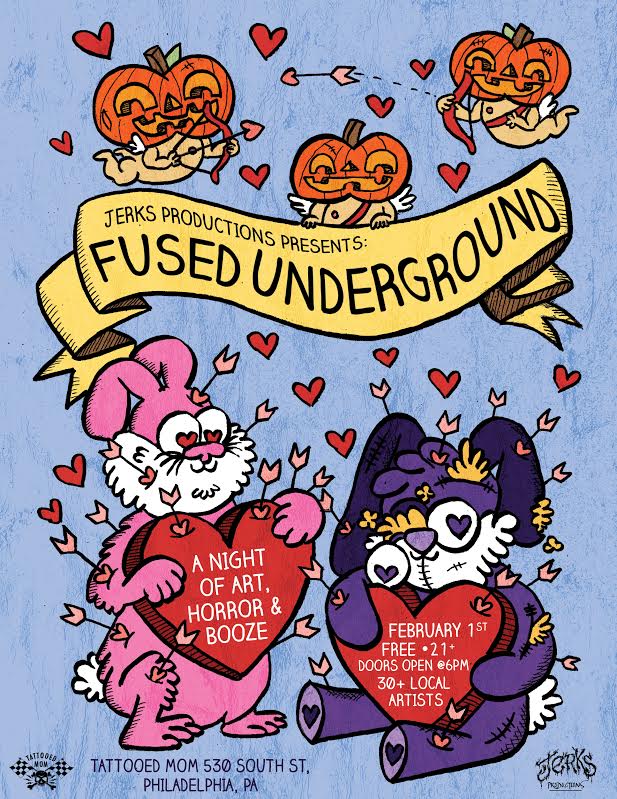 JERKS Productions brings you our giant group art show FUSED UNDERGROUND! As always they will be showcasing some of Philadelphia (and surrounding area)'s best local underground artists, so join us for a night of ART, HORROR & BOOZE!
Free fun! 21+!
Artists include:
Joe Giuliani
The Offbeat Artist
Mutantland Art
Stefani Laney
Kevyn Knox
Victoria Schwartz
Courtney Frank
Ivan Collich
Scott Michael
Bronwen Gale
Taylor Rudolph
Elisa Ferguson
Stephanie Stevenson
Katy Ruggiero
Conner Craig
Jaymes Fedor
Jeremy Petrachonis
Jesse Jaws
Liz Palo Art
Evan Ewan
Karolina Krukowska
Darker Arts Studio
The Philadelphia Secret Admirer
Necro FX
Katie Stahl
& MORE TBA!
Flyer by Nathan Hurst.
Enjoy this event with happy hour drafts from 5-7pm & 10-11pm
& a FUSED exclusive cocktail!
Join the Facebook Event and invite all your pals!