You Can't Fail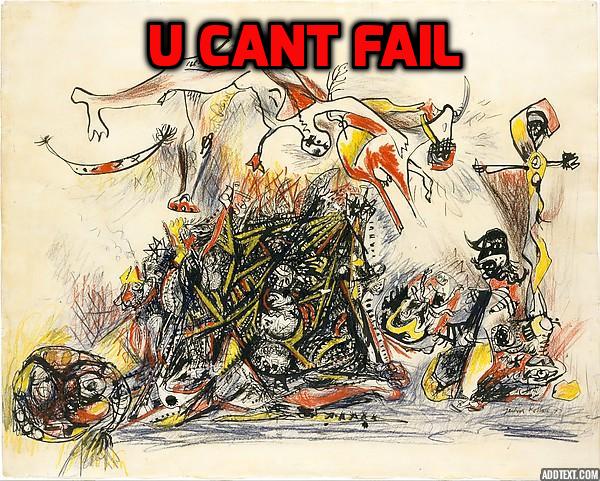 An evening of new works including: painting, photography, theater, dance, performance art, comedy, story-telling, poetry, prose, sculpture, ballet, film, stand-up, ANY and ALL art will be presented!  Whether you've performed before or not, 'professional' or 'amateur', YOU CAN'T FAIL!  Art presented at this event may be in-progress, a new idea, a favorite poem, a bedtime story, etc.
Scheduled performers will be presenting throughout the event.
Featuring the art of Kelly Campanile, Bobby McManus, Noah, and Steven Richard.
Performers for the evening (in no particular order):
Noah (poetry)
Sunita (poetry)
Emma Goidel (play excerpt)
Jenson (performance)
Hallie rumsey-laserson (dance)
Steven Wright (performance)
Joshua Millhouse (stand-up comedy)
Simon the Cannibal (story-telling)
Liam Dougherty (spoken word)
Sarah Knittel (performance)
Alexandra Tatarvasky (performance)
Val Dunn (play excerpt)
Joy Taney (music)
Claire Elisse (music)
$4 Hamburgers & Vegan Burgers from noon-midnight
$2 Narragansett Lager Tall Boys all day
Half off all drafts 5-7 & 10-11pm
February Burger of the Month: Your choice of our signature all beef or veggie burger topped with flamin' hot Cheetos, spicy BBQ Ranch sauce & cheddar.  Available for a limited time every Burger Wednesday this month!