Events
Events List Navigation
July 2017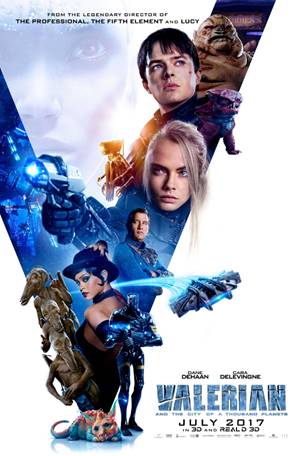 Join the party to celebrate the opening of Valerian and the City of a Thousand Planets on July 21!
Valerian and the City of a Thousand Planets is the visually spectacular new adventure film from LUC BESSON, the legendary director of The Professional, The Fifth Element, La Femme Nikita and Lucy. Based on the groundbreaking comic book series that inspired a generation of artists, writers and filmmakers comes a vision a lifetime in the making.
In the 28th century, Valerian (DANE DEHAAN) and Laureline (CARA DELEVINGNE) comprise a team of special operatives charged with maintaining order throughout the human territories. Under assignment from the Minister of Defense (HERBIE HANCOCK) the two embark on a mission to the astonishing city of Alpha — an ever-expanding metropolis where species from all over the universe have converged over centuries to share knowledge, intelligence and cultures with one another.
Free swag and film passes! FREE FUN!
$5 speciality cocktail, "The Valerian"
50¢ pierogi until 10pm
Half off all drafts 5-7 & 10-11pm
August 2017
Looking to book an event at Mom's?