Zanything + Zanax Present: ZANIACS // May 2023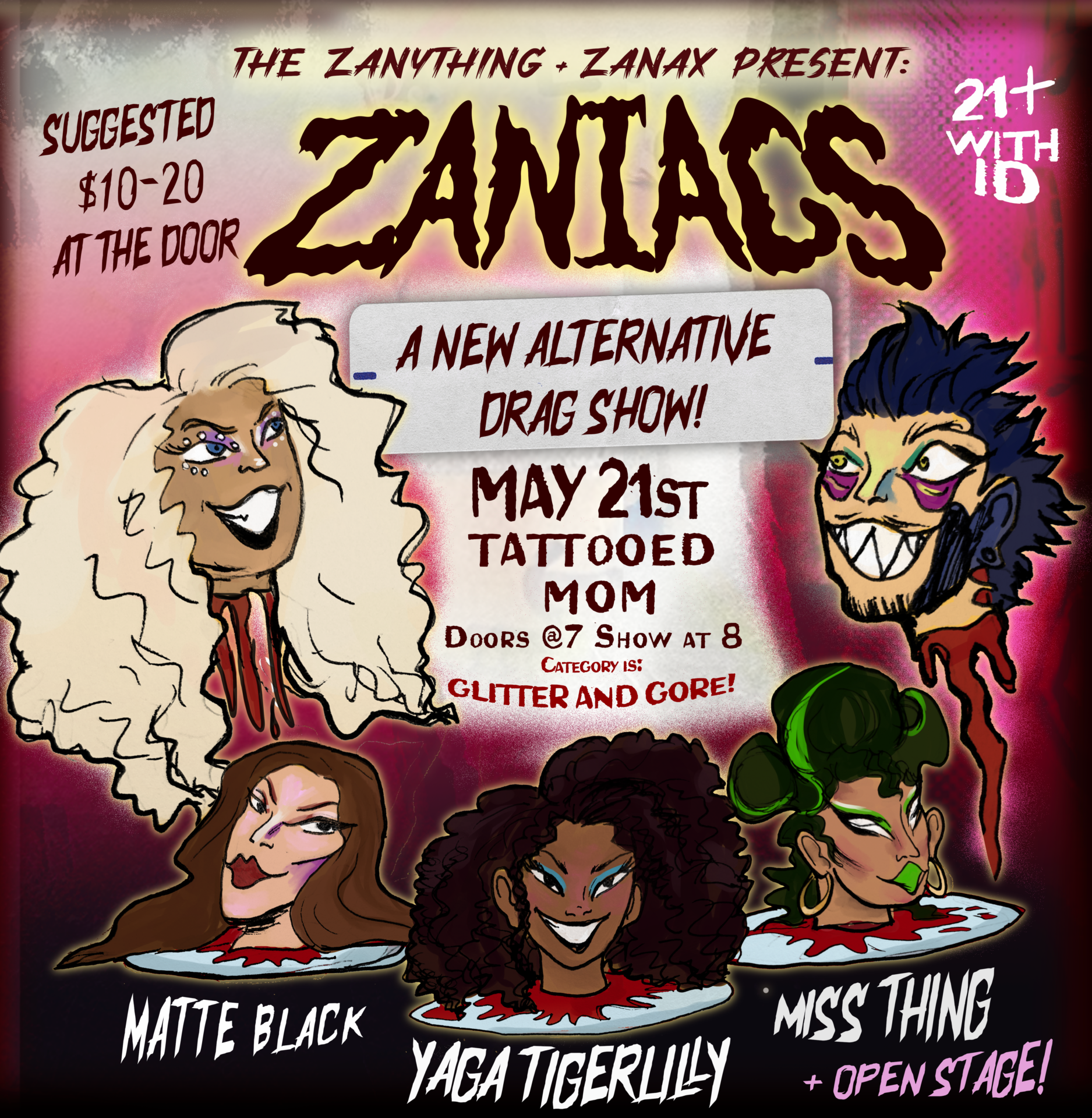 Everyone pop your ZANAX 💊 , things are about to get ZANY 🤪
Do you wish nightlife in Philly was freakier? Do you wanna see kings, queens, things, and in-betweens get FILTHY and WEIRD? Do you wanna see p!ss and bl00d and toes and hoes?? Then you've cum to the RIGHT PLACE.
Robot Drag King Zanax and Mx. Dragged Into 2022 The ZanyThing present ZANIACS! a brand new alternative drag show with featured artists from Philly & NYC AND an open stage!!! This month's theme: GLITTER AND GORE ✨ ✨ 🩸 🩸 🤮 😍 🤩 🗑️ 💎 💎 🥵 🥵 ✨ ✨
SUNDAY, MAY 21ST
7-9PM
$10-20 SUGGESTED DONATION | NOTAFLOF
RSVP: FB EVENT | EVENTBRITE
FEATURING:
ZANAX and THE ZANY THING as your hosts
XANA WHORIA
MATTE BLACK
and our NYC Guest & Kitten YAGA TIGERLILY
With SIX open-stage performers including
& MORE!
CW for stage blood, mess, gore, and more. Please DM @thezanything if you'd like more specific warnings!
LET'S GET GLAMOROUS GLITTERY AND GORY
***
What's Up at TMoms:
• Craft Sundays at TMoms? BACK. Googly eyes? BACK. Coloring pages? BACK? Your creative spirit? BACK. Come thru every Sunday for FREE arts & crafts upstairs and downstairs at Tattooed Mom! Sundays, All Day Long.
• Enjoy our new happy hour! All drafts are just $4 every day from 4-6pm!
• Tattooed Mom will also be serving tasty eats and ice cold drinks all evening.
• Upstairs dining, bar access, and event entry is 21+ w/ valid ID.