Turn Up the Trans*mission!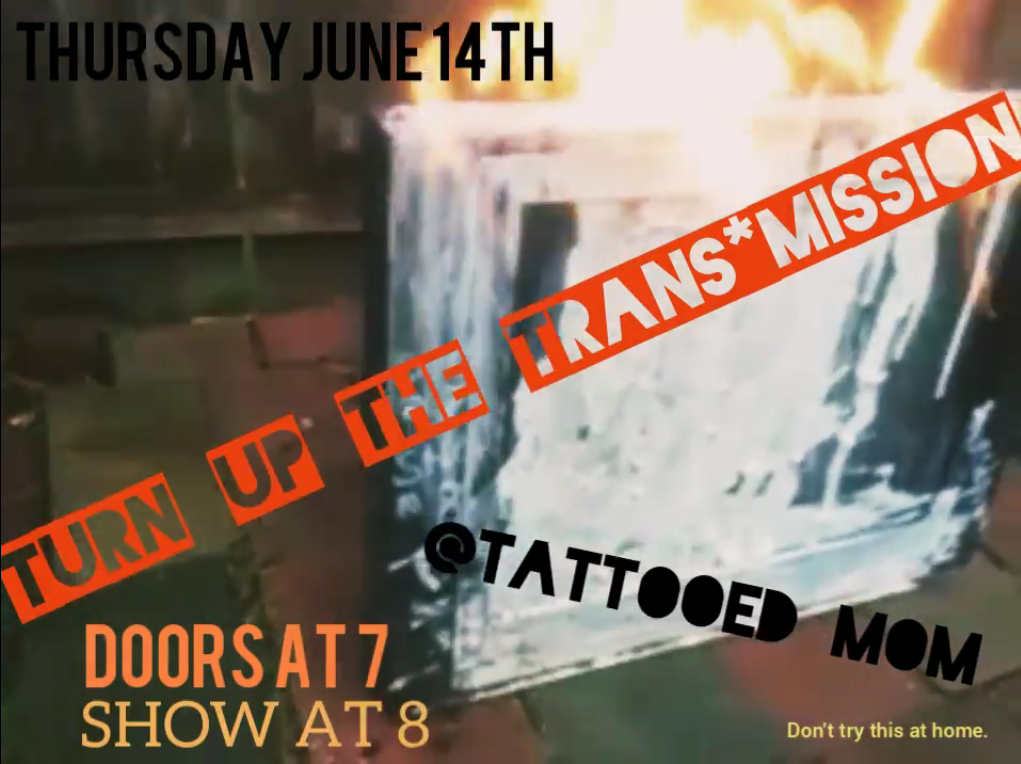 Scribble it down in your day planner, smash it into your google calendar, put a note on your fridge and/or ask some friend(s) if they wanna come with you, because deadb0y IX & Turn Up The Transmission are bringing their pre-summer showcase to TMOMs!
LINE UP:
Icon Ebony Fierce
Giselle Over
Luzifer Priest
Mercury Hg
Mysti Mew
Ron Binary
also:
deadb0y IX
Hosted by: Vyvyan Sassafrass
Doorpizza: Baked Pizza
Doors at 7, Show at 8.
Any donation benefits the performers (Suggested $5-$15)
Enjoy this event with TMOMs' Pierogi Thursday specials:
50¢ pierogi from noon-10pm
& half off all drafts 5-7pm and 10-11pm
Join the Facebook Event and invite all your pals!
**************************
The run-down:
Combining trans* advocacy with live performance, Turn Up the Trans*mission is a variety show with no equal. Including burlesque, drag, live-singing, spoken word, and other performance styles, this varied collection of artists has a purpose. Community building and visibility are two main goals of the show, and as such, all donations to our show go directly to the performers.
Turn Up the Trans*mission has featured local and visiting transgender and/or gender non-conforming artists, and strives to introduce new performers to their lineup every show.
Our performers rely on donations from viewers like you!
If you enjoy what you see, please show your support. Donations at the door and tips during the performance are welcome and go directly to the cast and crew.
**************************
Please note: ID Check, Accessibility and Bathrooms.
This event is at a bar and as such is 21+ with ID. There is a door person who will check your ID on the ground level before you enter, so please bring a valid/current photo ID such as a driver's license, state ID, or passport to ensure access.
There are several sets of stairs of varying length leading to the second floor and two short sets of stairs leading to the back room and the bar area on the second floor.
There are two bathrooms on the second floor. One is single-use/ private with a locking door which has a toilet, urinal and sink in it. The other has multiple stalls with toilets with a double sink and some mirrors. We put up signage notating the contents of the rooms on the bathrooms signs for the duration of our event.