Gender Queery: A Trans & Non-Binary Drag Show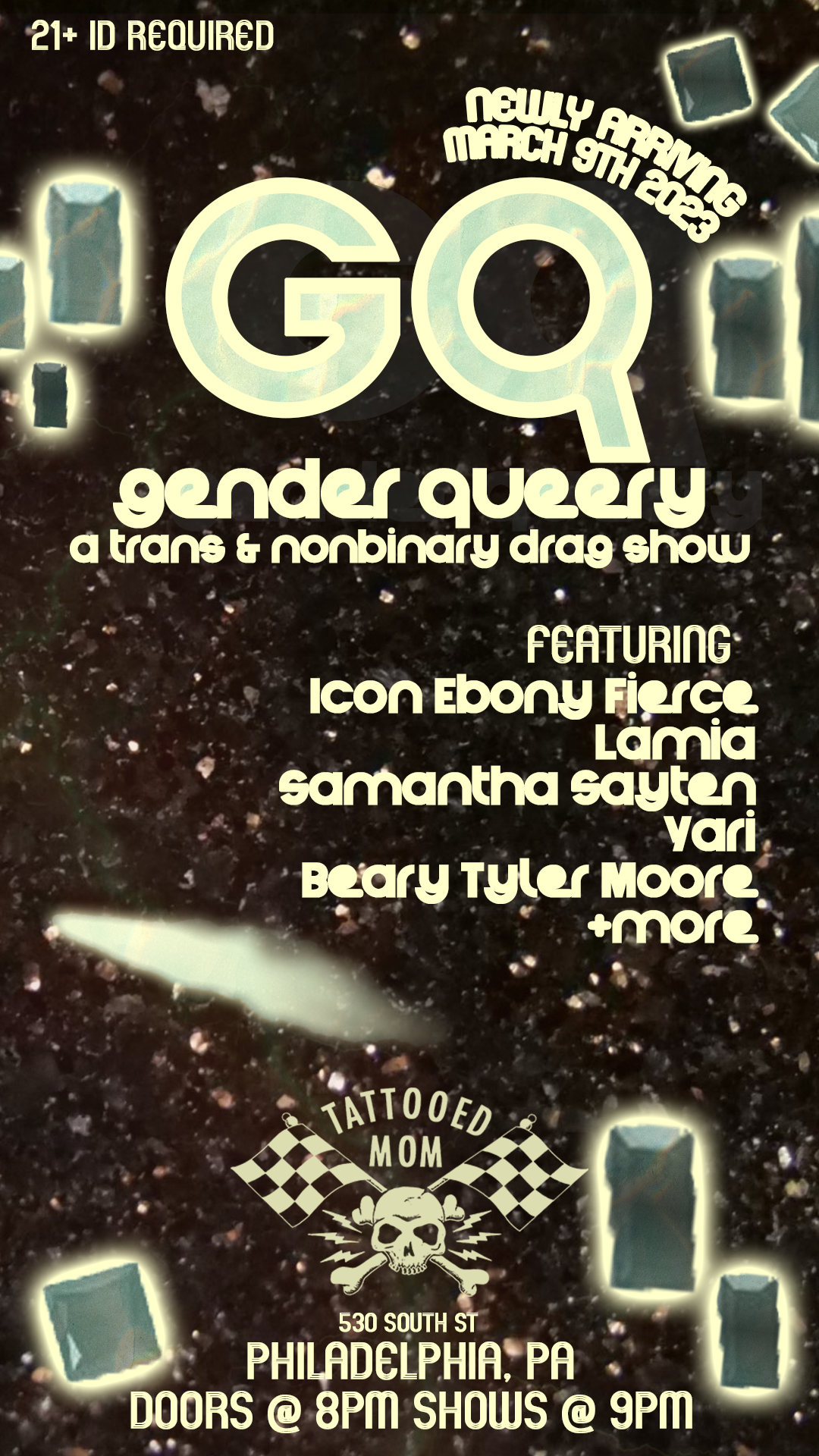 The babes who busted the binary are back once again to belay the treacheries of ignorance and judgement! After 3 years of steady growth and determination, the cast of Gender Queery returns to the stages of Philly at their new legendary South Street spot, Tattooed Mom! Witness the beauty of trans and nonbinary talent as presented through our own lens. Hosted by Lamia The Cursed Queen and featuring the talents of transgender and gender nonconforming drag and performance artists in the city of Philadelphia.
Enjoy a drag show with draft beers and vegan and non vegan delights! Immerse yourself in an accepting and open atmosphere with other artists, allies, LGBTQ+ people and other locals and travelers, alike. Show your love for a community of various talents and backgrounds. Turn out and be you, and if that doesn't do, then be someone new! It's all up to you!
Seating is reserved for VIP ticket holders only, otherwise seating is on a first come first served basis and is not guaranteed with the purchase of a ticket.
THURSDAY, MARCH 9TH
DOORS @ 8PM + SHOW @ 9PM
NO COVER // FREE FUN
VIP SEATING $15 (ONLY AVAILABLE ONLINE): EVENTBRITE LINK COMING SOON
CAST:
LAMIA
YARI
BEARY TYLER MOORE
ICON EBONY FIERCE
SAMANTHA SAYTEN
***
What's Up at TMoms:
• All hail Pierogi Thursday! Munch and crunch on 75¢ pierogi (vegan, obvi) plus $3 cans of Tecate every Thursday!! And don't forget ur toppings… Thursdays, 4-11pm.
• Enjoy our new happy hour! All drafts are just $4 every day from 4-6pm!
• Tattooed Mom will also be serving tasty eats and ice cold drinks all evening.
• Upstairs dining, bar access, and event entry is 21+ w/ valid ID.