Whiz City Comedy Fest Preview: April 12th & 13th, 2019!
The Whiz City Comedy Festival Preview is a two-day comedy spectacular with live comedy performances at Tattooed Mom, MilkBoy South Street, and South Street Cinema, brought to you by the folks behind Tattooed Momedy & Laughs On Philly!
Enjoy the festival with the Tattooed Mom Whiz City Special: 
$7 Mom's Classic or Mom's Vegan Cheesesteak & $2.50 Tecate!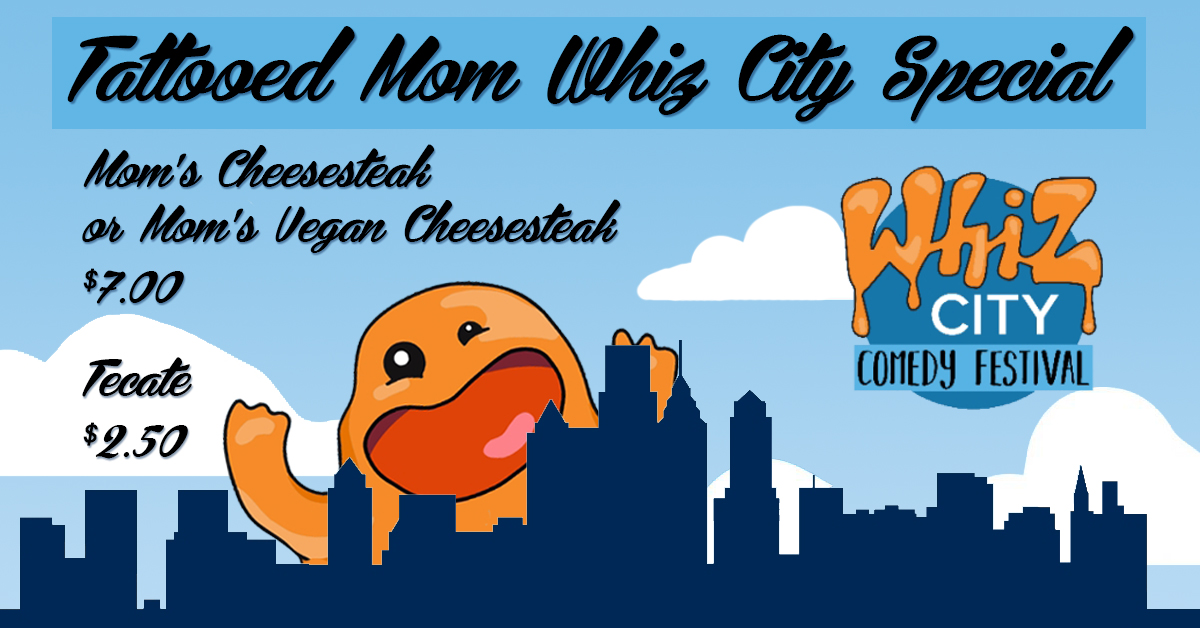 —
OPENING NIGHT AT TATTOOED MOM: April 12, 2019
UPSTAIRS BACK ROOM • FREE FUN • NO COVER • 21+
THE WHIZ CITY KICKOFF SHOWCASE 6:00PM – 7:00PM:
Our first show of the festival featuring a hilarious lineup of Philly's leading comedy talent.
Featuring:
Cassandra Dee
Sarah Bell
Che Guerrero
Oliver de Luz
Betty Smithsonian

DINNER AT MOM'S SHOWCASE 7:30PM – 8:30PM:
A showcase that will make your (Tattooed) Mom proud. Chow down on a Mom's cheesesteak — vegan options available!
Featuring:
Carolyn Busa
Michael S. Watkins
Megan Chialastri
Keane Cobb
Robert Ecks

TATTOOED MOMEDY SAMPLER 9:00PM – 10:00PM:
Get to know some of the best headliners of Tattooed Momedy—the monthly stand-up showcase at Tattooed Mom every last Tuesday of the month!
Featuring:
Lucas Connolly
Hannah Trav
Charles Blyzniuk
Alyssa Al-Dhooki
Alyssa Truszkowski
—
SATURDAY BRUNCH SHOWCASE: April 13, 2019
UPSTAIRS BACK ROOM • FREE FUN • NO COVER • 21+

LOP CREW SHOWCASE 1:00PM – 2:00PM:
Get brunch with the crew behind Tattooed Momedy, Laughs On Philly, and the Whiz City Comedy Festival because we do comedy, too!
Featuring:
Alejandro Morales
Eddie Finn
Michael Kelly
Maddie McLennon
Brandon Mitchell

MOM'S MIC 2:30PM – 3:30PM:
All this comedy making you want to give it a go? Cool! Come test your chops and be part of the festival at this special one-off open mic – 4-minute sets, lottery!
Featuring: Maybe you!

STAND-UP IS A DRAG 4:00PM – 5:00PM:
Half drag show, half stand-up showcase. What more do you need?
Featuring:
Alley Lightfoot
Megan Chialastri
Marrianne Beltle
Michael Kelly
Sarah Bell
—
Join the Facebook Event and invite all your pals!