Whiz City Comedy Festival Preview: Brunch Showcase!
The Whiz City Comedy Festival Preview is a two-day comedy spectacular with live comedy performances at Tattooed Mom, MilkBoy South Street, and South Street Cinema, brought to you by the folks behind Tattooed Momedy & Laughs On Philly!
BRUNCH SHOWCASE AT TATTOOED MOM: April 13, 2019
UPSTAIRS BACK ROOM • FREE FUN • NO COVER • 21+

LOP CREW SHOWCASE 1:00PM – 2:00PM:
Get brunch with the crew behind Tattooed Momedy, Laughs On Philly, and the Whiz City Comedy Festival because we do comedy, too!
Featuring:
Alejandro Morales
Eddie Finn
Michael Kelly
Maddie McLennon
Brandon Mitchell

MOM'S MIC 2:30PM – 3:30PM:
All this comedy making you want to give it a go? Cool! Come test your chops and be part of the festival at this special one-off open mic – 4-minute sets, lottery!
Featuring: Maybe you!

STAND-UP IS A DRAG 4:00PM – 5:00PM:
Half drag show, half stand-up showcase. What more do you need?
Featuring:
Alley Lightfoot
Megan Chialastri
Marrianne Beltle
Michael Kelly
Sarah Bell
Enjoy the festival with the Tattooed Mom Whiz City Special: 
$7 Mom's Classic or Mom's Vegan Cheesesteak & $2.50 Tecate!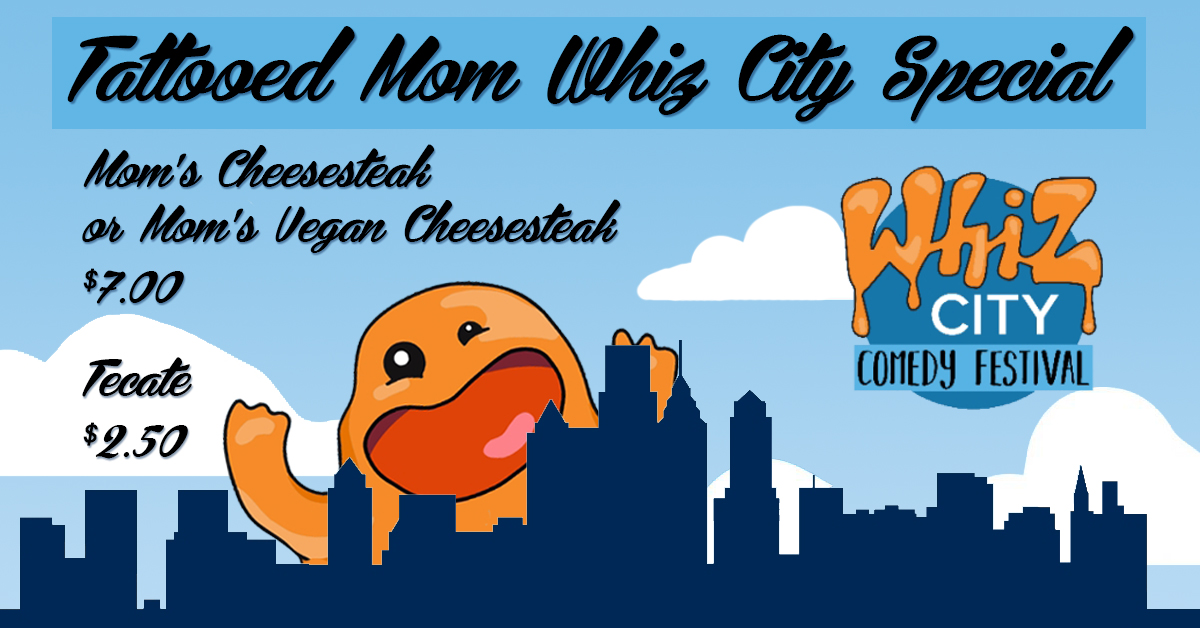 Want to see more from the Whiz City Comedy Festival? Check out their Opening Night Showcase at Tattooed Mom on Friday, April 12th!
Join the Facebook Event and invite all your pals!