Tire Fire Presents: Sparks, Campbell, & Graham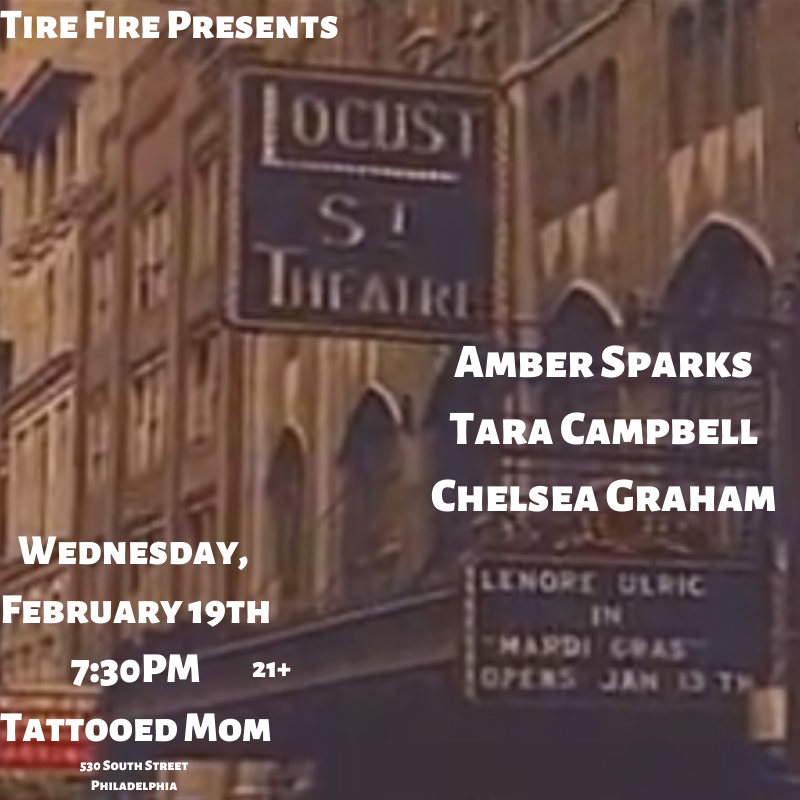 We've got a very special BURGER WEDNESDAY Tire Fire Readings for February, with our dear friends Amber Sparks, Tara Campbell, and Chelsea Graham.
Doors 7 // Reading 8
This month, we'll be donating our $ to the Women's Medical Fund, who protects and expands abortion access for low-income folks through direct service and advocacy. "We support those living in poverty who need abortion care today by providing counseling and emergency financial assistance. We support people in the future by working to expand and equalize access to abortion through lifting the insurance bans and eliminating other barriers."
Accessibility Note: Reading is upstairs and non-bumper car seating is limited, and tends to be first-come, first-serve. If you need assistance or accommodations, please let us know.
Enjoy this event with our Burger Wednesday specials:
$4 Mom's Beef Burgers & Mom's Vegan Burgers
$2 Narragansett Lager Tall Boys
a special Burger of the Month
& half price drafts 5-7pm and 10-11pm
Join the Facebook Event and invite all your pals!
***
AMBER SPARKS is the author of The Unfinished World and Other Stories, and the forthcoming And I Do Not Forgive You: Stories and Other Revenges. Her short fiction and essays appear all over the internet and in a few print publications, too. She's at @ambernoelle in internet life, and in Washington, DC, IRL.
TARA CAMPBELL is a writer, teacher, Kimbilio Fellow, and fiction editor at Barrelhouse. Prior publication credits include SmokeLong Quarterly, Masters Review, Jellyfish Review, Booth, and Strange Horizons. She's the author of a novel, TreeVolution, a hybrid fiction/poetry collection, Circe's Bicycle, and a short story collection, Midnight at the Organporium. She received her MFA from American University in 2019.
CHELSEA GRAHAM grew up in Michigan, lived a decade in Rome, and recently moved to Brooklyn. Her fiction has been published in Litro, The Stockholm Review of Literature, and Five on the Fifth. She holds an MSc in Sociology from the London School of Economics and a BA in Communication from the American University of Rome. Find her on Twitter at @neonanomaly.