Tire Fire Presents: Chau, Housley, McShea, & Jefferson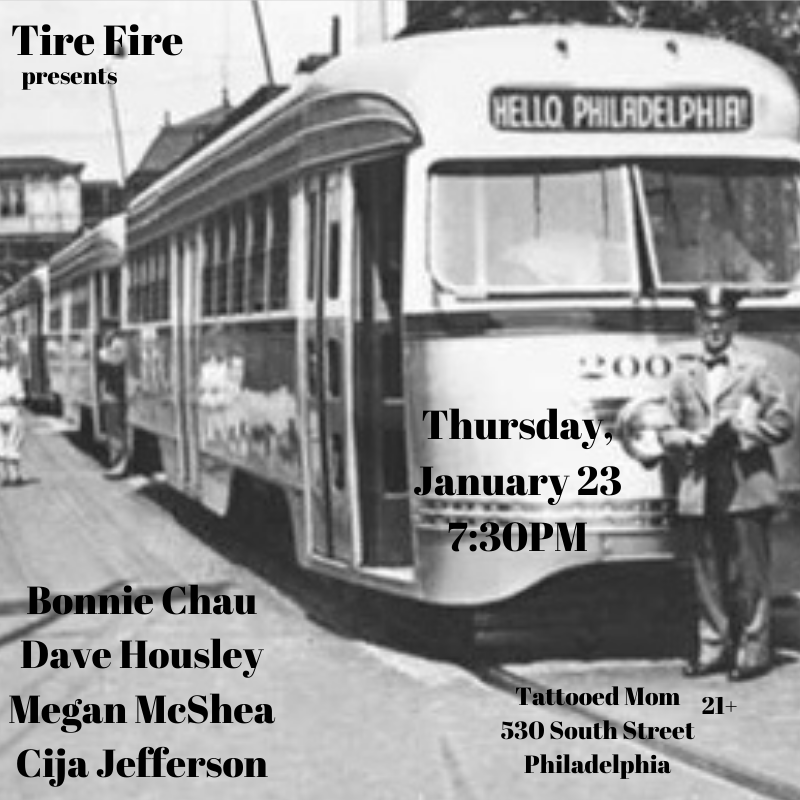 Tire Fire is starting 2020 off right — a few weeks in, amongst friends, with fried potatoes. Join us for readings from Bonnie Chau, Dave Housley, Megan McShea, & Cija A. Jefferson.
Doors 7 // Reading 8
This month, we'll be raising money for Spiral Q — an organization that "lives at the intersection of arts and social justice. Established in 1996, Spiral Q uses popular arts (parades, print, pageantry, puppets) to build an urban arts democracy rooted in principles of accessibility, inclusion, self-determination, collaboration, sustainability, and life long learning."
Accessibility Note: Reading is upstairs and non-bumper car seating is limited, and tends to be first-come, first-serve. If you need assistance or accommodations, please let us know.
Enjoy this event with our Pierogi Thursday specials:
50¢ pierogi from noon-10pm
& half off all drafts 5-7pm and 10-11pm
Join the Facebook Event and invite all your pals!
***
BONNIE CHAU is from Southern California, where she ran writing programs at the nonprofit 826LA. She received her MFA in fiction and translation from Columbia University. A Kundiman fellow, she works at an independent bookstore in Brooklyn and is associate web editor at Poets & Writers. She is the author of the short story collection All Roads Lead to Blood, published by SFWP/2040 Books.
DAVE HOUSLEY is a founding editor of Barrelhouse Magazine and a co-founder and organizer of the Conversations and Connections writers' conference. He is the author of the novel This Darkness Got to Give (Pandamoon, 2018), the short story collections Massive Cleansing Fire (Outpost 19, 2017), If I Knew the Way, I Would Take You Home (Dzanc, 2015), Commercial Fiction (Outpost 19, 2013), and Ryan Seacrest is Famous (Impetus Press, 2008), and the forthcoming novella, Howard and Charles at the Factory (Outpost 19, 2020).
MEGAN MCSHEA has published two chapbooks, Yarn! and Recipes for Greatness, and her work has appeared in On Earth as It Is, Topograph, Shattered Wig Review, SuperArrow and other journals and anthologies. She is a longtime member of a collaborative writing group that plays experimental writing games, and is currently working on an anthology of collaborative writing by the group called Ancient Party. Her books include STEEP IN THE BOIL (Publishing Genius Press, 2018), How to have a day (Ink Press Productions, 2015), and MOUNTAIN CITY OF TOAD SPLENDOR (Publishing Genius Press, 2013), and is the editor of Ancient Party: Collaborations in Baltimore 2000-2010 (self-published, 2014). She lives in Baltimore.
CIJA JEFFERSON is the author of Sonic Memories (and other essays). She is an academic advisor at MICA by day, a writer by night, and host of Writers & Words, a Baltimore reading series. Her work has been featured in multiple publications including Linden Avenue Literary Journal, Baltimore Style, Yellow Arrow Journal, The Conversation with Amanda de Cadenet, and HelloGiggles. She earned her M.F.A. in Creative Writing & Publishing Arts from University of Baltimore, and B.A. from Sarah Lawrence College. She is a pop-culture junkie who–when not watching copious amounts of Bravo and HBO–is reading and of course, writing.