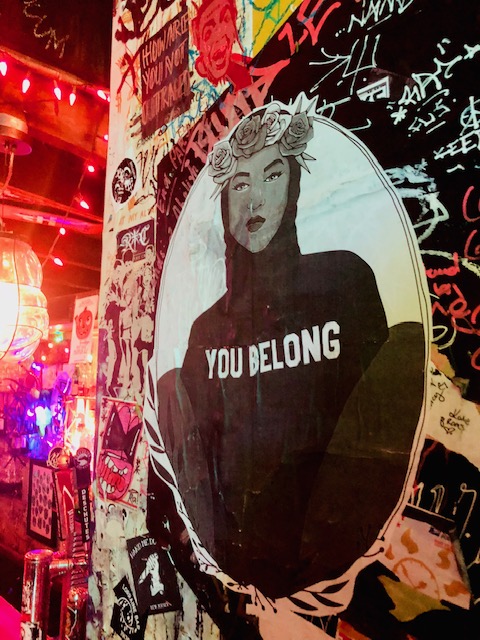 We're endlessly grateful to the countless incredible artists who make the beautiful chaos come to life here at Mom's. Over the last two decades we've been lucky enough to be a space for graffiti, wheatpaste, stencil, sticker, 3-D installation artists to share their work on the walls, floors, ceilings, and doors of our second floor space. And beyond the daily uncurated street art museum madness, we've been honored to work with many of these creative folks on art shows, specially commissioned projects, larger scale installations, limited edition tees, stickers, cards & more.
You can find a new masterpiece every time you walk up the stairs here. That sense of discovery is one of the biggest thrills we have being a part of Mom's. Here's a neat 13 of our 2018 art at Mom's highlights (in no particular order).
We ushered in 2018 with New Year's postcards by Leah Sabatelli. We loved her surrealist take on what was sure to be a supremely surrealist year. Leah also curated the Fever Dreams group art show here in November.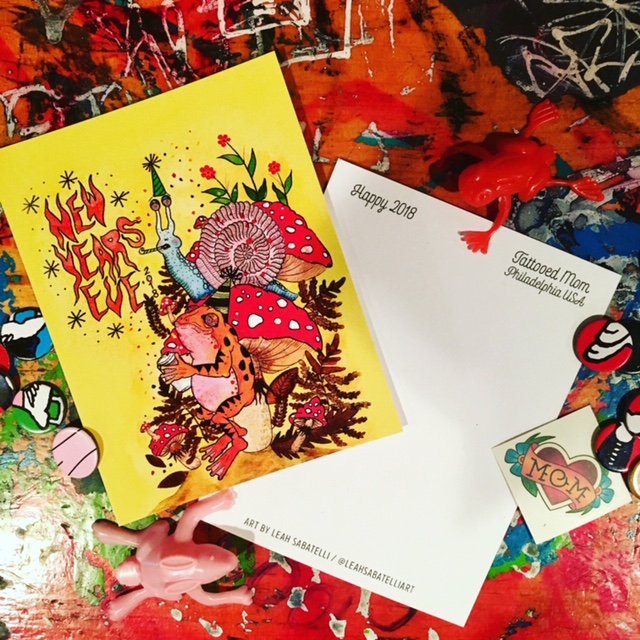 Hope Hummingbird's exquisite porcelain tile installations had us searching wikipedia more than a few times to learn about the lives of the women they so lovingly honored in installations. Her installation of Maud Stevens Wagner, the first known female tattoo artist in the U.S., found a place of honor downstairs here.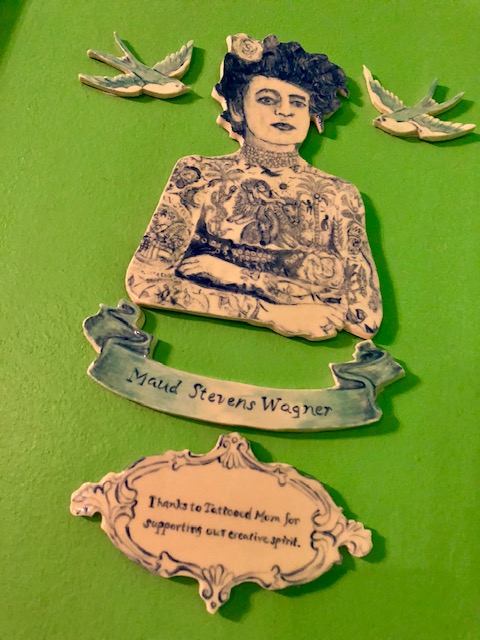 While our 100+ year old facade was being restored earlier this year, Perro, Dark Meal & KUR.STKULT joined forces to turn our scaffolding into a temporary outdoor gallery. We can't think of a better way to deal with the temporary inconvenience of renovation construction while showing off a bit of our inside magic to the outside world.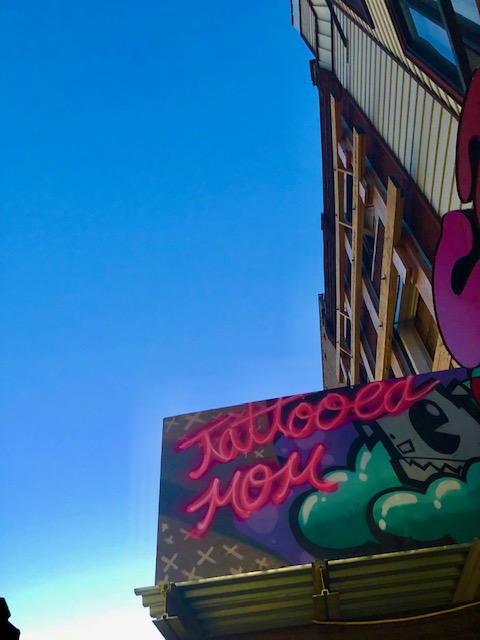 Speaking of taking the inside outdoors, our little back dining room alley has been transformed a few times over the years by artist in residence Anthony Kosiakowski. Two of the windows were revamped this year with a portrait of Kali and a mixed media collage wall from Chinese joss paper patterns. Keep an eye out for more of these ever evolving installations.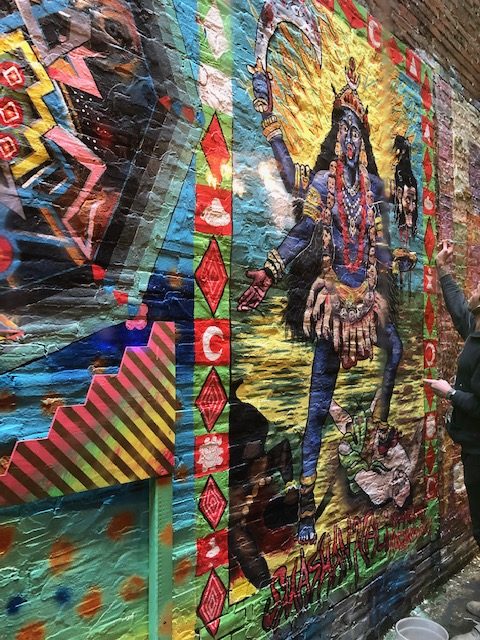 And along with the exterior building renovations, a section of the second floor front room also got a few fresh walls, a super rare occurrence in a space with 20 years of layers of art. Our crew came to the rescue in record time jumping off the fresh walls & ceilings with work from Bines, Septic, Bear 215, Kelly Campanile, Crisp, YOMI and more.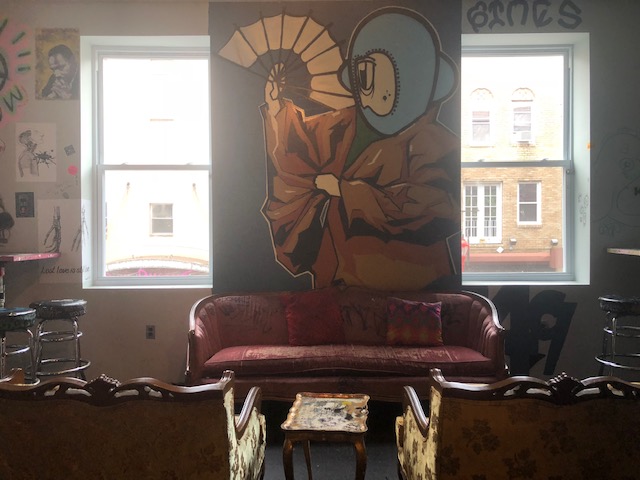 Our artist edition tee shirt series, started in 2017 to celebrate our 20th anniversary, continued into 2018 with two new works of wearable art. The legendary NTEL had a playful take on Tattooed Mom's history while paying tribute to classic Rock n' Roll style streetwear combined with modern graffiti influenced funk. And we closed out the year with our comic book artist crush Michael Sweater getting loud, fast & hungry with his TMoms tee shirt graphic.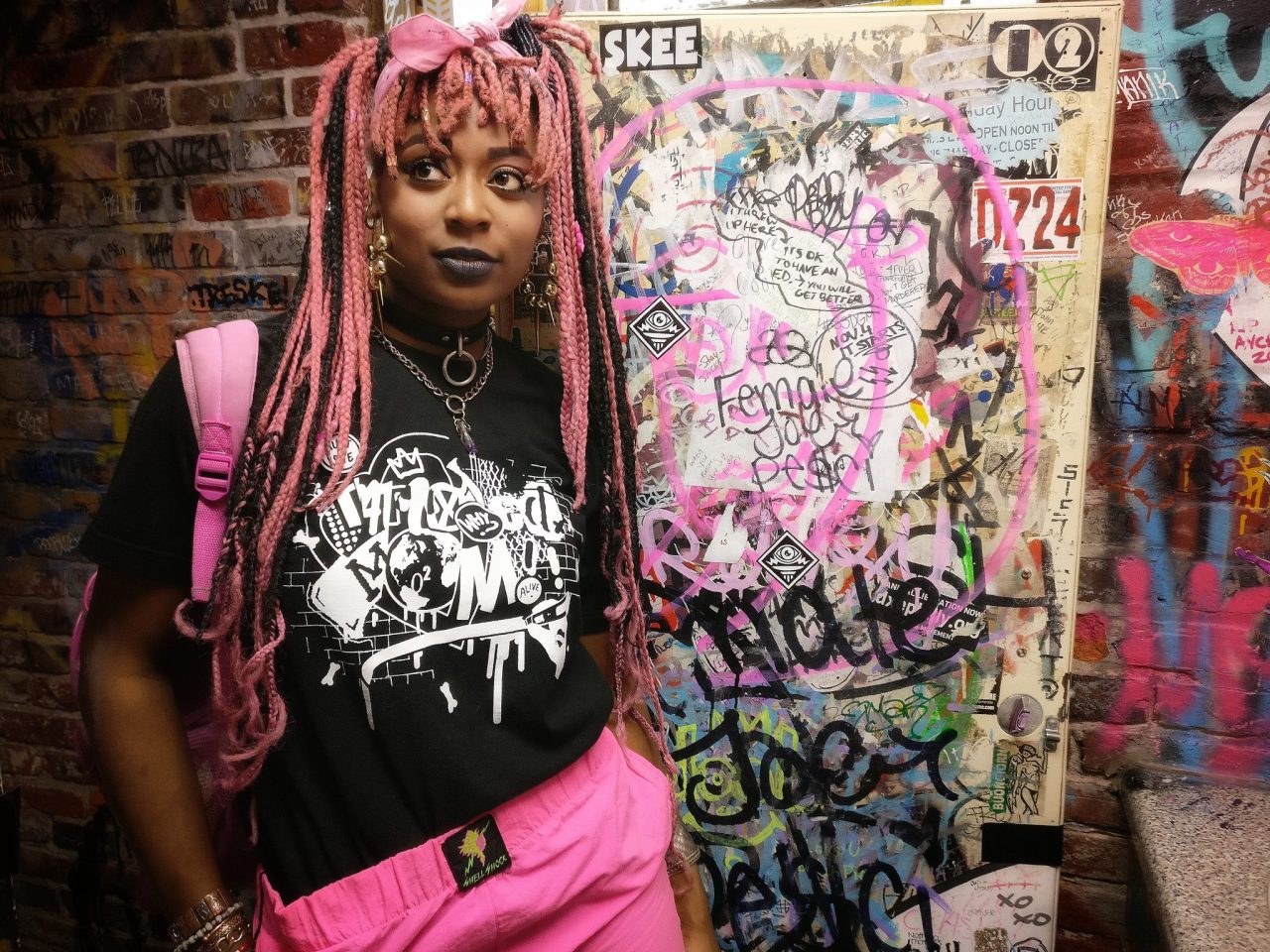 The South Street Spring Festival has given us a chance to share the great work of so many incredible makers in our big top art tent over the last 6 years. This year we spotlighted the work of the many talented creators that work at Mom's including Bear215, Raw Eyes, AntiDye and more. We also curated a street art photo booth for the festival with Yowie featuring installations by James Dream and Emily Brintnall.
We added a new piece to our small but mighty collection of Adam Wallacavage treasures with this Alice in Wackoland mirror. Filled with crazy cool details and candy coated color we've been perfecting our psychedelic selfie game in it all year.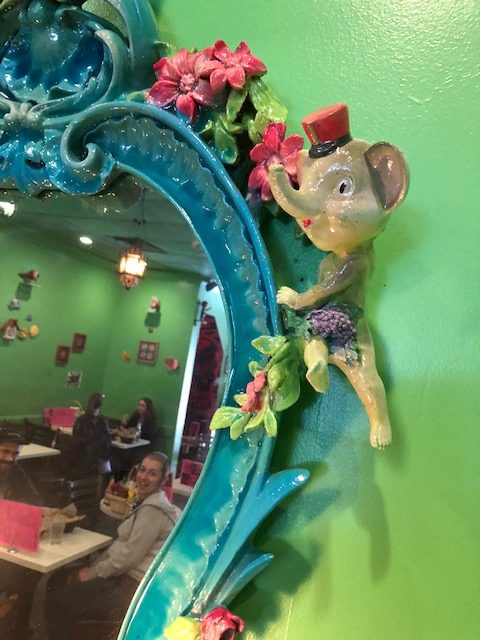 """""""""
Characters Welcome, our international sticker art show is our street art Christmas, Kwanzaa, Hannukah & New Year's rolled into one. 2018 celebrated it's 7th year with our biggest and best show ever, featuring fantastic sticker art from all over the world in support of youth arts programs at The Village of Arts & Humanities and Fleisher's Community Partnership in the Arts.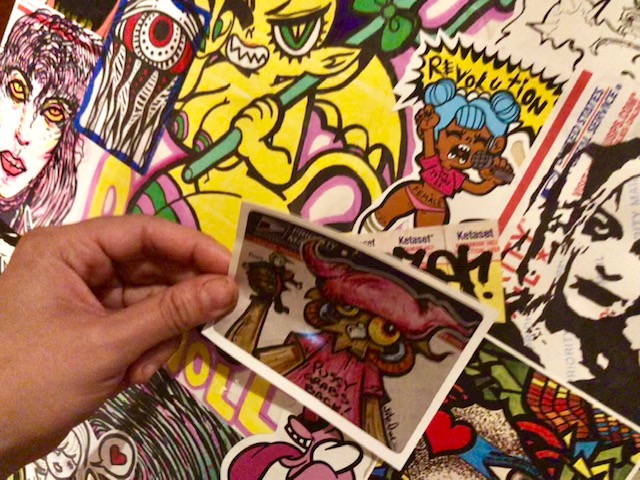 We've dreamed of having a stairway piece for a while and Lowlvl was at the top of our list when we finally got the chance. His "I Think We're Alone Now" steps are the bridge between the curated grandma on acid vibe of the first floor and the iconic street art museum chaos of the second floor. Tommy James / Lene Lovich / Tiffany / Girls Aloud – take your pick – the beating of our hearts is the ONLY sound.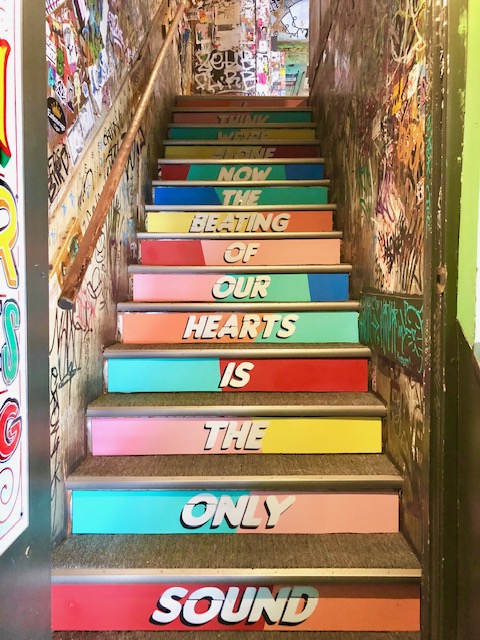 As 2018 slid into dystopian reality show horror, art provided resistance, power and hope. Seeing the work of so many strong voices, many of them making street art for the first time on the walls here, gave us a sense of solidarity in a belief for a kinder, more humane future. Big ups to MarisaVR, Taped Off TV, Joe Boruchow, Hysterical Men, YOMI, Lazy Beam, Indecline, Wantful Things, Velchevart and many others. We're honored to have your work here.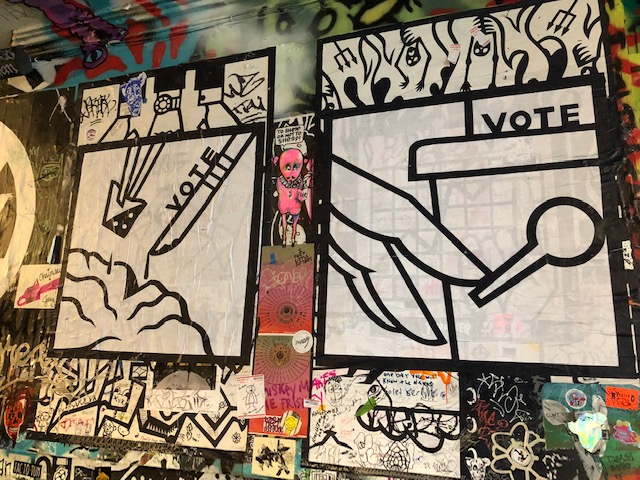 We love welcoming traveling artists to Mom's. This year we were so fortunate to see some old friends return while welcoming new folks to Philly and to Mom's. We've also had a chance to share the work of folks who haven't been able to visit in person yet. Love to Arrex, Dunzo, Wrdsmth, Hyland Mather, Kitska, Skam, I Will Not, My Dog Sighs, City Kitty, Pheobe NY, Crisp, Voxx, Olek, Scumby and so many more.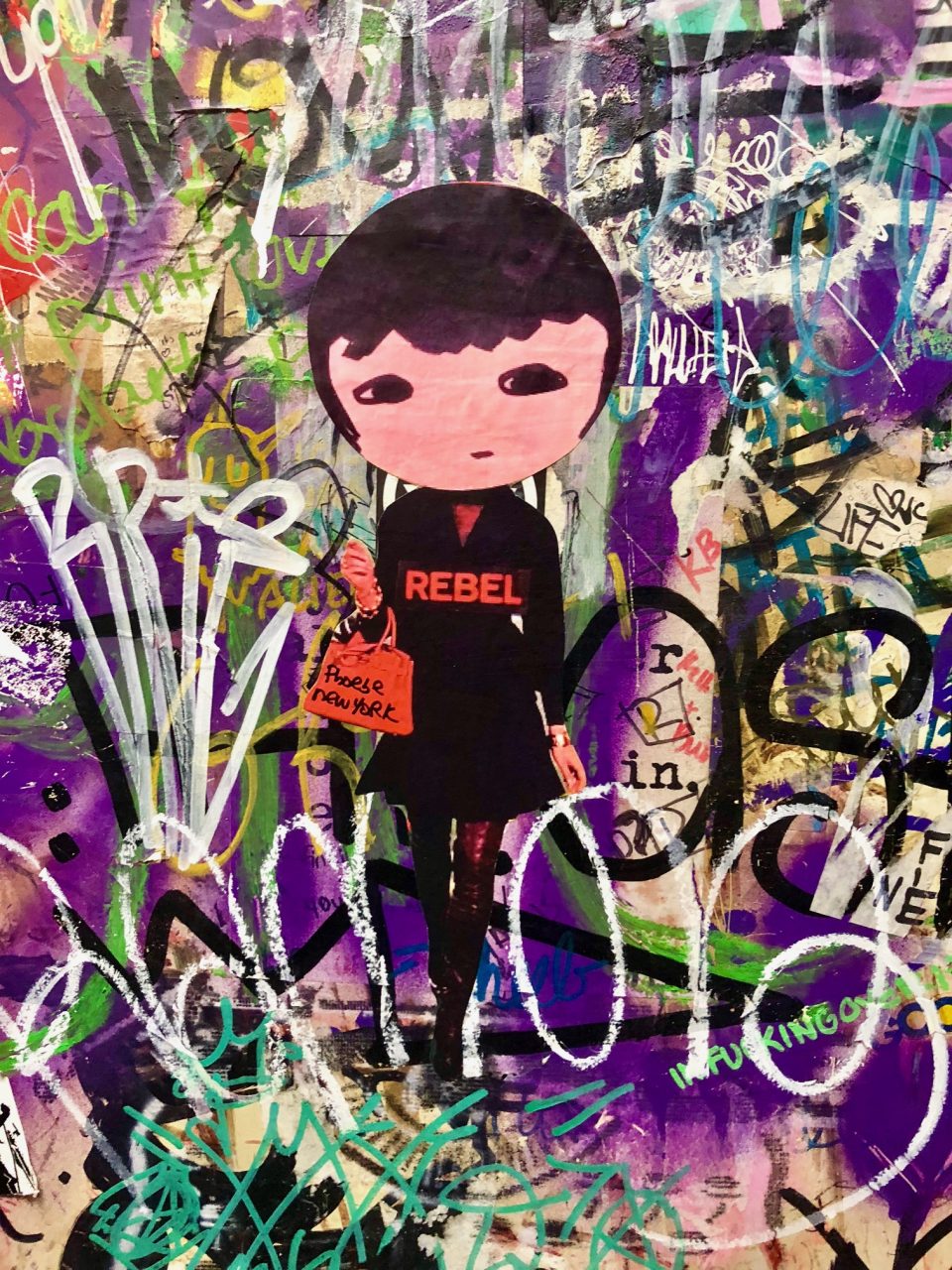 And finally, but not in the least less treasured, thanks to all of YOU who so generously add your stickers, tags, wheatpastes, stencils, fiber art, and more to the walls here.  We're also grateful to everyone who visits, photographs, enjoys and supports the work. And love to everyone who curates and produces art shows, pop up shops & creative events here (special shout out to Jerks Productions who celebrated their 5th year of the Fused Underground art show series at Mom's in 2018) . We're grateful to be surprised and delighted by new art every single day. We can't wait to see what 2019 brings to Tattooed Mom!