Tire Fire Presents: Gerard, Saul-Zerby, Crawford, & Trivedi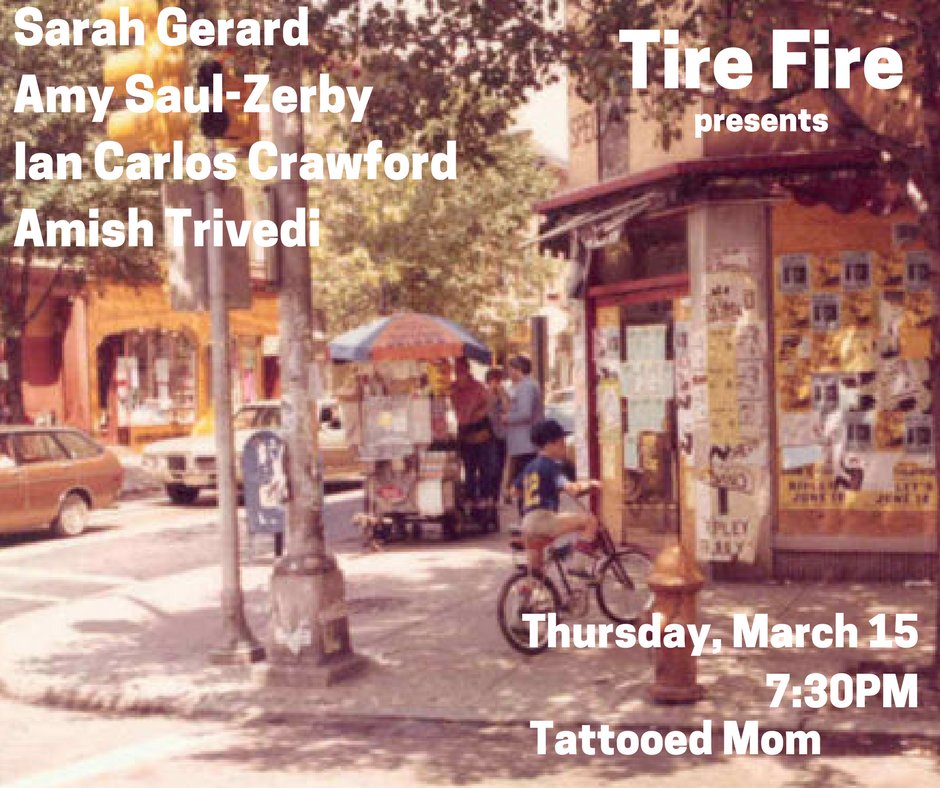 BEWARE THE IDES OF MARCH…Tire Fire is back with live readings from Sarah Gerard, Amy Saul-Zerby, Ian Carlos Crawford, and Amish Trivedi!
Donations will be collected for Prevention Point Philadelphia, an organization providing harm reduction services to Philadelphia and the surrounding area, and will be matched by TMoms!
Doors at 7, readings start around 8.
50¢ pierogi until 10pm
Half off all drafts 5-7 & 10-11pm
↓↓↓Read More!!↓↓↓

SARAH GERARD is the author of the essay collection Sunshine State, a New York Times critics' choice, the novel Binary Star, a finalist for the Los Angeles Times first fiction prize, and two chapbooks. Her short stories, essays, interviews, and criticism have appeared in The New York Times, Granta, The Baffler, Vice, BOMB Magazine, and other journals, as well as anthologies. Her paper collages have appeared in Hazlitt, BOMB Magazine, the Blue Earth Review, and Racquet & Tax, and have shown in Denver, Colorado, and Hudson, New York. Recycle, a book of collages and text co-authored with the writer and artist Amy Gall, is forthcoming from Pacific in 2018. She's been supported by fellowships and residencies from Yaddo, Tin House, PlatteForum, Ucross, and Pocoapoco. She writes a monthly column for Hazlitt and teaches writing in New York City.
AMY SAUL-ZERBY is a poet & writer based out of Philadelphia. Her first collection, Paper Flowers Imaginary Birds, was published by Be About It Press in 2017, and her second collection, Deep Camouflage, was published by Civil Coping Mechanisms in 2018. Her writing has been published in TheNewerYork, Painted Bride Quarterly, Spy Kids Review, Mad House, and Bedfellows Magazine. She is editor-in-chief of the spoken word-based publication Voicemail Poems, and a contributor at Fields Magazine & The Rumpus.
IAN CARLOS CRAWFORD grew up in southern New Jersey and, like most people from NJ, he graduated from Rutgers University. He then graduated from New School with an MFA in nonfiction writing. His writing can be found on sites like Geeks Out, BuzzFeed, NewNowNext, The Matthew Shepard Foundation, and other random corners of the internet. He currently co-hosts a podcast about his favorite thing, Buffy the Vampire Slayer, called Slayerfest 98 and is shopping around his fiction manuscript (you can view the book trailer here). Follow him on Twitter @ianxcarlos.
AMISH TRIVEDI mostly writes poems, is the author of Sound/Chest (Coven Press 2015), has an MFA from Brown and is currently working on a PhD in Critical Theory at Illinois State University. Poetry reviews are mostly in Sink Review and music reviews mostly in The Rumpus.