Spooky Poems 365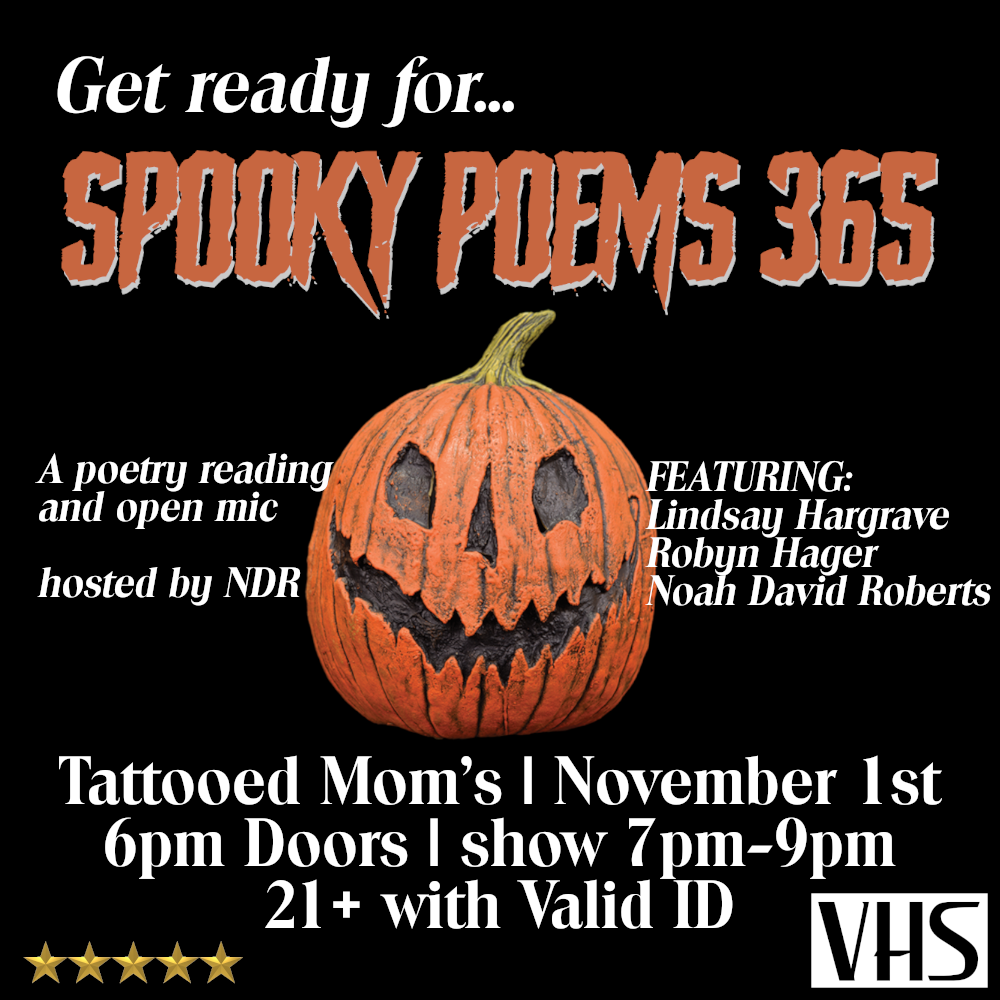 Spooky Poems 365 is titled as such because Halloween never leaves our hearts. A haunted poetry reading on the first of November. What's scarier—ghosts, or the thought that winter is coming?
The reading takes place at Tattooed Mom's from 6PM to 9PM. There are three featured readers, who will each read for 15 to 20 minutes. The featured readers will be followed by an open mic, hosted by Noah! Readers have 5 minutes to perform. Remember, the tone is spooky! Must be 21+ with valid ID to attend.
TUESDAY, NOVEMBER 1ST
DOORS @ 6PM + SHOW @ 7-9PM
NO COVER // FREE FUN
RSVP: FB EVENT
Featuring:
Lindsay Hargrave
Noah David Roberts
Robyn Hager
This event is obviously Halloween themed—but the idea came from Roberts' most recent book, Final Girl Mythos, which is a collections of poems inspired by classic slasher movies. Roberts watched all the source movies over the summer—including watching films like Halloween and Friday the 13 th for the first time—and got really into the spooky spirit. Halloween is always with us! That is why the event is titled Spooky Poems 365.
Tattooed Mom will be serving tasty eats and ice cold drinks all evening.
Upstairs dining, bar access, and event entry is 21+ w/ valid ID.
ABOUT THE FEATURES:
Lindsay Hargrave is a poet, one quarter of the improvised music group Oarsman, the author of a poetry column in the Philly Plain Dealer and a copywriter for Temple University. In 2022, Hargrave's
collection of poems "Rot" was released through Moonstone Press.
Noah David Roberts is a non-binary poet and artist based in Philadelphia, PA. Roberts has released 4 collections: Us v. Them, 2017, about the nature of sexual trauma and political violence; Strips, a divagation of the self, an endless ranting masterpiece; Slime Thing [and other poems], a scream of anti-capitalism and stream of frustrated proletariat consciousness; and Final Girl Mythos, inspired by classic 80s and 90s slasher movies. Since publication of their first book, Roberts has been published in Big Scream, Big Hammer, Tribes Magazine, Horror Sleaze Trash, and more. In 2021, Roberts placed in the Judith Stark poetry contest. You can find them on Instagram @the.apocalypse.poet and twitter @apocalypse_poet.
Robyn Hager grew up in Morris County, New Jersey before moving to the Hudson Valley in 2017. She pursued her passion for creative writing and the arts at SUNY New Paltz and graduated with her MA in Creative Writing in May 2022. Her first poetry collection, "Sewage Flowers", was published in the summer of 2019, and her work has also been published in the 2020 and 2021 editions of The Stonesthrow Review and the 2022 edition of The Shawangunk Review. She has edited for the 2021 edition of The Stonesthrow Review and is currently editing an anthology of work by her peers that is set to be published in the summer of 2022.
Details
Date:

November 1, 2022

Time:

6:00 pm - 9:00 pm

Event Category:

Event Tags:
Event Navigation