Patchworkculture Presents: NSFW 3 • A Group Art Show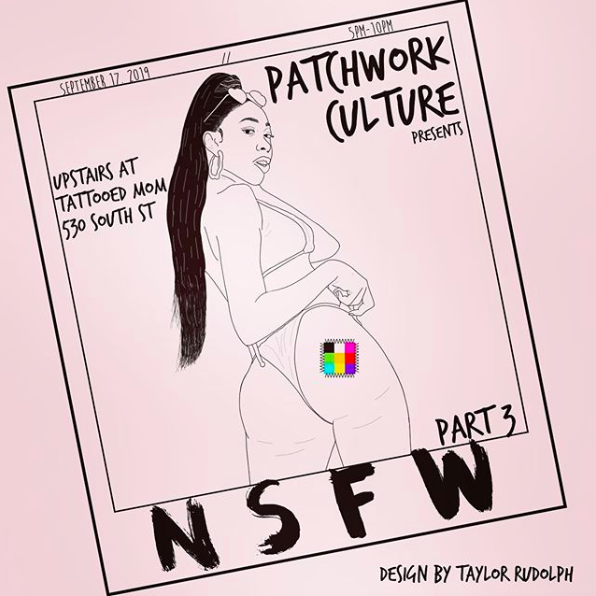 ** ADULTS ONLY ** MUST BE 21 OR OLDER **
Patchworkculture is bringing their indecent & arousing art show back to Tattooed Mom! NSFW 3 features a risqué roster of talented artists & creators whose work is guaranteed to titillate and excite you, so don't miss out on the chance to support local artists & stimulate your senses with a NOT SAFE FOR WORK evening!
Patchworkculture will also be accepting donations for The Evoluer House, a non-profit organization and mentoring program for girls.
FREE // 21+ // UPSTAIRS
Artists Include:
Raymond Rivera-Bovo
Julia Ditro
zipoffpants
demeshots
Grim Creaper
Lauren Rinaldi
Alex Smith
Marcelle O'Brien
Rell Stylez AKA Photo Picasso
Andrew C. Solari
taylorhub
Megan Elaine Wirick
Enjoy this event with our Taco Tuesday specials:
$1 Tacos
$2.50 Tecate
a special Taco of the Month,
& half price drafts 5-7pm and 10-11pm
Join the Facebook Event and invite all your 21+ pals!
***
More about Patchworkculture:
PATCHWORK Culture, LLC (PATCHWORK) is a networking and entertainment platform that curates events for urban artists in Philadelphia and the surrounding area. As advocates for the arts they carry out the mission to promote every genre and discipline–from vocal to graphic artists and fashion designers to sculptors, they connect artists to supporting patrons to market artists' talents and services; thus generating local revenue while highlighting lesser-known artists contributions. Since October 2018, PATCHWORK has hosted monthly events and created an inclusive and multicultural community that reflects the growing diversity of the Philadelphia region. Additionally, PATCHWORK supports youth programming that educates and uplifts urban students, and does so by donating funds directly to The Evoluer House, a non-profit organization and mentoring program for girls. PATCHWORK is dedicated to providing a platform for artists, create networking environments, and provide media coverage while supporting community growth within Philadelphia. For more information, check out their website and Instragram.