Jerks Productions Present: Nightmares and Dreamscapes, A Stephen King Inspired Art Show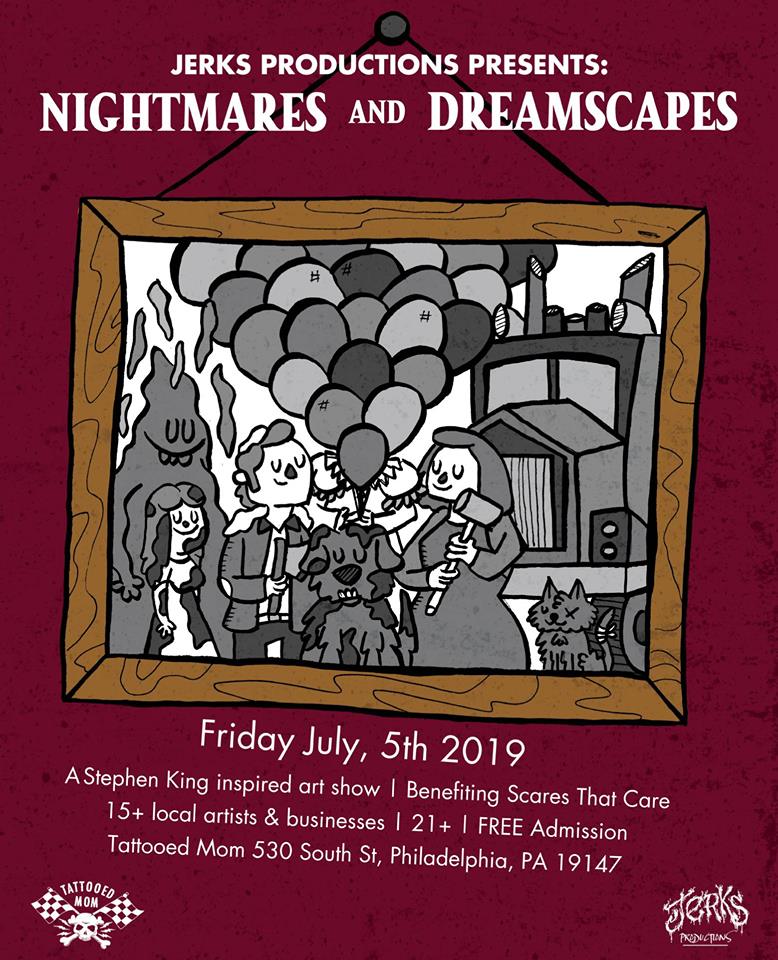 JERKS Productions is bringing Stephen King to the 2nd floor walls of Tattooed Mom! This themed First Friday art show series alternates months with their Fused Underground First Friday shows, and ALL OF THEM are hosted at Tattooed Mom. With the theme shows, JERKS aims to challenge artists to take a step out of their comfort zones & focus their work on new themes!
This July, JERKS is proud to present Nightmares and Dreamscapes: A Stephen King Inspired Art Show, celebrating the work of one of the greatest authors to have ever lived! Avoid MISERY—don't MIST out on this incredible, inspiring, SHINING art show! You won't regret IT!
JERKS will be raising money for Scares That Care, a volunteer charity that fights the REAL MONSTERS of childhood illness, burns and breast cancer by helping families that are experiencing these extraordinary hardships cope with the financial burden.
Submissions are still open!
JERKS welcome artists of all mediums and styles to create work celebrating Stephen King. Please send your submission and any questions to [email protected].
FREE // UPSTAIRS // 21+
Artists:
Rachel J. Friel
Cali Smith
Jessie Helm
Loren Shatz
Kaylie Minzola
Selene Nunez-cruz
Arlene Holsinger
Kristen Hlis
& MORE TBA!
Enjoy this event with happy hour drafts from 5-7pm & 10-11pm.
Join the Facebook Event and invite all your pals!