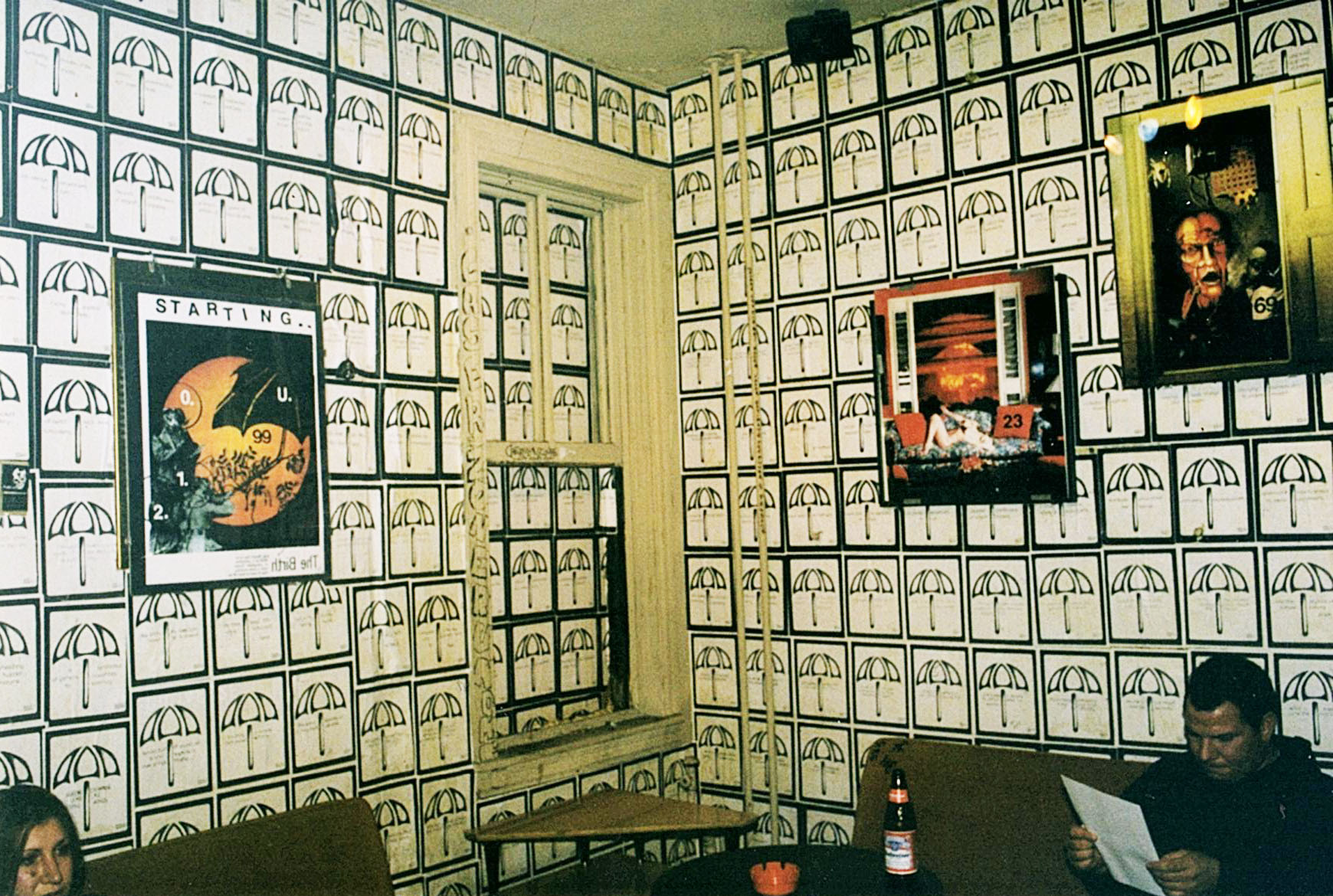 The birth of the upstairs as a vibrant art space is in part tied to a 1999 exhibition by brothers Noah & Nathan Rice. The walls were beginning to fill up with classic tags & stickers when the Brothers Rice brought their umbrella wheat pastes we'd been admiring around South Street to the front room upstairs. All 5000 of them. Here's a look back at that seminal show bridging the street & the gallery, parts of which you can still see today in the mix of layers of paint, paste and stickers.
We caught up with the Noah & Nathan after a recent trip back to Mom's & talked with them about art, late 90's Philly & umbrellas.
1999 was several lifetimes ago. Any fond memories of TMoms and Philly from
those days?
We first moved to Northeast Philly from Portland OR in 1999 having never been
to the east coast at all.  Nathan got a job at Tower Books on South Street and
shortly after we relocated to South Philly right past Washington.  Tmoms, the
Bean, Fluid, Pearl Paints, among many other places all became spots we began
to meet people, make friends, most of whom still remain today.  But Moms,
above all else was home base during those days.  It was gritty, rock-n- roll and
full of aspiring artists and of course a great place for playing pool and getting
tipsy.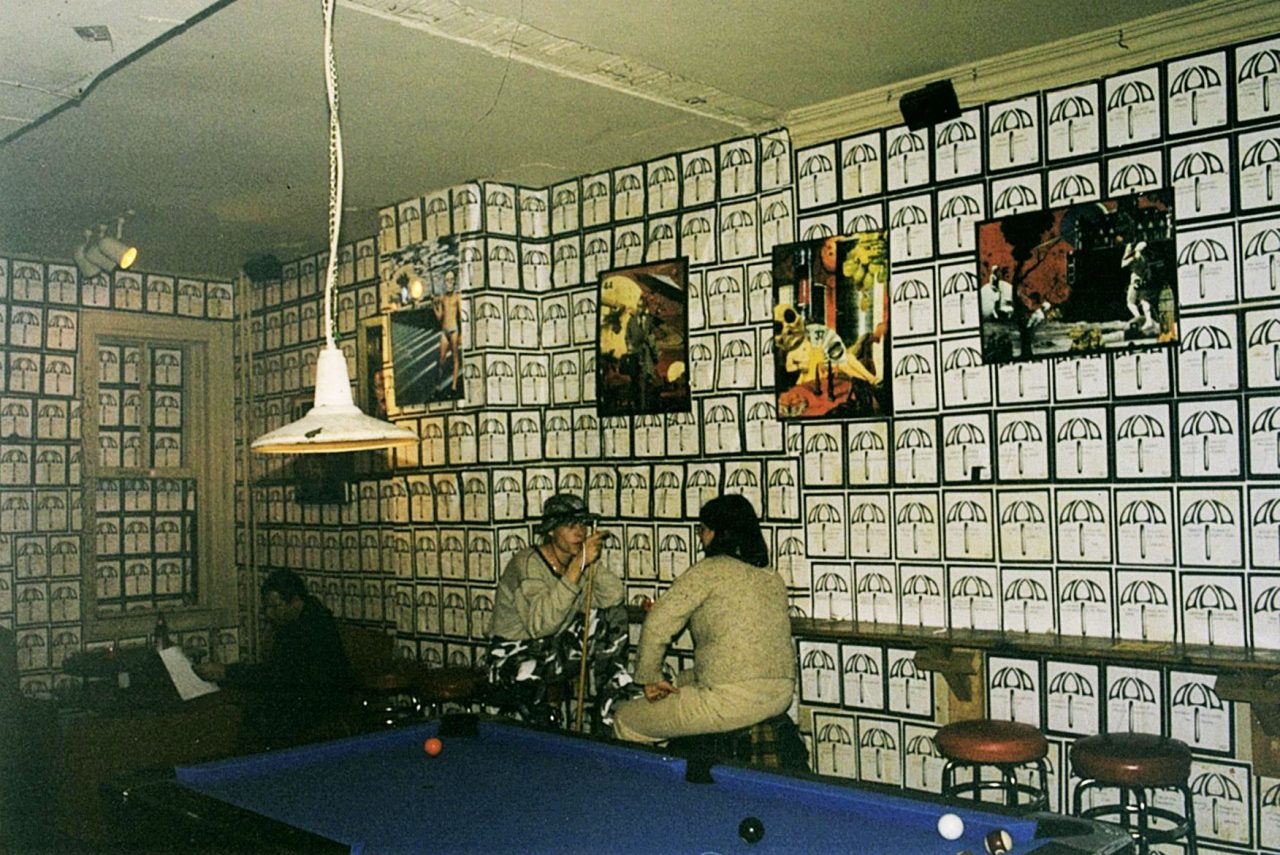 You were one of the first artists to have an art show upstairs here. Jake Henry
was the first to approach us about curating shows here. How did he find you
guys?
He actually saw a lot the wheat pastes we were putting up around South Street
and Old City and I think it was mutual friends at the Bean where we connected
and he approached us about doing a show.  We had seen his Space 1026 stuff
and were excited about working together.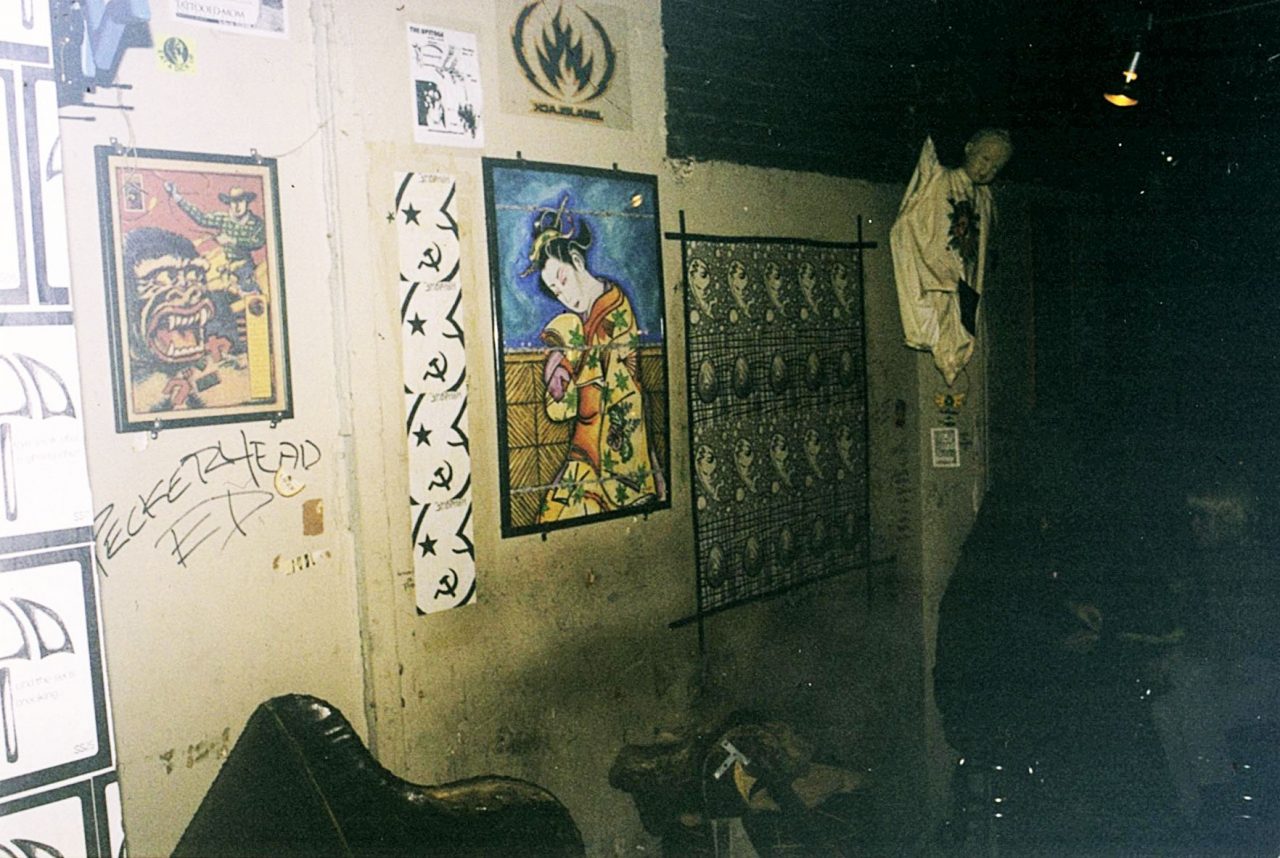 Umbrellas. A room full of wheat pastes. Umbrellas floor to ceiling. Every inch
covered in there. Was there an inspiration for the project?
First off, we wanted to create a solid backdrop to hang pieces on top of.  The
walls were already plastered with beer bottle labels and random graffiti and we
knew were taking a chance pissing people off with the wallpaper we had in mind
but thought the end result could create a real compelling esthetic.  The repetitive
umbrellas were meant to make the space feel claustrophobic and closed in, as if
you only had the option to look at what was going on.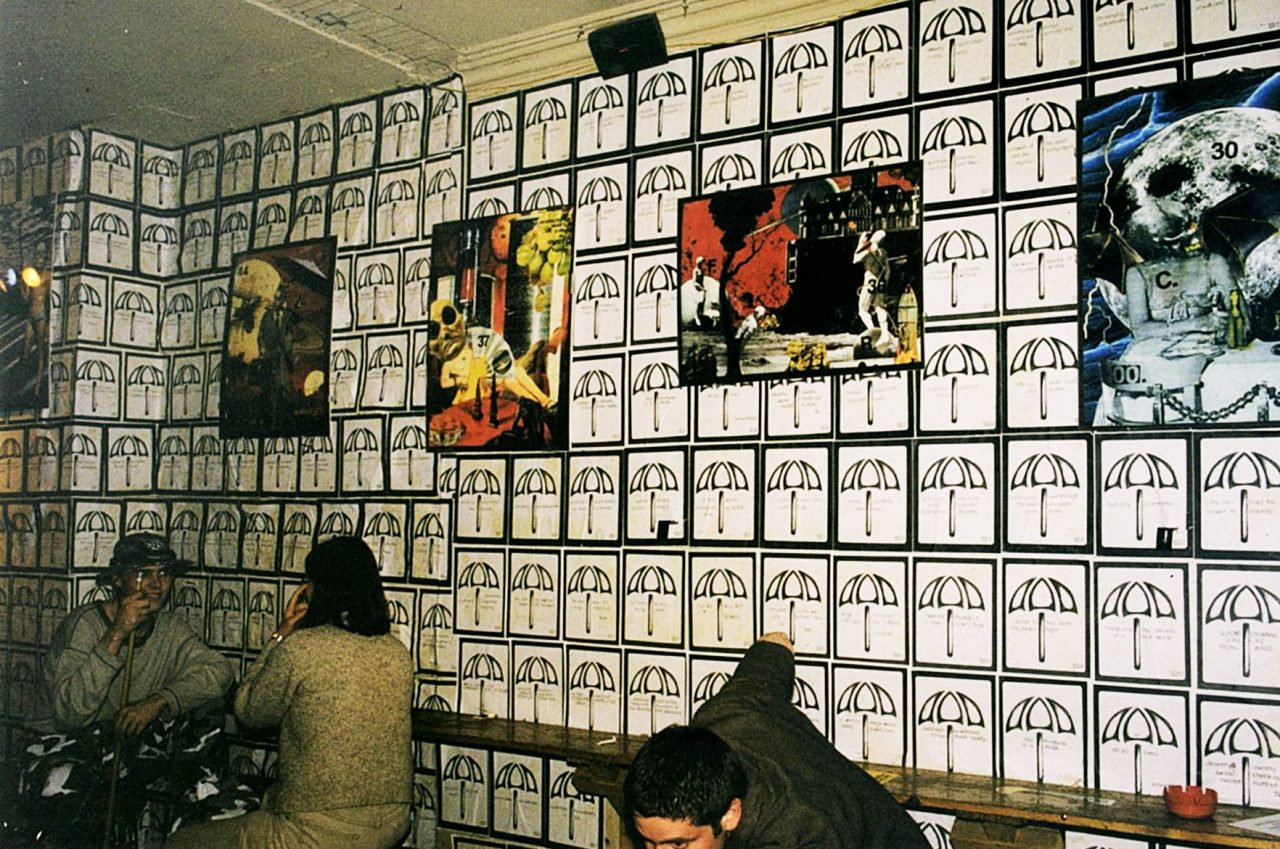 So what happened after the umbrella project here at TMoms?
About a year later we both returned to the west coast and spent a few years
putting up shows in Los Angeles and Portland before moving to New York.
We've had many commissions, shows, collaborations since the show at Tmoms
but that still was one of the most unique projects we worked on and probably the
craziest a kinkos employee has ever looked as us asking for 5000 copies of a single umbrella.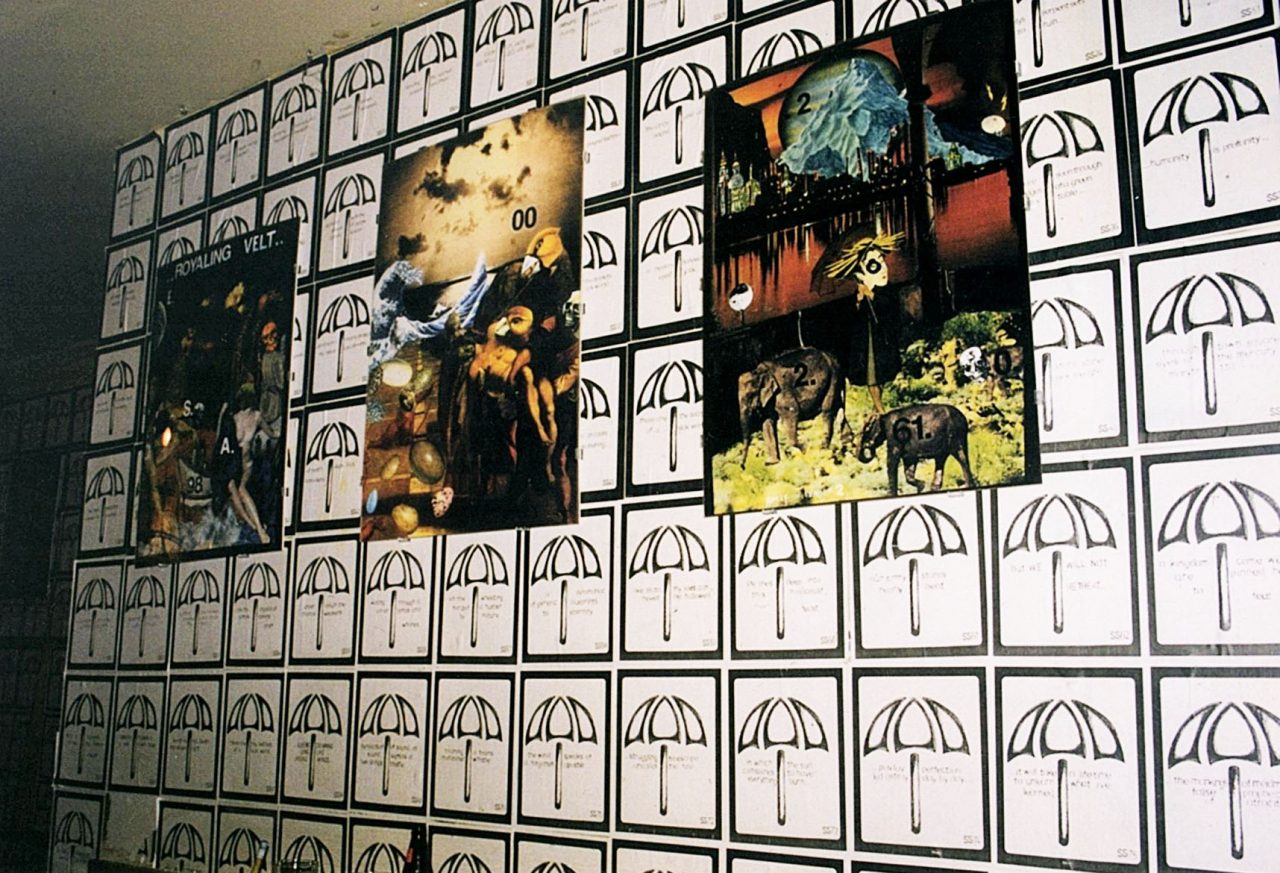 One can still see bits and pieces of the original installation nearly 20 years later
peeking out from the countless layers of pastes, stickers and paint. What was it
like to return to TMoms recently and see your work still riding here?
It was great, it flooded a lot of memories from those times.  We were only 21
back then and everything was new and exciting. The possibilities were endless.
Moms was gritty and real. The energy of it was great. Moms will always be a
solid part of our Philly experience and sort of a capsule of South Philly past.  A
lot of South street seems to have changed from those days with the loss of
Tower Books, Time Zone and other stores, but I love that Moms still stands
strong!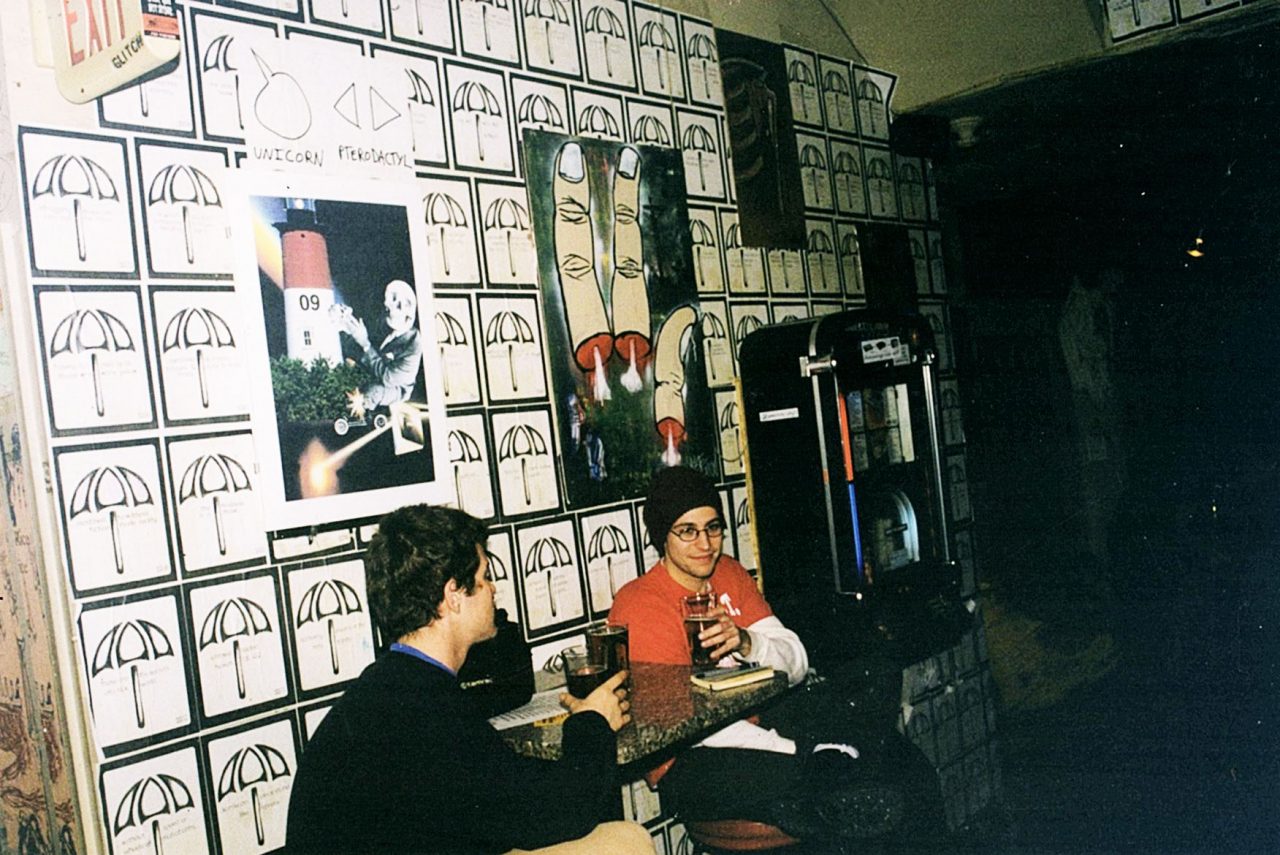 Thanks so much for being a part of the rich history of art here at Tattooed Mom!
Thank you so much for the opportunity to let us do our thing. We are forever
grateful for the memories we had!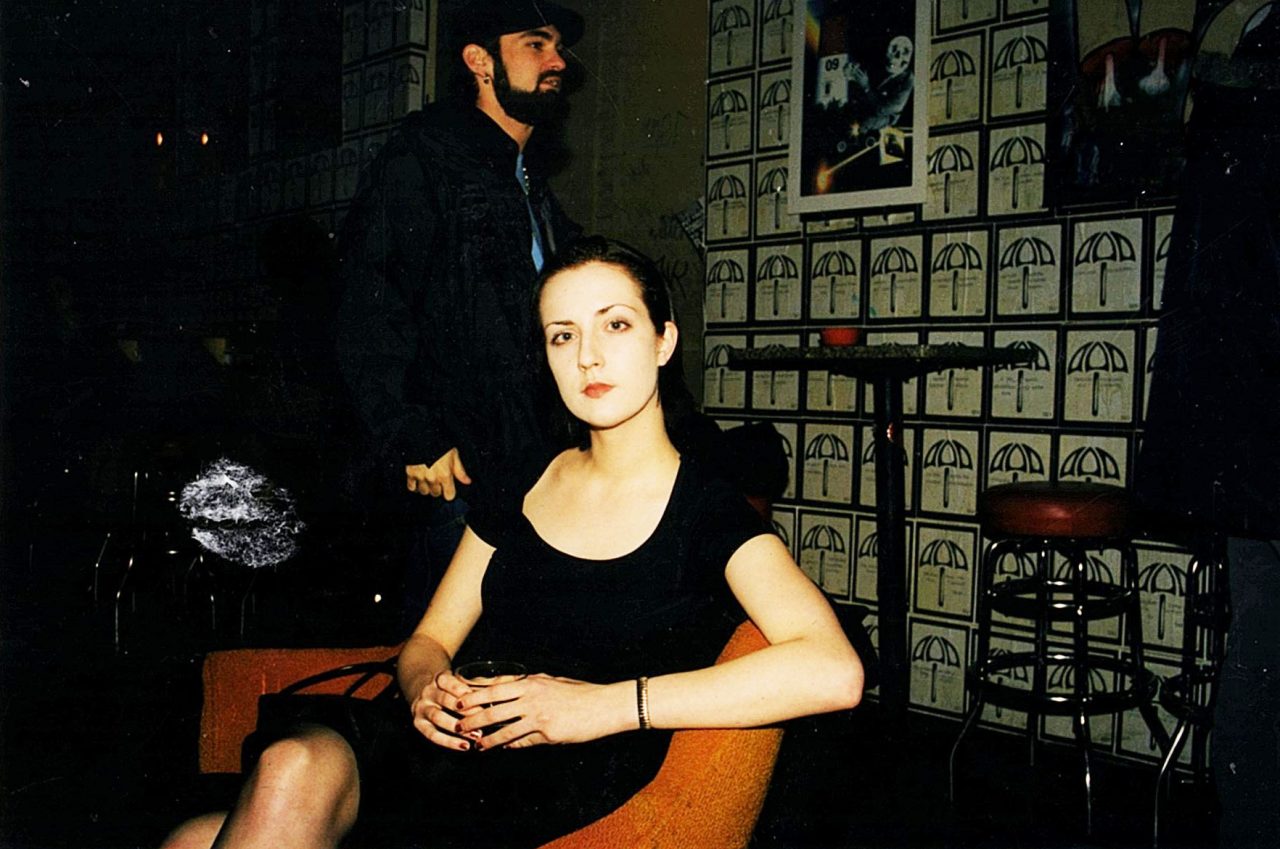 You can see more of their recent work here:
instagram.com/nathanchristopherrice