Meet the Deplorables: live performance and book release
Join Vice/This American Life contributor, Harmon Leon, and NY Times bestselling author Ted Rall – for the release of their new book: Meet the Deplorables: Infiltrating Trump America. – and a special evening of performance.
Legendary infiltration journalist HARMON LEON is at it again, this time teaming up with ferocious political cartoonist TED RALL to answer the question most of America has been asking: "What the hell happened in 2016?" In their new book, Meet the Deplorables: Infiltrating Trump America, Leon goes deep undercover into the heart of Trump America, and Rall—two-time winner of the RFK Journalism Award and a Pulitzer Prize finalist—adds an innovative extra dimension to the book with his own essays and full-color cartoons.
Harmon Leon has made a career out of infiltrating extremist groups in Trump America. Take Harmon's hand as he leads you on a multimedia journey into his true-life, undercover exploits with such facets of Trump America as:
-Anti- immigration vigilantes on the Mexican border
-The world of Christian conversion therapy
-Abortion protesters outside of Planned Parenthood.
Plus songs!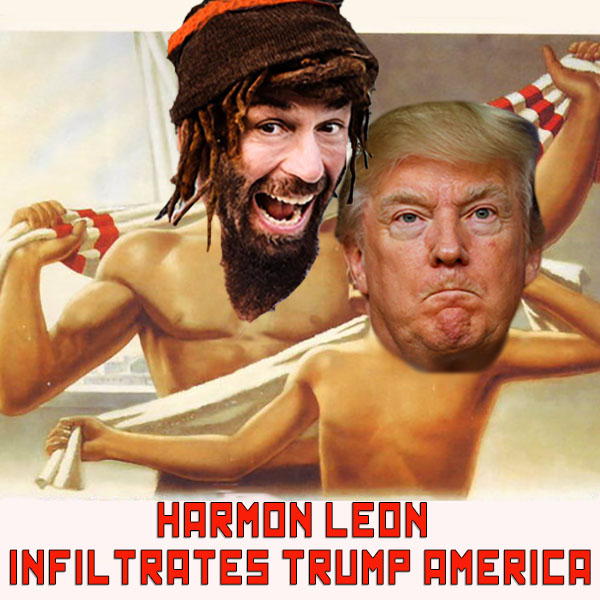 Harmon Leon is a journalist, comedian, and the author of six previous books, including The Harmon Chronicles and Republican Like Me, which both won Independent Publisher Awards for humor. Leon has appeared on This American Life, The Howard Stern Show, MSNBC, Penn and Teller: Bullshit!, Last Call with Carson Daly, and the BBC.
He has performed critically-acclaimed solo comedy shows at venues around the world, including The Edinburgh Festival, Melbourne Comedy Festival, and Montreal's Just for Laughs. His writing can be found in Vice, The Nation, Esquire, Ozy, National Geographic, The Guardian, Wired, and more.
Ted Rall has worked in almost every aspect of cartooning. His syndicated editorial cartoons for Andrews McMeel Syndication have appeared in publications like The New York Times, Rolling Stone, Washington Post, and Village Voice since the 1990s and have earned him two RFK Journalism Awards and a Pulitzer finalistship.
He has done local- and state-issue cartoons for The Asbury Park Press, Las Vegas Review-Journal, Harrisburg Patriot-News, and The Los Angeles Times and humor cartoons for MAD magazine.
Rall was a top editor at United Media and continues to edit cartoons for a variety of publications and cartoonists. He is also a widely-circulated syndicated opinion columnist for Creators Syndicate and has published 20 books, including collections of cartoons and essays, original graphic novels, war correspondency, adventure travel, and political biographies.
Rall's best-known books are the Gen X manifesto Revenge of the Latchkey Kids, the war travelogue To Afghanistan and Back, and the political bios Snowden and Bernie. His latest title is Francis: The People's Pope. Rall lives in New York.
Details
Date:

January 21, 2018

Time:

7:00 pm - 10:00 pm

Event Category:

Event Tags:
Event Navigation