L Word QUIZZO night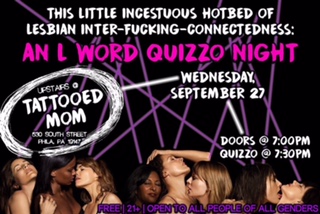 The L Word. When we were baby queers figuring our shit out, it was there for us.  Whether you loved it or you loved to hate watch it…this show still remains an essential part of our collective queer repertoire.
With the recent news of a reboot, we thought it would be a great time to test your knowledge on all six original seasons. So buckle up in your Subaru, practice your toilet sex, get the Dos Equis in the cooler, write a short story that magically becomes a novel/screenplay overnight, & STUDY UP for a night of quizzo!  (and maybe some talking laughing loving breathing etc.)
*This event is open to all people of all genders & sexuality!*
-Doors at 7 pm/ Quizzo at 7:30
-Come prepared with a team of max 5 people, and of course a team name
-Total of 6 rounds (1 for each season!) with 10 questions each
-EXCITING, thematic prizes!!!
$4 Hamburgers & Vegan Burgers until midnight
$2 Narragansett Lager Tall Boys all day
Half off all drafts 5-7 & 10-11pm