Ivanna Baranova's CONFIRMATION BIAS Book Launch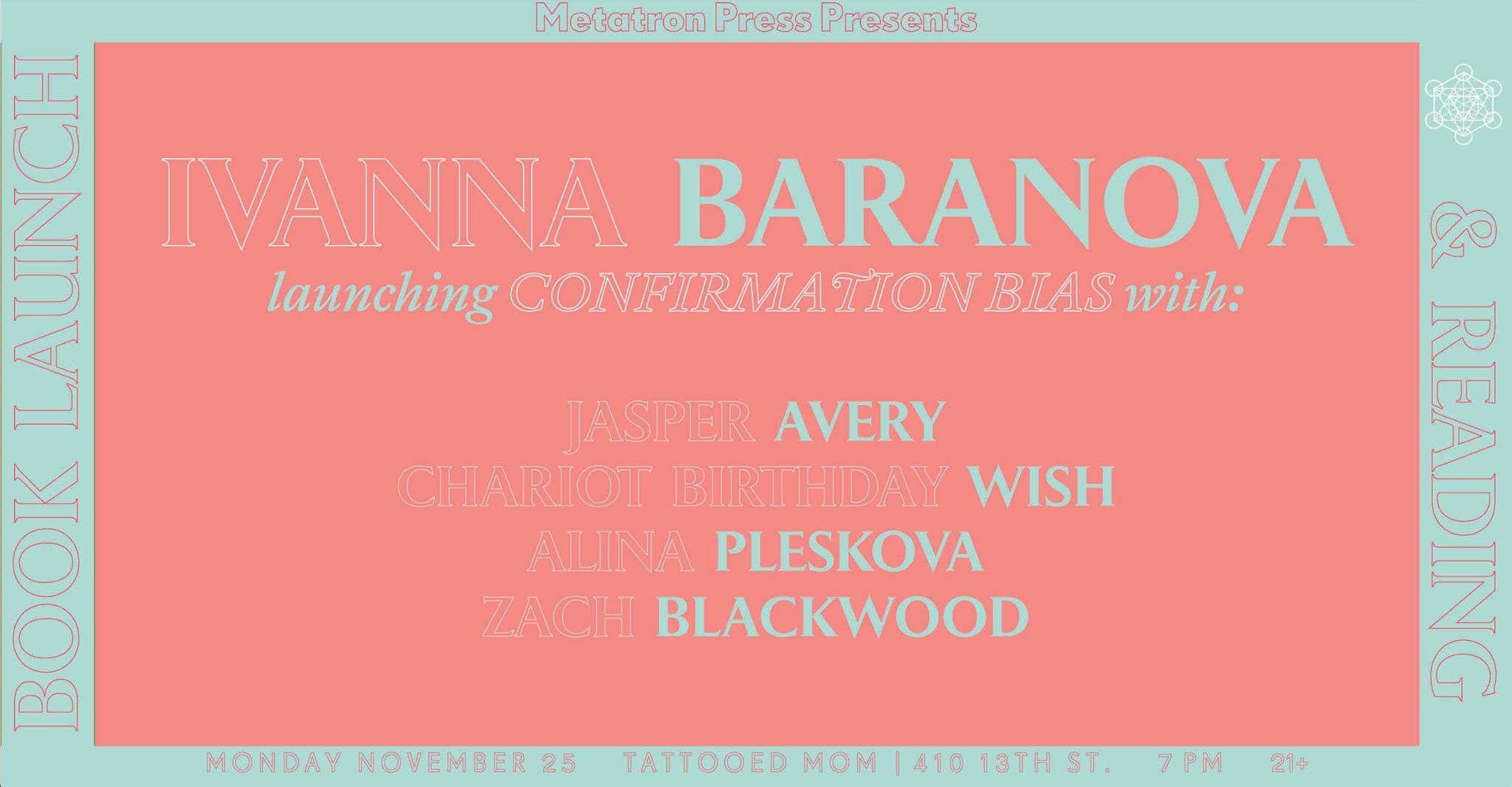 Join us for a Metatron Press book launch and reading at Tattooed Mom, celebrating the launch of Ivanna Baranova's CONFIRMATION BIAS, her debut collection of poetry.
☾☾☾
READINGS:
☾ Ivanna Baranova (NYC) ☾
☾ jasper avery ☾
☾ chariot birthday wish ☾
☾ Alina Pleskova ☾
☾ Zach Blackwood ☾
☾☾☾
Enjoy this event with our Meatless Monday specials:
1/2 off our full veggie menu noon-10pm
& half price drafts 5-7pm and 10-11pm
Join the Facebook Event and invite all your pals!
BOOK DESCRIPTION:
Confirmation bias is the tendency to interpret new evidence in support of one's existing beliefs or theories. In her stunning debut poetry collection, Ivanna Baranova excavates notions of evidence, existence, and resiliency in an attempt to transcend the beliefs that demand our psychic reproduction. Desire, affect, anger, and healing collide in Baranova's metaphysical observations of her lived experiences―feminine conditioning, racialization, Slavic and Latinx diaspora, experimental therapy, and nausea under capitalist hegemony. Whether through the lens of astrology or philosophy, algorithms or substance use, CONFIRMATION BIAS considers the obstacles of being, relating, and rebuilding in the face of sociocultural fragmentation and imminent global collapse. The resulting poems are bright with insight, crackling with humour and idiom, and burning with unforgettable intellect, authenticity, and compassion.
☾☾☾
ARTIST BIOS:
IVANNA BARANOVA is a Guatemalan-Slovak writer and photographer from the Pacific Northwest. Her work has appeared in Blush Lit, glitterMOB, Hobart, Montreal Review of Books, Peach Mag, VICE, and elsewhere. She is a graduate of the University of British Columbia, with a Bachelor's in Philosophy, Social Theory, and Creative Writing. She lives in Brooklyn. Find her at www.ivannabaranova.com.
***MORE BIOS TO COME***
☾☾☾
METATRON PRESS is a literary publisher based in Tio'tia:ke (Montréal, Canada) on unceded Kanien'kehá:ka territory. Since 2014, Metatron has been publishing beautiful first books by noteworthy, up-and-coming authors. Metatron books are cultural artifacts that offer present and future readers access to the thoughts, feelings, triumphs and fears of a new generation of writers. Publishing a few books per year in paperback pocketbooks and e-book format, their catalogue boasts an array of quick-hitting, edgy and spirited poetry and short story collections, novellas, and novels.
Details
Date:

November 25, 2019

Time:

7:00 pm - 10:00 pm

Event Category:

Event Tags:
Event Navigation