No Introduction, an evening of Theatre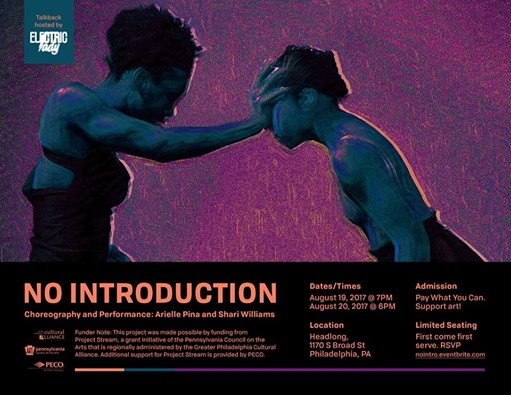 Arielle and Shari's upcoming show, No Introduction, will be performed Aug 19 & 20th.  In celebration they are throwing a SUPER AWESOME EVENT which will feature sneak peeks of the show.
No Introduction is a dance duet rooted in identity. It specifically explores how Shari Williams and Arielle Pina identify with societal norms about beauty and value in the black community.
This event will feature:
~Silent Auction w/ work from artists Stephen Love and Sakin Jael
~Performing excerpt of original score by Will Colella
~Special Guest: Alexis Mercado from The Electric Lady Series
~RAFFLE (individual tix or BY THE ARM):
*1 Wash and retwist or crochet faux locs from Joi's Locing Services
*2 Satin-Lined Caps
*1 Class at BeautiFitStrong
*3 Personal fitness evaluations from Brendan Tetsuo at Mass Fit
*1 Little Baby's Ice Cream Punch Card, Valid for 6 scoops
*1 Federal Donuts Gift Card
*1 Photo Shoot Package with Marcus Branch
A percentage of the bar will be donated to the production of No Introduction…so party for a great cause! If you are unable to attend, that's alright! You can still learn more and make a donation at this link: ariellepina.com/no-introduction
Doors at 7pm
NO COVER

$4 Hamburgers & Vegan Burgers from noon-midnight
$2 Narragansett Lager Tall Boys all day
Half off all drafts 5-7 & 10-11pm