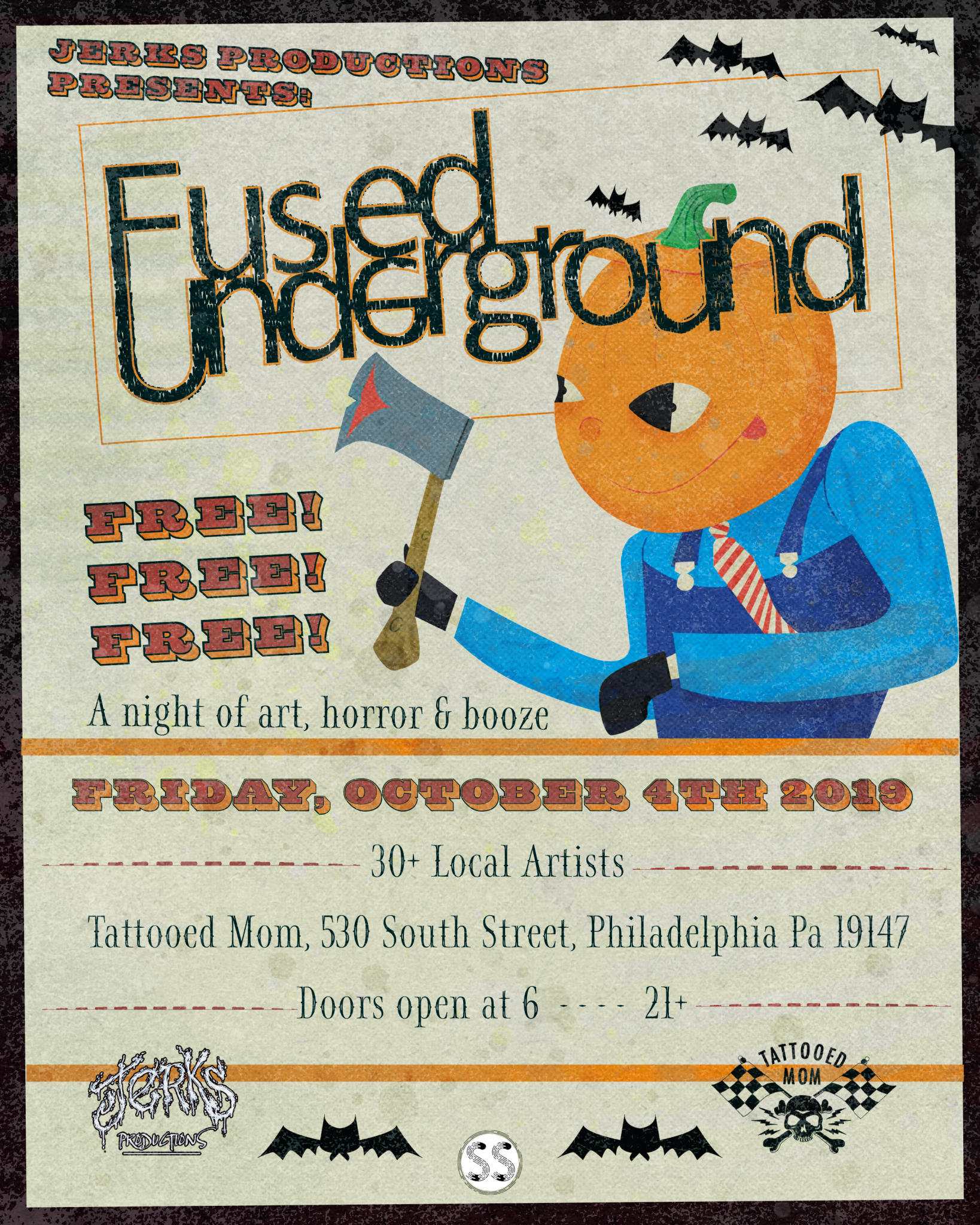 JOIN US for a night of ART, HORROR & BOOZE at Jerks Productions' annual FUSED Underground Halloween show!
As always, they will be showcasing some of Philadelphia (and surrounding area)'s best local underground artists! Join us in the upstairs back room for a selection of HORROR films! Come in costume and be part of the costume contest to win amazing prizes!
SCREENING THREE BRAND NEW FILMS
Aqua: Horror
A Microchip Bride On Her Wedding Day: Horror/Sci-fi
American Dinosaur 'El Camino Town' Music Video
Free fun! 21+
Artists:
Red Hot Gal's Boutique
Necromantic Creations
Sin Deadella
Liz Palo Art
Katie Stahl
Black Budget Comix
Stevie Laney
Taylor Hultquist-Todd
James Haitchwai
Scott Michael
Liz Clough
Secret Admirer + Rainbow Feather
Jude Martin
Wayne Lucina
Krissy Whiski
Minkin Works
Jason McQuirns
Riot Grrrl NJ
Joslyn Moore
Melanie Green
Bronwen Gale
Phil VanCoeur
Jeremy Petrachonis
Alyssa Kuykendall
David Sloan
Antea Roberts
Taylor Mathues
Marissa Logue
Dani Guillen
UNIWANG
& more TBA!
Enjoy this event with happy hour drafts from 5-7pm & 10-11pm
& a FUSED exclusive cocktail!
Join the Facebook Event and invite all your pals!