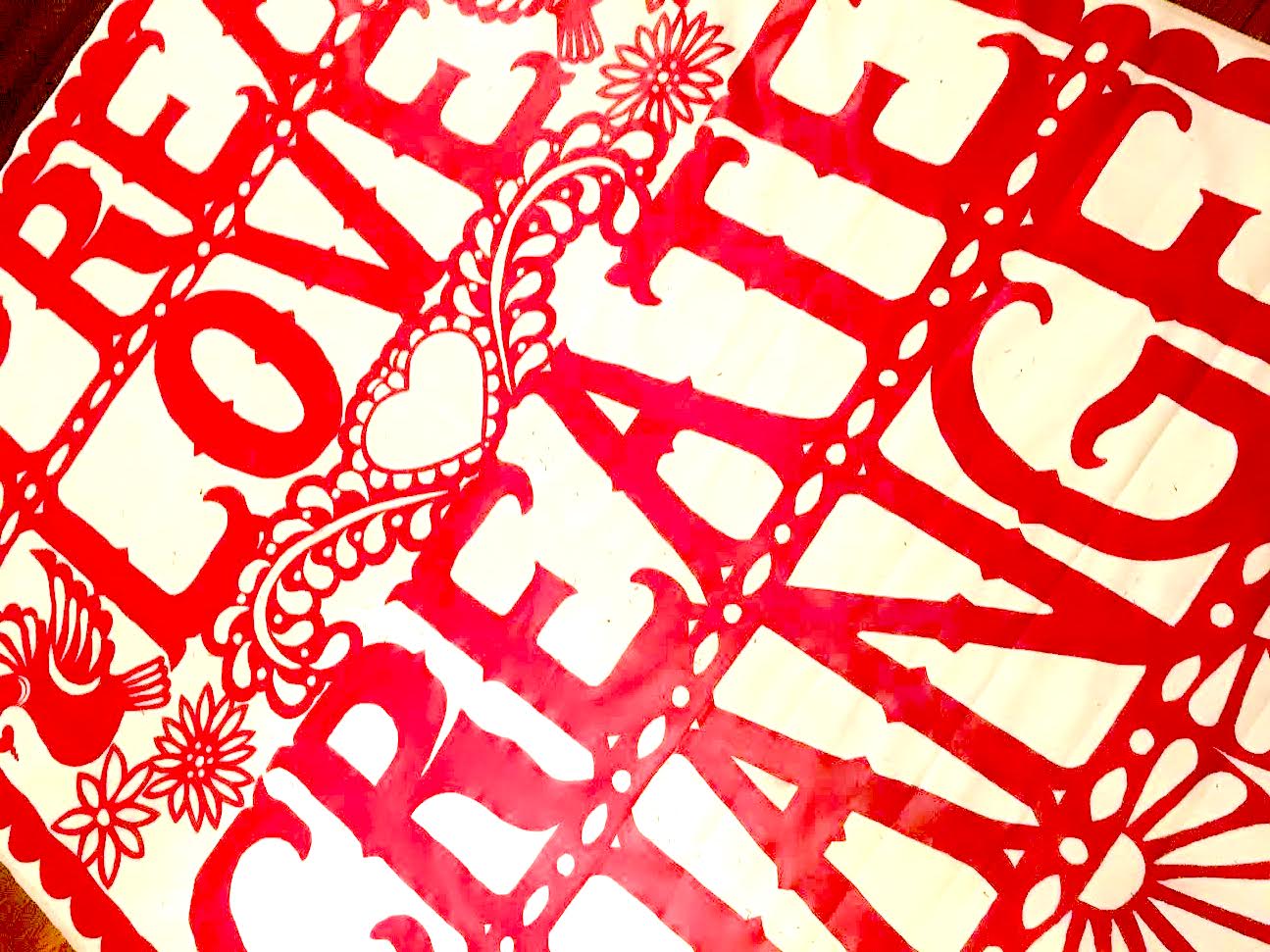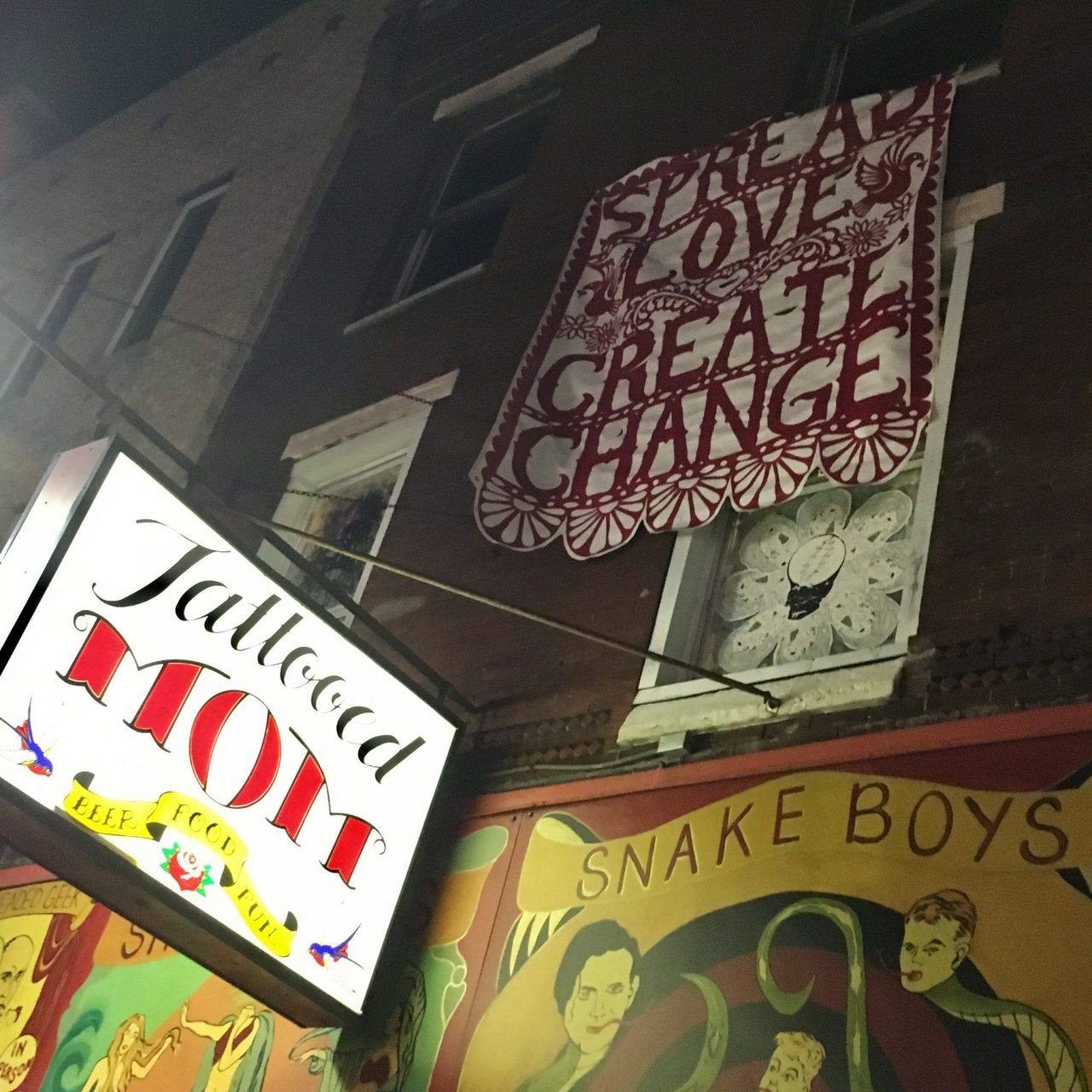 We are proud to be a partner in the
Signs of Solidarity
project. #SignsOfSolidarity is an unprecedented dual-city public art protest in opposition to hate and divisiveness. The week of
January 20th
, dozens of buildings across the cities of Philadelphia and Atlanta will drop artist-made Signs Of Solidarity, large banners displaying messages of love and inclusivity to stand in opposition to hate and in protest of any and all that embolden divisiveness. We are thrilled to work with the artist KW a.k.a.
Yuenglingblingbling
. She is a regular contributor the ever changing landscape of sticker, wheat paste and stencil art here & her work always carries a positive message of positivity and empowerment. We stand in solidarity with the message of her banner and our so thankful to be able to share it with the world.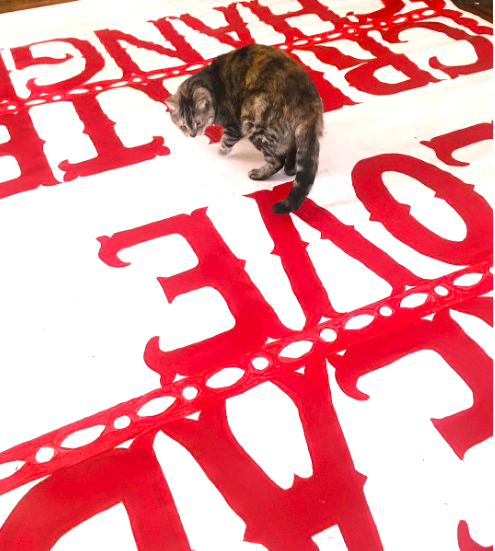 Yuenglingblingbling on the inspiration and motivation for her banner:
What made you want to be involved in the Signs of Solidarity project?
Conrad contacted me about being a part of Signs of Solidarity and sometimes you just can't turn an opportunity down no matter how busy you are. I have never done anything this big and it was definitely daunting and a little overwhelming to wrap my head around completing the project. But I think my overall excitement really overpowered any feelings of doubt in myself. I am constantly inspired by the work of Philadelphia artists and being asked to work together as a group for the common goal to spread love and hope is such an honor and so humbling. Working alongside artists that I look up to has been beyond anything I ever imagined being involved in. I cannot thank Conrad, Eric and Aubrie enough for this opportunity. They are amazing people with a beautiful vision. I can't wait to see what else they think up!
How did your banner message come to life?
After the initial Signs of Solidarity meeting my head was full of so many ideas it was difficult to really compress all of my thoughts to fit into one phrase. But when it comes down to it I really feel that in a time where we struggle to resist fear and succumb to defeat we have to become the strongest version of ourselves. I was inspired by Barack Obama's quote "A change is brought about because ordinary people do extraordinary things" And wanted to use that hope to show Philly that I will continue to love my neighbor and work for progress no matter what gets in my way. As far as actually executing the banner, I don't have a studio and I do have a full time job. So finding time and space to complete a 7×9 foot banner was a little tricky and I ended up spending a few 10 hour Saturdays working on my living room floor. Red paint needs a lot of layers and by the end I felt like there was more paint on me than there was the banner itself! Making it was so much fun though, it took a while to really love it. But once I had all 3 layers of paint on the canvas I was able to look at the finished product and be proud.
What impact do you hope your message will have in the neighborhood, in the city, in the country in which it exists?
I want my banner to act as a vow to my fellow Philadelphian's that I will not quit. The red paint is my promise to continue to stand up and speak out and I hope to encourage others to do the same.  I feel like it can be really easy to turn the other way when we see prejudice in day to day life, but that is cowardly.  It is easy to say "Well this doesn't really affect me personally so I am not going to get involved". But if we aren't standing up for each other then we are so blind to the fact that we all need to work together for social change. This isn't one person's fight, and we can't do this alone. I hope that others will see this and make that vow with me. I have so much love for my city and believe that if we can create positive change by working collectively, others will see that progress is a result of a community taking action and other cities will follow suit.