Tire Fire Presents: Barton, Brown, & Valente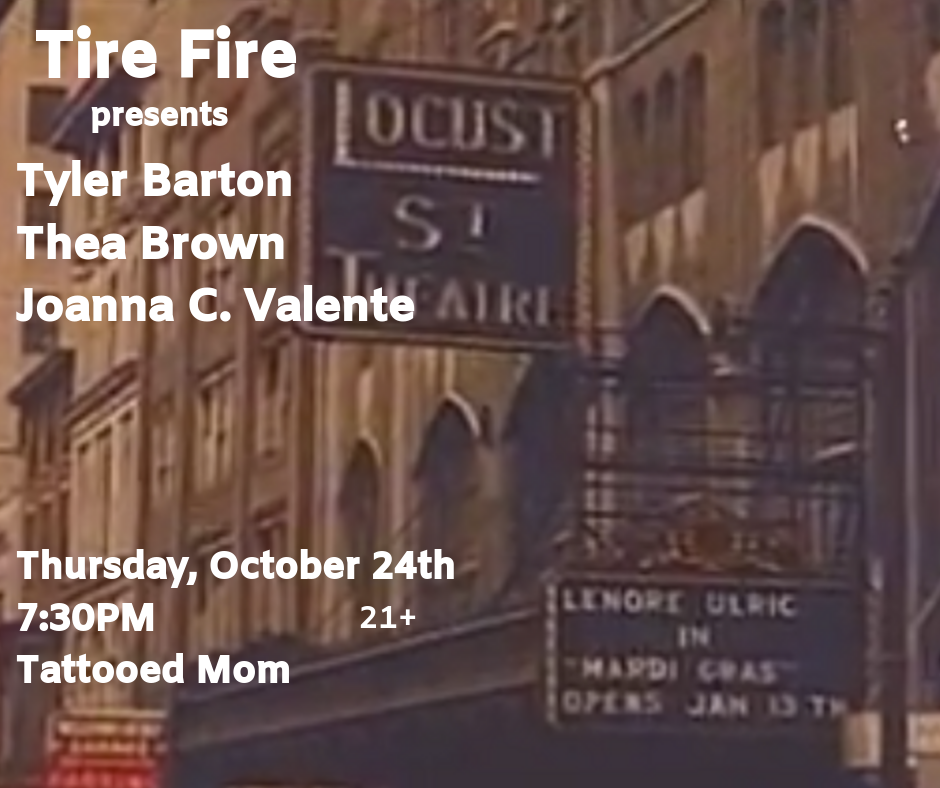 OCTOBER TIRE FIRE! OCTOBER TIRE FIRE! OCTOBER TIRE FIRE! Tyler Gof Barton! Joanna C. Valente! Thea Brown! OCTOBER TIRE FIRE!
Doors 7 // Reading 8
This month, Tire Fire is raising money for The Attic Youth Center, "the only organization in Philadelphia exclusively serving lesbian, gay, bisexual, transgender, and questioning (LGBTQ) youth. The Attic's goal is to reduce the isolation felt by LGBTQ youth by providing a sense of community and developing programs and services to counteract the prejudice and oppression that LGBTQ youth often face. All Attic programming is based on a youth development model and aims to build community, reduce isolation, combat homophobia, promote knowledge and life skills, and develop future leaders."
Accessibility Note: Reading is upstairs and non-bumper car seating is limited, and tends to be first-come, first-serve. If you need assistance or accommodations, please let us know.
Enjoy this event with our Pierogi Thursday specials:
50¢ pierogi from noon-10pm
& half off all drafts 5-7pm and 10-11pm
Join the Facebook Event and invite all your pals!
***
TYLER BARTON is the author of The Quiet Part Loud (2019) which won the Turnbuckle Chapbook Contest from Split Lip Press. He's the event producer for FEAR NO LIT, a literary organization he co-founded with Erin Dorney. His short fiction has been published widely in journals and magazines such as Kenyon Review, Subtropics, The Iowa Review, Gulf Coast, Cincinnati Review, Necessary Fiction, Waxwing, Passages North, and others.
JOANNA C. VALENTE is the author of Sirs & Madams (Aldrich Press, 2014), The Gods Are Dead (Deadly Chaps Press, 2015) Marys of the Sea (The Operating System, 2017), Xenos (Agape Editions, 2016), Sexting Ghosts (Unknown Press, 2018), No(body) (Madhouse Press, 2019), and #Survivor (Arkay Artists, 2020). They are the editor of A Shadow Map: Writing By Survivors of Sexual Assault (CCM, 2017), and received a MFA in writing at Sarah Lawrence College. Joanna is also the founder of Yes, Poetry, as well as the senior managing editor for Luna Luna Magazine, and a professional tarot reader. Joanna also teaches courses at Brooklyn Poets.
Despite being a ghost, Joanna was born in Manhattan, New York, attended SUNY Purchase College for their bachelor's degrees in literature and creative writing, and dreams of having a flower and vegetable garden one day.
THEA BROWN's latest collection of poetry, Famous Times (2018), was recently published by Slope Editions.She is a graduate of the Iowa Writers' Workshop, where she was a Truman Capote Fellow. She is the author of the chapbook We Are Fantastic (Petri Press 2013) and the full-length collection Think of the Danger (H_NGM_N 2016). She lives in Baltimore, where she was the 2016–2017 Tickner Fellow at the Gilman School, a 2016 Rubys Artist Project Grant awardee, and the recipient of a 2017 UCross Foundation fellowship.