Spit Spreads Death: A Mütter Museum Pop-Up!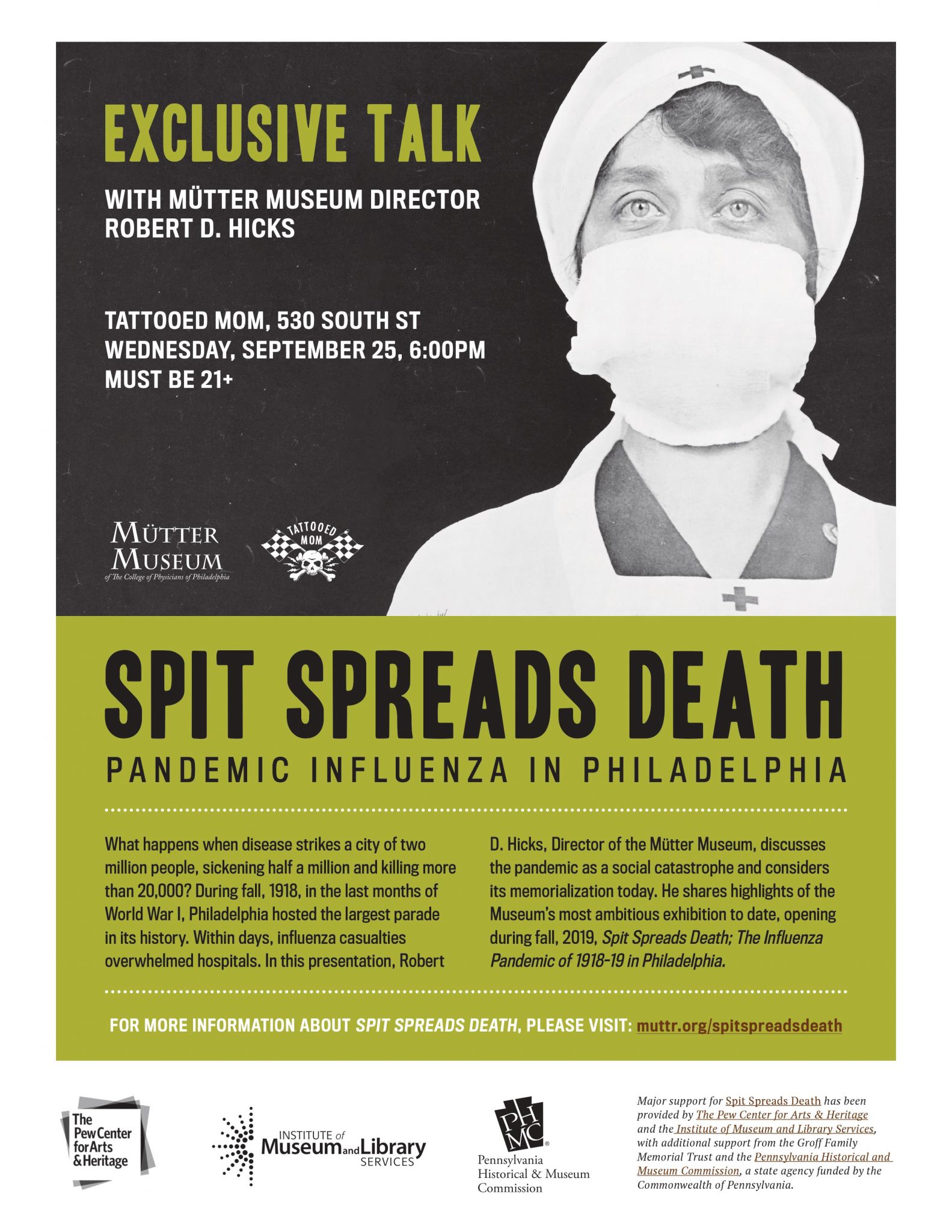 What happens when disease strikes a city of two million people, sickening half a million and killing more than 12,000 in just six weeks and 20,000 in six months? During the fall of 1918, in the last months of World War I, Philadelphia hosted the largest parade in its history. Within days, influenza casualties overwhelmed hospitals.
Join us on Wednesday, September 25th for an infectious lecture, influenza exhibition, and Mütter Museum Pop-Up at Tattooed Mom!
FREE // 21+ // UPSTAIRS
Robert D. Hicks, Director of the Mütter Museum, will lead a talk about the disaster that claimed more than 16,000 lives in six months, as well as an exhibition of relevant artifacts from the museum collection, both of which highlight the museum's most ambitious exhibition, Spit Spreads Death: the 1918-19 Influenza Pandemic in Philadelphia.
Join us for a brew, burger specials, and a bit of local dark history—PLUS the chance to win tickets to the museum!
Exclusive talk begins at 6:30PM.
Can't make it? Don't miss out on the exhibit, and make sure to catch the museum's interactive commemorative parade with Blast Theory UK on September 28th!
***
UPCOMING SPIT SPREADS DEATH EVENTS
SEPTEMBER 7, 2019: Health Fair at Mifflin Square Park
SEPTEMBER 27, 2019: Spit Spreads Death Parade Workshop with Spiral Q
SEPTEMBER 28, 2019: Interactive artists Blast Theory and the Mütter Museum bring a parade of light and sound to the streets of Philadelphia to commemorate this devastating event, remember those who died, and honor those who keep us safe today. Sign up to join the parade!
OCTOBER 17, 2019: Spit Spreads Death opens to the public
OCTOBER 17, 2019: Fellows and Members Spit Spreads Death Opening Night
***
Enjoy this event with our Burger Wednesday specials:
$4 Mom's Beef Burgers & Mom's Vegan Burgers
$2 Narragansett Lager Tall Boys
a special Burger of the Month
& half price drafts 5-7pm and 10-11pm
Join the Facebook Event and invite all your pals!