The 3rd Annual My Favorite Murder Meet-up & EndTheBacklog.org Fundraiser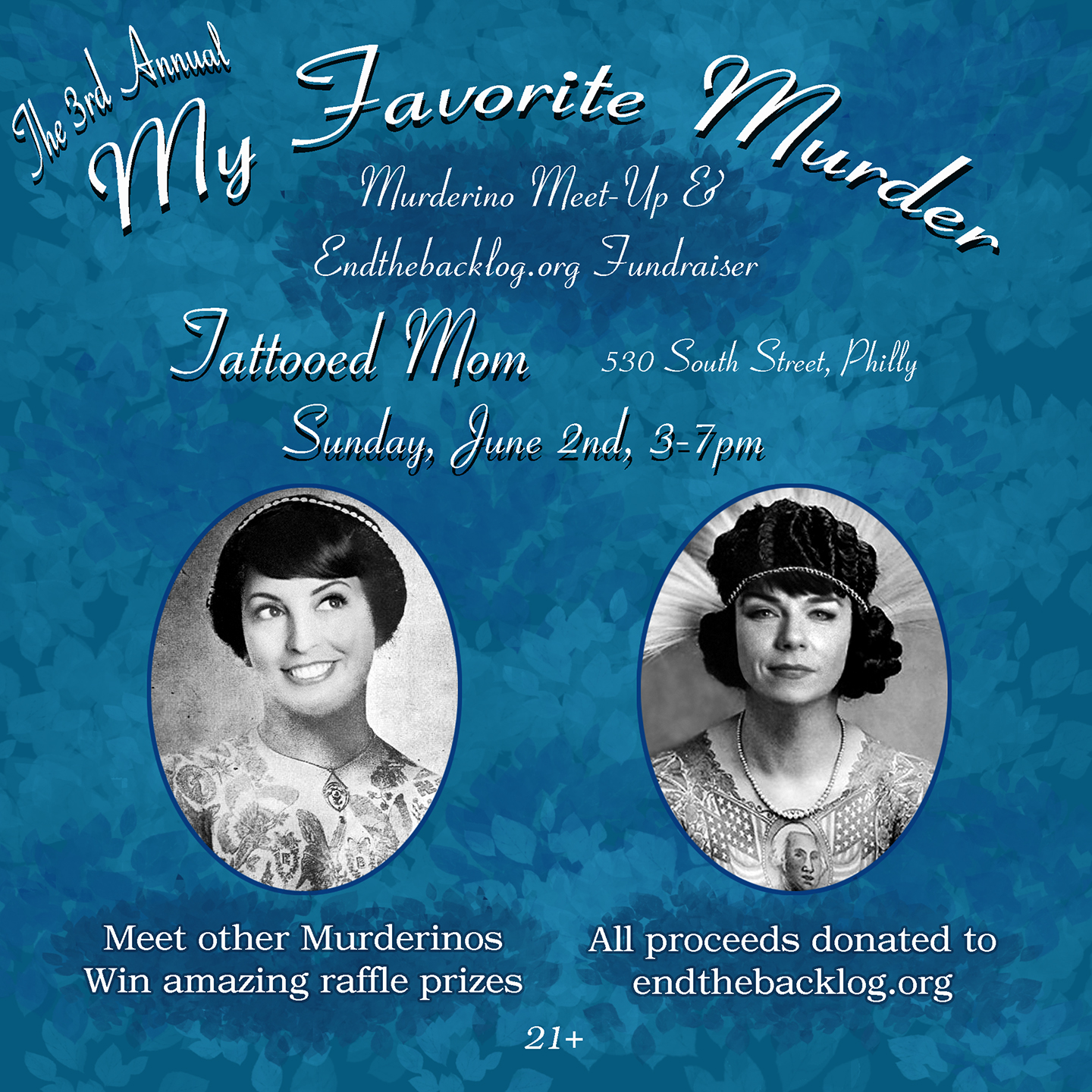 This is an event for fans of true crime, comedy, Steven, and two women talking for an hour staright! If these things sound interesting to you, we kindly & respectfully invite you to hang out, meet-up, & raise money for a good cause!
This annual fundraiser is a chance for fans of the My Favorite Murder podcast (also known as Murderinos) to meet-up, to exchange stories, to win fantastic raffle prizes, and to eat & drink their way through Tattooed Mom's delicious menu—all while raising money for End the Backlog!
End the Backlog is a national organization that aims to end injustice by eliminating the backlog of untested DNA and rape kits from sexual assault cases. Every year, countless kits sit untested & untouched in police stations and crime storage units. This foundation aims to help alleviate this epidemic, solve cold cases, and bring closure to sexual assault victims.
Bid on & win a plethora of raffle prizes from local businesses! 100% of the proceeds benefit End the Backlog! Grab the Georgia to your Karen and stop by! Let's do something rad together!
Raffle prizes include:
The Spirit of Philadelphia, dinner for 2 on the ship ($225 value)
Rockstar Games: Red Dead Redemption 2 merchandise ($500+ value)
Acupuncture off Broad gift card ($105 gift card value)
Infinite Piercing gift cards: ($50 gift card value)
The POPE gift card: ($50 gift card value)
Long in the Tooth Records gift card ($30 gift card value)
Tattooed Mom Prize Pack, including gift card, t-shirt, and Mom's chip ($25+ value)
Federal Donuts gift card ($25 gift card value)
Morgan's Pier gift card: ($25 gift card value)
Eastern State Penitentiary, admission for six
Evil Genius Brewery, brewery tour for six
Sister Cities Food & Shop Tour, complete tour for two
Five classes for Rumble, a boxing-inspired fitness class ($175 gift card value)
Five class pack from Lumos Yoga & Barre
Six tickets to any Helium Comedy Club show
Four tickets to any Good Good Comedy show
A pair of tickets to any 1812 Productions show
Stateside Vodka: MFM-inspired engraved bottle & accompanying rox glasses, shot glasses, sunglasses, gift card, & 4 tickets to tour the distillery
Sourpuss Clothing: Giant basket of skull goodies!
Modcloth: French Fry purse & 4 dresses
Hey Mavens: MFM inspired bralette & undie set
South Street Art Mart: a bunch of fun items like zines, stickers, earrings, light switch protector!
Capes & Cowls Comics & Collectibles: Assorted comic collection
Alternate Dimension Toys: a TON of pop culture merch & gift card
South Fellini: Graphic novel, print, & "No One Likes Us, We Don't Care" hat
Evergood Merch: a bunch of pins, patches, & zipper pulls
The Blue Ridge Co: handmade wooden cutting board
Jamberry: Manicure set, headband & necklace
Amberella: Conquer Power Heart
Sue Garcia from Valor Tattoo: MFM inspired flash sheet
Miss Montgomery Designs: Edgar Allan Poe inspired lightbox
Carly Jo Bones: light up skull, tray, keychain, geode, & 2 necklaces
Sarah Collins (The Saddest Atoms): pin, print, & shirt
Colin Frangicetto: calendar, print, pins, & patch
Tina Crespo: "Fire & Ice" resin
A Murderino-inscribed copy of Guy Branum's memoir
Two 1990-1991 Mark Jackson basketball cards (with the Menendez Brothers in the background)
Five framed prints from artists Taylor Bryn Hultquist-Todd
Portraiture session with Shannon Sims Photography
Two original paintings by Jayne Good
Forensics & Flowers: True Crime Club set, including keychain, enamel pin, & sticker
And We Evolve: free first delivery of new-to-you clothes
Phillies & 76ers shirts, hats, and a water bottle from Lloyd Sixsmith Sporting Goods
Murderino inspired shirts from Emily at Lloyd Sixsmith
Damsel in Defense: stun gun, pepper spray, & breakaway keychain
Never Get Murdered: various self defense items
I Heart Guts: plushy gold tooth, two  blood pins, and a heart of gold pin
The Fall Line Podcast: pin & mug set
The Craft Hangout Podcast: tiny bowling pins & SSDGM snood
Special Ed Toys: a bunch of original enamel pins!
and lastly, an autographed copy of the My Favorite Murder: SSDGM book and playbill from the NYC show!
Upstairs, 3-7pm
FREE, 21+
Enjoy this event with tasty goodies from Tattooed Mom's full menu!
Plus an *exclusive* SSDGM cocktail!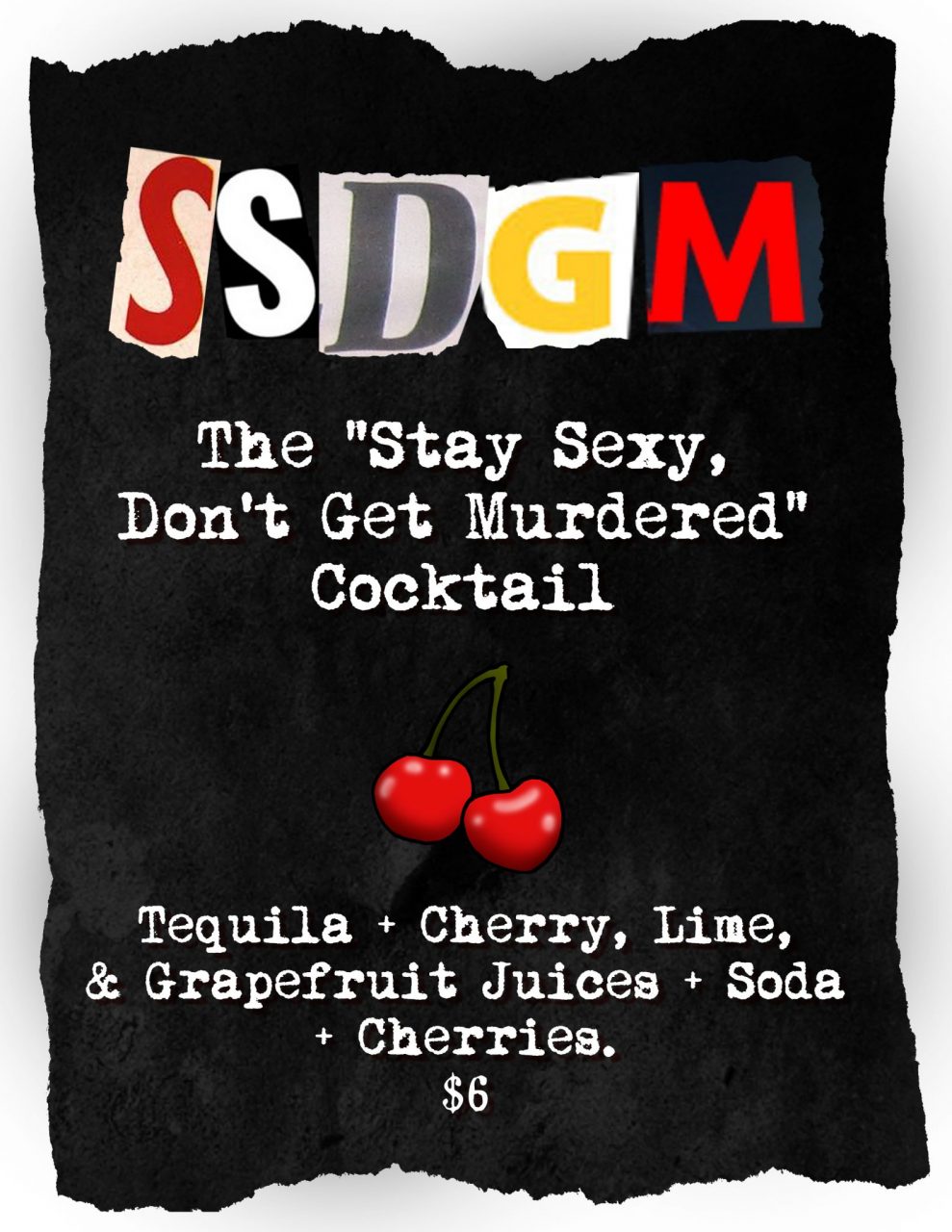 Join the Facebook Event, invite all your Murderino pals, and SSDGM!