A Celebration of World Poetry Day at Tattooed Mom!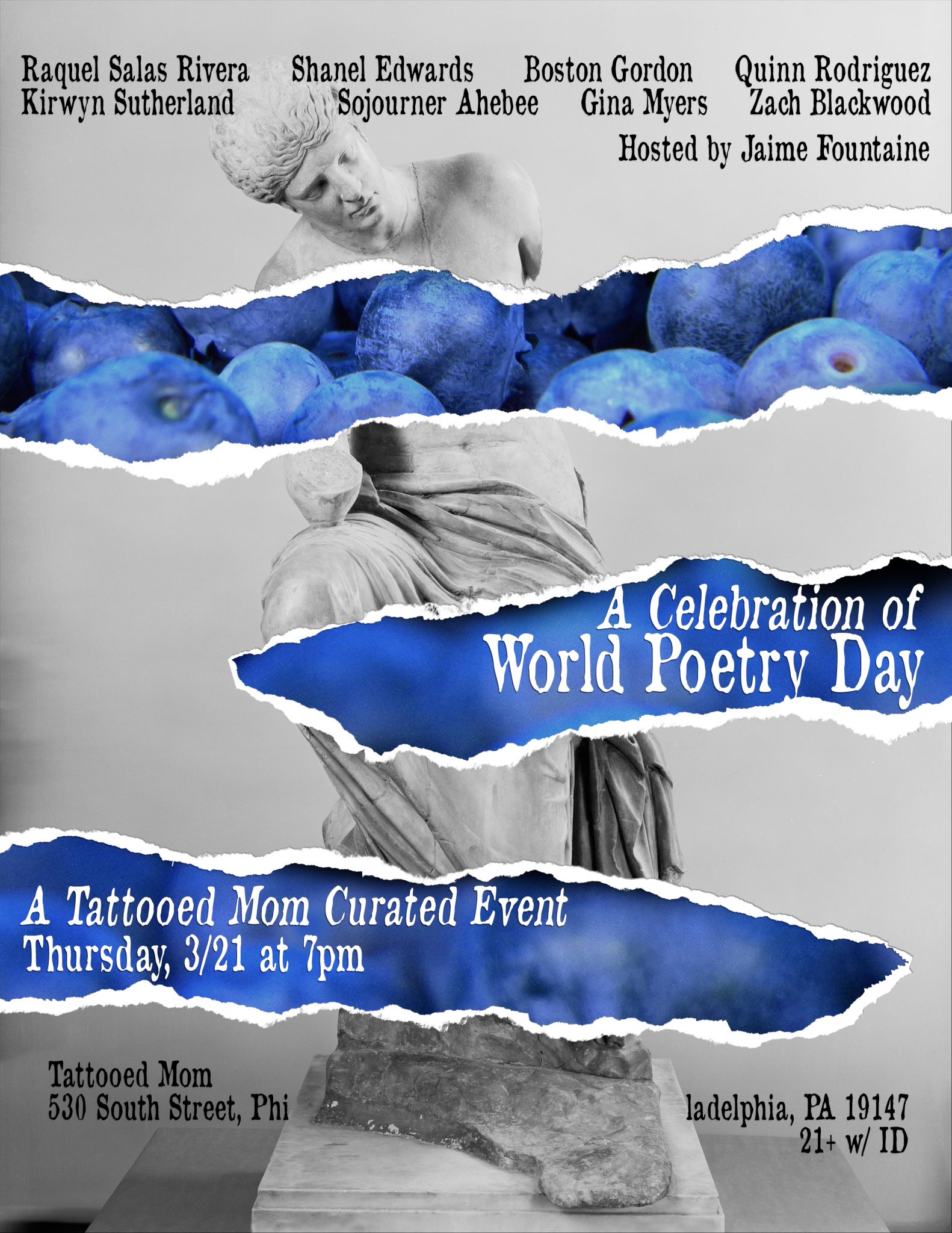 Join us for the first ever Tattooed Mom curated Celebration of World Poetry Day!
For this event, we hand picked a few of our favorite local poets and asked that they each pick a poet whose work inspired them, whose words they wanted to lift up, and whose poetry deserves recognition. The resulting line-up is an astonishing & diverse group of voices, all converging at Tattooed Mom on March 21st, celebrating the internationally recognized World Poetry Day.
Featuring:
Raquel Salas-Rivera
Shanel Edwards*
Boston Gordon
Quinn Rodriguez**
Kirwyn Sutherland
Sojourner Ahebee***
Gina Myers
Zach Blackwood****
Hosted by Jaime Fountaine
Flyer by Sarah Cowell
*Chosen by Raquel Salas-Rivera
**Chosen by Boston Gordon
***Chosen by Kirwyn Sutherland
****Chosen by Gina Myers
Enjoy this event with our Pierogi Thursday specials:
50¢ vegan potato & onion pierogi from noon-10pm
& half off all drafts 5-7pm and 10-11pm
Join the Facebook Event and invite all your poetry-loving pals!
---
Performer Bios:
Raquel Salas Rivera es la poeta laureada de la ciudad de Filadelfia del 2018-19. Es la autora de while they sleep (under the bed is another country) publicado por Birds, LLC y fue la recipiente inaugural del Ambroggio Prize de la Academia de Poetas Americanos por su libro x/ex/exis. Cuenta con la publicación de seis plaquetas y cuatro poemarios adicionales. Su cuarto libro, lo terciario/the tertiary, fue finalista para el Premio Nacional del Libro del 2018 y fue seleccionado por Remezcla, Entropy, Literary Hub, mitú, Book Riot y Publishers Weekly como uno de los mejores poemarios del 2018. Del 2016-2018 fue co-editora de la revista literaria The Wanderer y co-editora de Puerto Rico en mi corazón, una colección bilingüe de volantes de poetas puertorriqueños contemporáneos. Es la recipiente de
becas del Sundance Institute, el Kimmel Center for Performing Arts, el Arizona Poetry Center y CantoMundo. Ama y vive por Puerto Rico, Filadelfia y un mundo libre de la supremacía blanca.
Raquel Salas Rivera is the 2018-19 Poet Laureate of Philadelphia. They are the author of while they sleep (under the bed is another country) from Birds, LLC and the inaugural recipient of the Ambroggio Prize from the Academy of American Poets for their book x/ex/exis. They are also the author of six chapbooks and four other full-length poetry books. Their fourth book, lo terciario/the tertiary, was on the 2018 National Book Award Longlist, and was selected by Remezcla, Entropy, Literary Hub, mitú, Book Riot, and Publishers Weekly as one of the best poetry books of 2018. From 2016-2018, they were co-editor of The Wanderer and co-editor of Puerto Rico en mi corazón, a collection of bilingual broadsides of contemporary Puerto Rican poets. They have received fellowships and residencies from the Sundance Institute, the Kimmel Center for Performing Arts, the Arizona Poetry Center, and CantoMundo. They love and live for Puerto Rico, Philadelphia, and a world free of white supremacy.
***
Shanel Edwards is a Black Queer Non-Binary Philadelphia based dancer, photographer and poet. Their work centers Black Queer Femme-hood, intimacy as a tool for healing, and radical joy. Shanel is a world builder and doesn't rely on capitalism to imagine art. Their poetry has been published/featured in Wusgood magazine. They received an Art and Change grant through The Leeway Foundation and the Small But Mighty Arts Bartol Micro Teaching Artist Grant. Shanel holds a BFA in African American Studies and Psychology from Temple University.
***
Boston Gordon is a poet and writer living in Philadelphia, Pennsylvania. They run the You Can't Kill A Poet reading series – which highlights queer and trans identified writers in Philadelphia. Boston earned their MFA in Poetry through Lesley University. They are a winner in the Free Library of Philadelphia's inaugural Cultureshare. They received a Leeway Foundation Art & Change grant in 2017. They have previously been published in such journals as burntdistrict, Bedfellows, Tinderbox, PRISM International, and Guernica.
***
Quinn Rodriguez is a 25 year old queer poet from South Jersey. They have been published in older university journals and has been featured in a couple You Can't Kill A Poet readings over the past few months. During the day they work for Starbucks and drinks iced coffee on the coldest of days and during the night writes poems to keep warm. Quinn is looking forward to sharing their words and to stay involved with the literary community within Philadelphia. You can find them on Instagram and Facebook under the same name.
***
Kirwyn Sutherland is a Ciinical Research Professional and poet who makes poems centering the black experience in America. He is a Watering Hole fellow and has attended workshops/residencies at Cave Canem, Winter Tangerine, Poets House, Philadelphia Sculpture Gym, and Pearlstein Art Gallery at Drexel University. Kirwyn's work has been published in American Poetry Review, Blueshift Journal, APIARY Magazine, The Wanderer and elsewhere. Kirwyn has served as Editor of Lists/Book Reviewer for WusGood magazine and poetry editor for APIARY Magazine. Kirwyn is currently teaching Spoken Word/Poetry Performance at the University of the Arts and has a chapbook, Jump Ship, forthcoming from Thread Makes Blanket Press.
***
Sojourner Ahebee writes stories about African diaspora identities and the eternal question of home and belonging. Her poems have been published or are forthcoming in The Atlantic, The Academy of American Poets (Poem A Day), Muzzle Magazine, For Harriet, Winter Tangerine Review, Apiary Magazine and elsewhere. In 2013 she served as a National Student Poet, the nation's highest honor for young poets presenting original work. Sojourner was invited to the White House by former First Lady, Michelle Obama, to garner her award. Her debut poetry chapbook, Reporting from the Belly of the Night, was released in August 2017. Sojourner believes not in the boat that floated her here but what she'll do with the water.
***
Gina Myers is the author of two full-length poetry collections, A Model Year (2009) and Hold It Down (2013), as well as several chapbooks, including most recently Philadelphia (Barrelhouse, 2017). She lives in Philadelphia, where she co-edits the tiny with Gabriella Torres and runs the Accidental Player reading series.
***
zach blackwood is a poet and performance curator in philadelphia, pa. he is the author of SEXY UNIQUE HOLLOW POINT forthcoming from glo worm press in summer 2019. he has poems published in peach mag, occulum, bedfellows magazine, maudlin house, and elsewhere. he lives with a rotisserie angel of a dog named pig and is available on the world wide web @blackwhom.