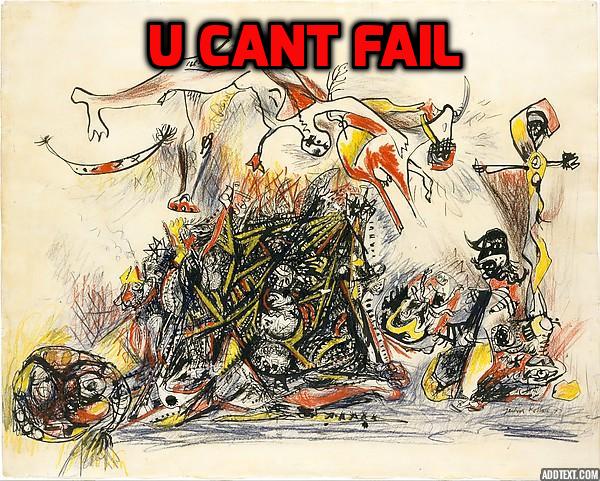 Live performance! Art in all forms! An evening of discovery, growth, and entertainment! The popular art series You Can't Fail is headed back to Tattooed Mom! Join us for an evening of works in progress & new performances, brought to you by Chris Davis!
WEDNESDAY, JANUARY 25TH
DOORS 7PM + SHOW 8-10PM
NO COVER // FREE FUN
RSVP: FB EVENT | EVENTBRITE
An evening of new works including: visual art, photography, theater, dance, performance art, comedy, story-telling, poetry, prose, sculpture, ballet, film, stand-up, anything and everything will be presented in the back room on the 2nd floor of Tattooed Moms!
NEW WORKS BY:
John Miller
Tyler Clausen
Morgan MacConnell
Emily Broadeur
John Deary
C.M. Crockford
Seamus Tyler
Kristen Scopino
Mykal Carte-Jackson
Sean Hanrahan
Kate Carey
Ben Kunkle
Dixon Speaker
Tim Lynch
JB
Shannon Frost Greenstein
Della Cowell
Nate Holt
Chyanne Kemp
JuJu
Irina Varina
Rachel Hampton
Ray Toy
Elayna Musings
***
What's Up at TMoms:
• Burger Wednesday is BACK y'all! Come slam some Smash Burgers (classic or vegan) every Wednesday for just $6!! Plus $3 PBR! Wednesdays, 4-11pm.
• Enjoy our new happy hour! All drafts are just $4 every day from 4-6pm!
• Tattooed Mom will also be serving tasty eats and ice cold drinks all evening.
• Upstairs dining, bar access, and event entry is 21+ w/ valid ID.