Tire Fire Presents: McAllister, Brady, Perch, & Captan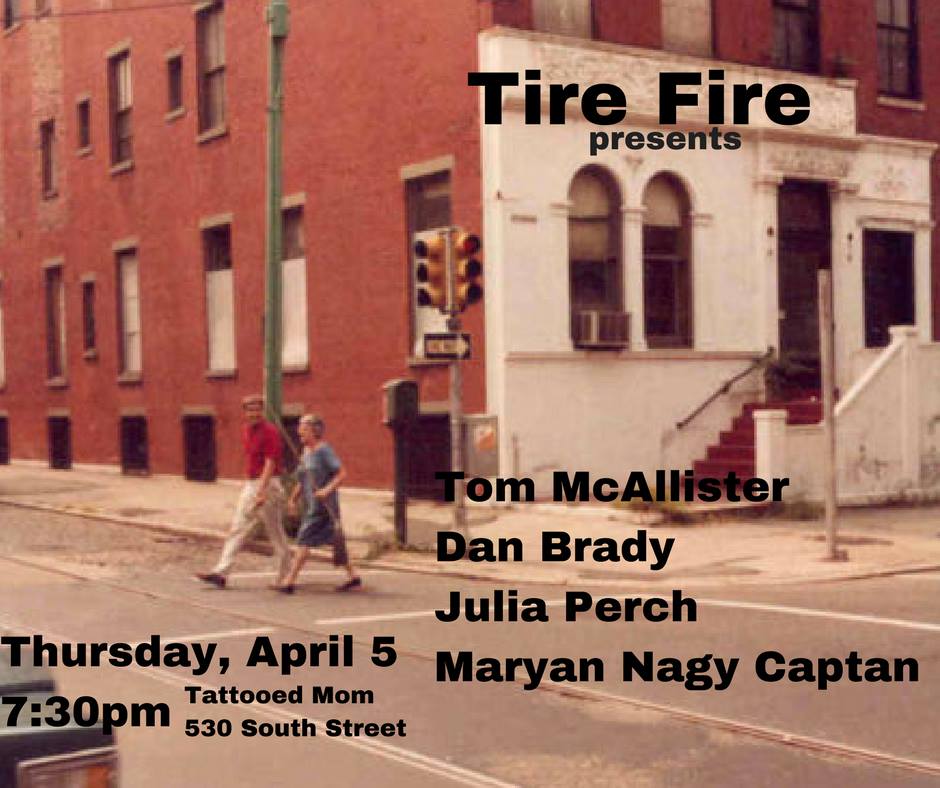 Our flagship literary reading series
Tire Fire
is back with another stellar line up of writers to kick off the spring season at Mom's. This month's line up includes:
TOM MCALLISTER
is the author of the novels How to Be Safe and The Young Widower's Handbook. He co-hosts the Book Fight! podcast and works as non-fiction editor for Barrelhouse. He lives in New Jersey and teaches at Temple University.
DAN BRADY
is the author of the poetry collection Strange Children, forthcoming from Publishing Genius in 2018, and two chapbooks, Cabin Fever / Fossil Record (Flying Guillotine Press) and Leroy Sequences (Horse Less Press). He is the poetry editor of Barrelhouse and lives in Arlington, Virginia with his wife and two kids.
JULIA PERCH is a queer and femme-identified editor, essayist, and poet living and working in West Philly. Her work has appeared in Philadelphia Stories, bedfellows, Word Riot, Shape Magazine, Prick of the Spindle, and others. She runs a low-key poetry vlog and deciphers dreams on Instagram, and tweets about The Bachelor franchise from a feminist lens.
MARYAN NAGY CAPTAN is an Egyptian-American poet, educator, and performer. She is the former art director at APIARY Magazine and teaches experimental writing with The Head & The Hand Press. She is the author of copy/body (Empty Set Press) and is an alumni of The Disquiet International Literary Program. Her work can be found in Mad House, AJAR, APIARY Magazine, Boneless/Skinless, and Sundog Lit.
Your generous donations this month will go to help support the good work of  The Philadelphia Student Union, a youth-led organization that exists to build the power of young people to demand a high quality education in the Philadelphia public school system. Through leadership development, media making, organizer training and political education the Philadelphia Student Union gives young people the tools and support they need to be leaders in their schools and communities. We are proud to match every donation dollar for dollar!
Upstairs opens at 6PM, but our "doors" open at 7, and the reading starts around 8.
Accessibility Note: reading is upstairs and non-bumper car seating is limited, and tends to be first-come, first-serve. If you need assistance or accommodations, please let us know.