Tire Fire Presents: Kleine, Moll, Mullany, and Blackwood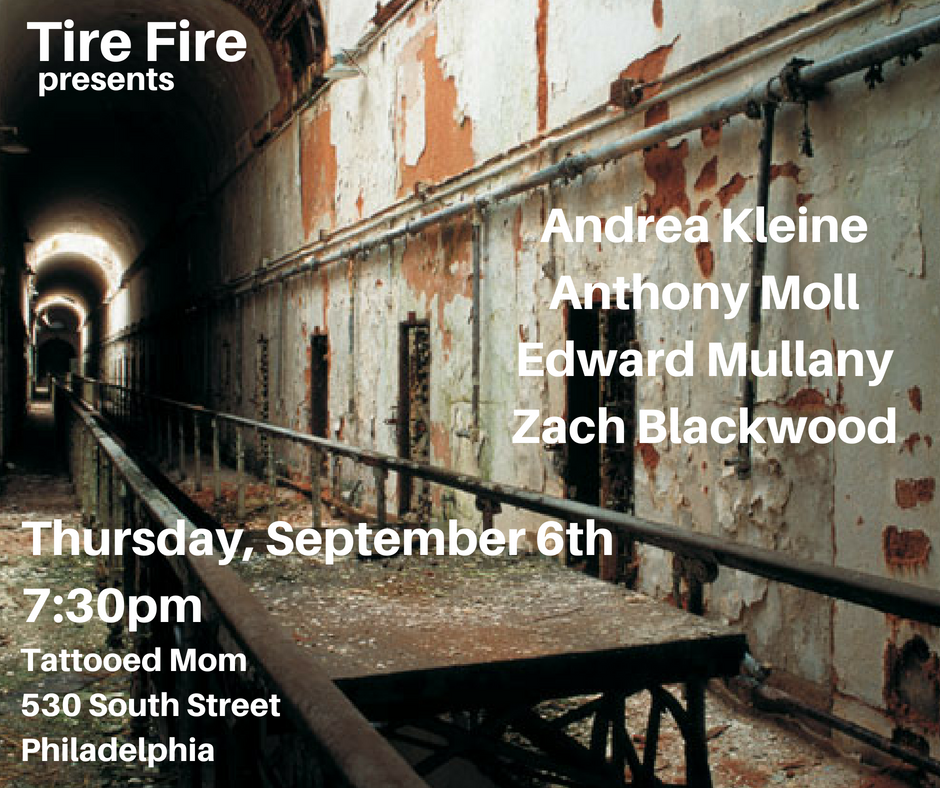 TIRE FIRE IS BACK! Did you miss them as much as we did?!
Join us for another exciting edition of Tire Fire on Thursday, September 6th featuring Andrea Kleine, Anthony Moll, Edward Mullany, and Zach Blackwood.
Doors 7 // Reading 8
They'll be raising funds for PA Adapt, "a grass-roots community that organizes disability rights activists to engage in nonviolent direct action, including civil disobedience, to assure the civil and human rights of people with disabilities to live in freedom in the Commonwealth of Pennsylvania.
Accessibility Note: Reading is upstairs and non-bumper car seating is limited, and tends to be first-come, first-serve. If you need assistance or accommodations, please let us know.
Enjoy this event with our Pierogi Thursday specials:
50¢ pierogi from noon-10pm
& half off all drafts 5-7pm and 10-11pm
Join the Facebook Event and invite all your pals!
ARTIST BIOS:
ANDREA KLEINE is a novelist, choreographer, performance artist, and essayist. She is a five-time MacDowell Colony fellow and a New York Foundation for the Arts fellow. Her debut novel, CALF, was described by Publishers' Weekly as "unsettling, scary, and often brilliant" and named one of their Best Fiction Books of 2015. Her new novel, EDEN, was published by Houghton Mifflin Harcourt on July 10, 2018 and named one of "Summer's Smartest and Most Innovative Thrillers" by Vanity Fair. Kleine grew up in Washington, DC and Richmond, VA. She lives in New York City.
ANTHONY MOLL is a Baltimore-based writer and educator. He writes about Queer life and occasionally reviews books for both national and local publications. His creative work has appeared in Gertrude Journal, Assaracus, jubilat and more. Anthony holds an MFA in Creative Writing and Publishing Arts and has taught writing at both public and private universities. Anthony is the winner of the 2017 Non/Fiction Collection Prize from The Journal and Ohio State University Press for his memoir Out of Step.
EDWARD MULLANY is the author of If I Falter at the Gallows, Figures for an Apocalypse, and The Three Sunrises (all from Publishing Genius). He is also the creator of the comic strips Rachel and Ben, and Excerpts From a Boring Man's Diary. He has an MA in Literature from Creighton University and an MFA in Creative Writing from the University of Houston, where he was the recipient of a Barthelme Fellowship from the Inprint Foundation. He has taught Creative Writing, Literature, and Composition classes. He likes both visual art and writing. His writing has been included in the Norton Anthology of International Flash Fiction, and he has published fiction, poetry, comics and essays in journals including Alaska Quarterly Review, New Ohio Review, Green Mountains Review, Carolina Quarterly, and Barrelhouse.
ZACH BLACKWOOD is a queer black poet and contemporary performance curator in Philadelphia, PA. He has poems published or forthcoming in Peach Magazine, Metatron, Bedfellows Magazine, and Tenderness, yea. He lives with a beautiful dog named Pig. follow @blackwhom for pig pics.