Tire Fire Presents: Etter, Grass, Garcia, & Gonzalez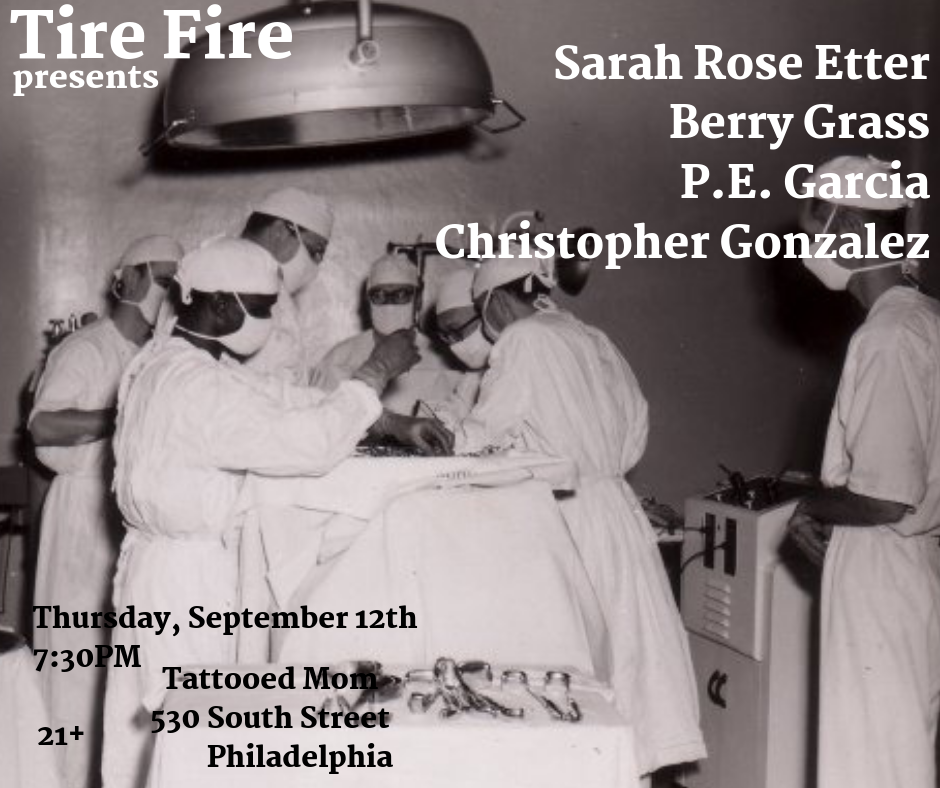 FRIENDS, IT'S TIME. (Or well, it will be.) TIRE FIRE IS BACK!
It is our GREAT HONOR to celebrate Sarah Rose Etter's THE BOOK OF X, and Berry Grass's HALL OF WATERS, with the help of P.E. Garcia and Chris Gonzalez. Bask in the glory from a bumper car!
Doors 7 // Reading 8
This month, they'll be raising funds for the Women's Medical Fund, who protects and expands abortion access for low-income folks through direct service and advocacy. "We support those living in poverty who need abortion care today by providing counseling and emergency financial assistance. We support people in the future by working to expand and equalize access to abortion through lifting the insurance bans and eliminating other barriers."
Accessibility Note: Reading is upstairs and non-bumper car seating is limited, and tends to be first-come, first-serve. If you need assistance or accommodations, please let us know.
Enjoy this event with our Pierogi Thursday specials:
50¢ pierogi from noon-10pm
& half off all drafts 5-7pm and 10-11pm
Join the Facebook Event and invite all your pals!
***
SARAH ROSE ETTER is the author of Tongue Party, selected by Deb Olin Unferth as the winner of the Caketrain Press award, and The Book of X, her first novel, which is available from Two Dollar Radio. Her work has appeared or is forthcoming in The Cut, Electric Literature, Guernica, VICE, New York Tyrant, Juked, Night Block, The Black Warrior Review, Salt Hill Journal, The Collagist, and more.
She is the co-founder of the TireFire Reading Series, and a contributing editor at The Fanzine. She has also served as an arts columnist at Philadelphia Weekly. She has been awarded residences at Disquiet International program in Portugal and the Gullkistan Writing Residency in Iceland. She earned her B.A. in English from Pennsylvania State University and her M.F.A. in Fiction from Rosemont College.
BERRY GRASS is originally from rural Missouri, got their MFA in Tuscaloosa, and now lives & teaches writing in Philadelphia. They are the author of Hall of Waters (forthcoming in 2019 from The Operating System). Their essays and poems appear in DIAGRAM, The Normal School, Barrelhouse, BOAAT, Phoebe, Bedfellows, The Wanderer, and Sonora Review, among other publications. They are a 2019 nominee for the Krause Essay Prize. Their chapbook, Collector's Item, was published in 2014 by Corgi Snorkel Press. They host Tragic: the Gathering — an occasional transgender literature reading series in Philadelphia. When they aren't reading submissions as Nonfiction Editor of Sundog Lit, they're embodying what happens when a Virgo watches too much professional wrestling.
P.E. GARCIA is an editor-at-large at the Rumpus and a contributor to HTMLGiant. Previously, they've been a contributing editor at the Offing and Awst Press and an online editor for Hunger Mountain. They earned their MFA in Fiction from Vermont College of Fine Arts in 2013. Originally from Arkansas, they currently live in Philadelphia, where they are a PhD student in Rhetoric at Temple University.
CHRISTOPHER GONZALEZ grew up in Cleveland and now lives and writes in New York. His writing has appeared or is forthcoming in Lunch Ticket, Wasafiri, Third Point Press, Cosmonauts Avenue, jmww, Split Lip Magazine, Pithead Chapel, The Acentos Review, and elsewhere. A graduate of Vassar College, he is the recipient of the 2015 Ann E. Imbrie Prize for Excellence in Fiction Writing. His short story "Dress Yourself" was selected for the 2019 Best Small Fictions anthology and long-listed for Wigleaf's Top 50 flash fictions of 2018. Currently, he works in book publishing as a digital production manager. He also serves as a fiction editor at Barrelhouse magazine and a contributing editor at Split Lip.