Tire Fire Presents: Dunn, Sogumi, Longmire, & Lawrence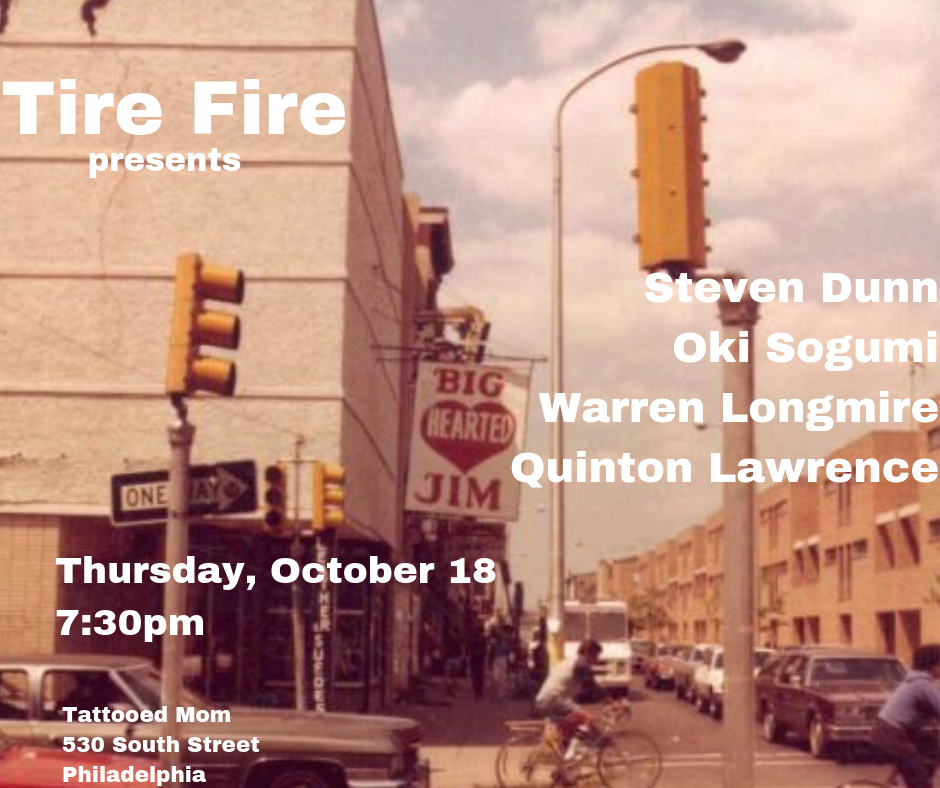 Fall is here & we're celebrating with another reading from Tire Fire!
This month we have readings from Steven Dunn, Oki Sogumi, Warren C. Longmire, & Quinton Lawrence.
Doors 7 // Reading 8
They'll also be raising money for our good friends at Juntos, "a Latino immigrant community led organization in Philadelphia fighting for our human rights as workers, parents, youth, and immigrants."
Accessibility Note: Reading is upstairs and non-bumper car seating is limited, and tends to be first-come, first-serve. If you need assistance or accommodations, please let us know.
Enjoy this event with our Pierogi Thursday specials:
50¢ pierogi from noon-10pm
& half off all drafts 5-7pm and 10-11pm
Join the Facebook Event and invite all your pals!
ARTIST BIOS:
STEVEN DUNN is the author of the novels Potted Meat (Tarpaulin Sky Press, 2016) and water & power (Tarpaulin Sky, 2018) He was born and raised in West Virginia, and after 10 years in the Navy, he earned a B.A. in Creative Writing from the University of Denver.
OKI SOGUMI was born in Seoul, South Korea as military dictatorship ended and currently lives in Philly. Her genre-promiscuous chapbook is from Skeleton Man Press (forthcoming Fall 2018), and she is perpetually working on a "sci-fi novel" which ferries itself between the living and dead.
WARREN LONGMIRE is a poet, a programmer, an educator, a North Philly native, an expert level whistler, a fat tipped sharpie and a plum. He is the co-founder of the Excelano Project Spoken Word Collective, and former poetry editor for Apiary Magazine. He's been published in journals including Metropolary, Eleven Eleven, Pax Americana, Certain Circuits, The New Purlieu Review and two chapbooks: Ripped Winters (Seventh Tangent 2006), Do.Until.True. (Two Pens and Lint 2012).