Tire Fire Presents: Austin, Older, Jacobs, & Mendelsohn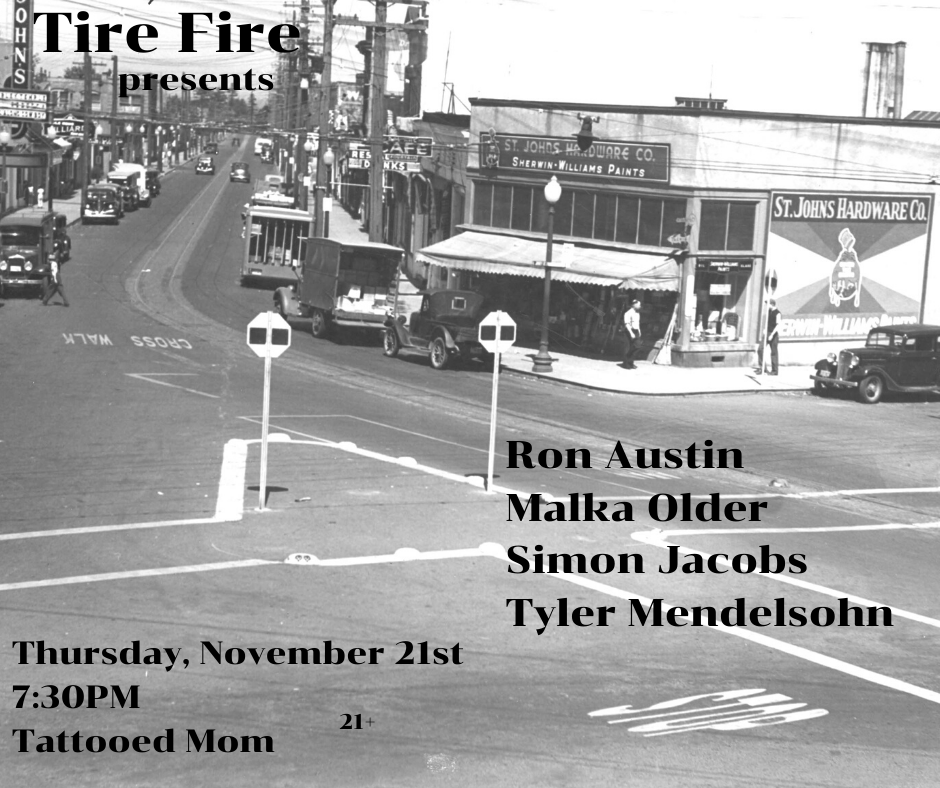 The end of 2019 is closing in, but we've got one more Tire Fire before the holidays! Join us for readings from Ron Austin, Malka Older, Simon Jacobs, and Tyler Mendelsohn on Thursday, November 21st at Tattooed Mom!
Doors 7 // Reading 8
This month, we'll be supporting one of our favorite causes, the Philadelphia Community Bail Fund, who posts bail for residents of Philadelphia who cannot afford to pay bail and works to bring to light to the inequities of the use of cash bail in Philadelphia and to advocate for the abolition of bail and pretrial detention in our city.
Accessibility Note: Reading is upstairs and non-bumper car seating is limited, and tends to be first-come, first-serve. If you need assistance or accommodations, please let us know.
Enjoy this event with our Pierogi Thursday specials:
50¢ pierogi from noon-10pm
& half off all drafts 5-7pm and 10-11pm
Join the Facebook Event and invite all your pals!
***
RON AUSTIN's short stories have been placed in Pleiades, Story Quarterly, Ninth Letter, Black Warrior Review, and other journals. Avery Colt Is a Snake, a Thief, a Liar, his first collection of linked stories, won the 2017 Nilsen Prize, and was released in October 2019.
​Austin's work has garnered a 2016 Regional Arts Commission Fellowship and a special mention in the 2015 Pushcart Prize Anthology. As co-director of the River Styx Reading Series, he strives to share local and national literary talent. He, his partner Jennie, and son Elijah live in St. Louis.
MALKA OLDER is a writer, aid worker, and sociologist. Her science-fiction political thriller Infomocracy was named one of the best books of 2016 by Kirkus, Book Riot, and the Washington Post. With the sequels Null States (2017) and State Tectonics (2018), she completed the Centenal Cycle trilogy, a finalist for the Hugo Best Series Award of 2018. She is also the creator of the serial Ninth Step Station, currently running on Serial Box, and her short story collection And Other Disasters will come out in November 2019. Named Senior Fellow for Technology and Risk at the Carnegie Council for Ethics in International Affairs for 2015, she is currently an Affiliated Research Fellow at the Center for the Sociology of Organizations at Sciences Po, where her doctoral work explored the dynamics of post-disaster improvisation in governments. She has more than a decade of field experience in humanitarian aid and development.
SIMON JACOBS is from Dayton, Ohio, and currently lives in New York City.
He is the author of the novel Palaces (Two Dollar Radio, 2018), and of two collections of short fiction: Masterworks (Instar Books, 2019), and Saturn (Spork Press, 2016), a collection of David Bowie stories. His other fiction has appeared in Tin House, Black Warrior Review, Joyland, and Paper Darts.
TYLER MENDELSOHN is a Baltimore-based writer and editor. They are the author of Laurel (Ink Press Productions, 2019). Tyler's work has been featured or is forthcoming in NAILED Magazine, The Establishment, Little Patuxent Review, ARTpublika, Big Lucks Books, Queen Mob's Tea House, BmoreArt, What Weekly, JMWW, Baltimore Fishbowl, and more. Tyler holds an MFA in Creative Writing and Publishing Arts from the University of Baltimore.