Queerspace 7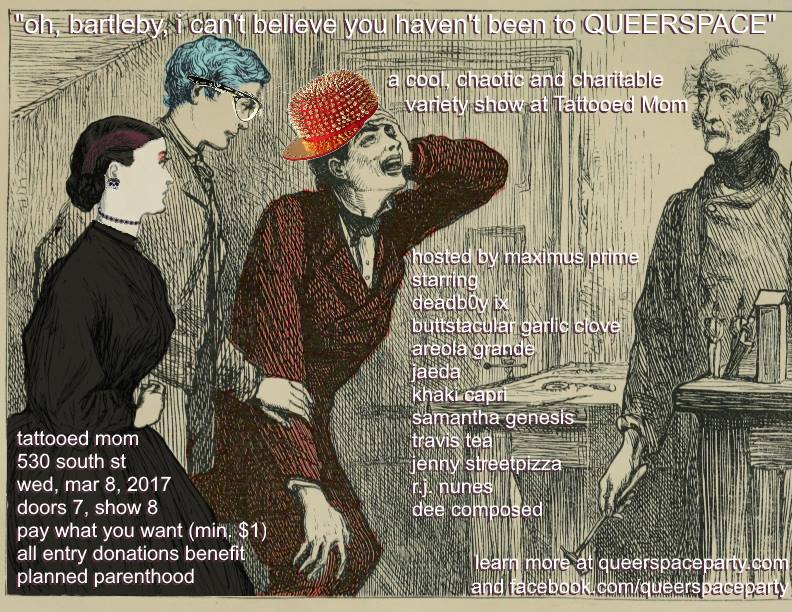 Queerspace RETURNS for more madness!
Visual art, performance art, body positivity, burlesque, comedy, poetry, bravery, panache, and TRASH come together to educate and entertain!  Join in on the fun as you open your mind!
This unforgettable evening benefits Planned Parenthood, so you're partying for a GREAT cause! Come early to get your food orders in and hang out with these bodacious weirdos!
STARRING
deadb0y ix
Buttstacular Garlic Clove
Areola Grande
Jaeda
Khaki Capri
Samantha Genesis
Travis Tea
Jenny Streetpizza
RJ Nunes
Dee Composed
…and your host, Maximus Prime
Pay-what-you-can (Minimum $1)
Doors at 7, show to follow.
$5 Hallucinating Pluto speciality cocktails (Coconut Rum, Amaro, pineapple, and MAGIK) only available at Queerspace!
$4 Hamburgers & Vegan Burgers until midnight (Try the BURGER OF THE MONTH!)
$2 Narragansett Lager Tall Boys all day
Half off all drafts 5-7 & 10-11pm