Philly Queer Bazaar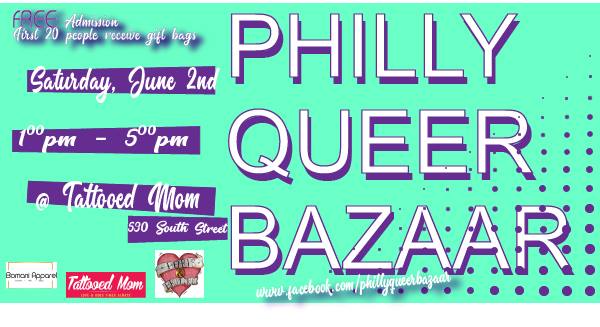 The extraordinary Philly Queer Bazaar is setting up shop on the 2nd floor of TMOMs with several other local queer business owners! Come hang out, shop, support, show your beautiful faces, meet new people, catch up with old friends!
Free to attend (but I'm sure you'll want to buy a thing or two)
Free goodie bags to first 20 people, so get here early!
Vendors:
Hearts & Bruises – Handmade jewelry, art and accessories
Sophie Margot Art – Art, illustration, & embroidery
ChristineM Creations – Home Decor
MsWritten – Expressions of a self-proclaimed "visual junkie"
cybrwrm – T-shirts, tote bags & art prints
Bee Daddy – Mysterious queer art
TeeGoerlachArt – Custom prints
Shell Home Made – Shrinky art, potions, & more
Rose & Yarrow – Essential oils, teas, tarot readings, & more
Chipotleggs – Hand embroidered wearables
Rainbow Dust Portraiture – Art prints & queer cross stitch designs
Charlie J Meyers Paintings – Soft bodies in honest spaces
Peach & Bread – Queer comic collab with infinite possibilities
Bomani Apparel – Knitted & cloth clothing
Hang around after this event for half off all draft 5-7pm and 10-11pm.
Join the Facebook Event and invite all your pals!