Philly Fashion Week Pop-Up & After Party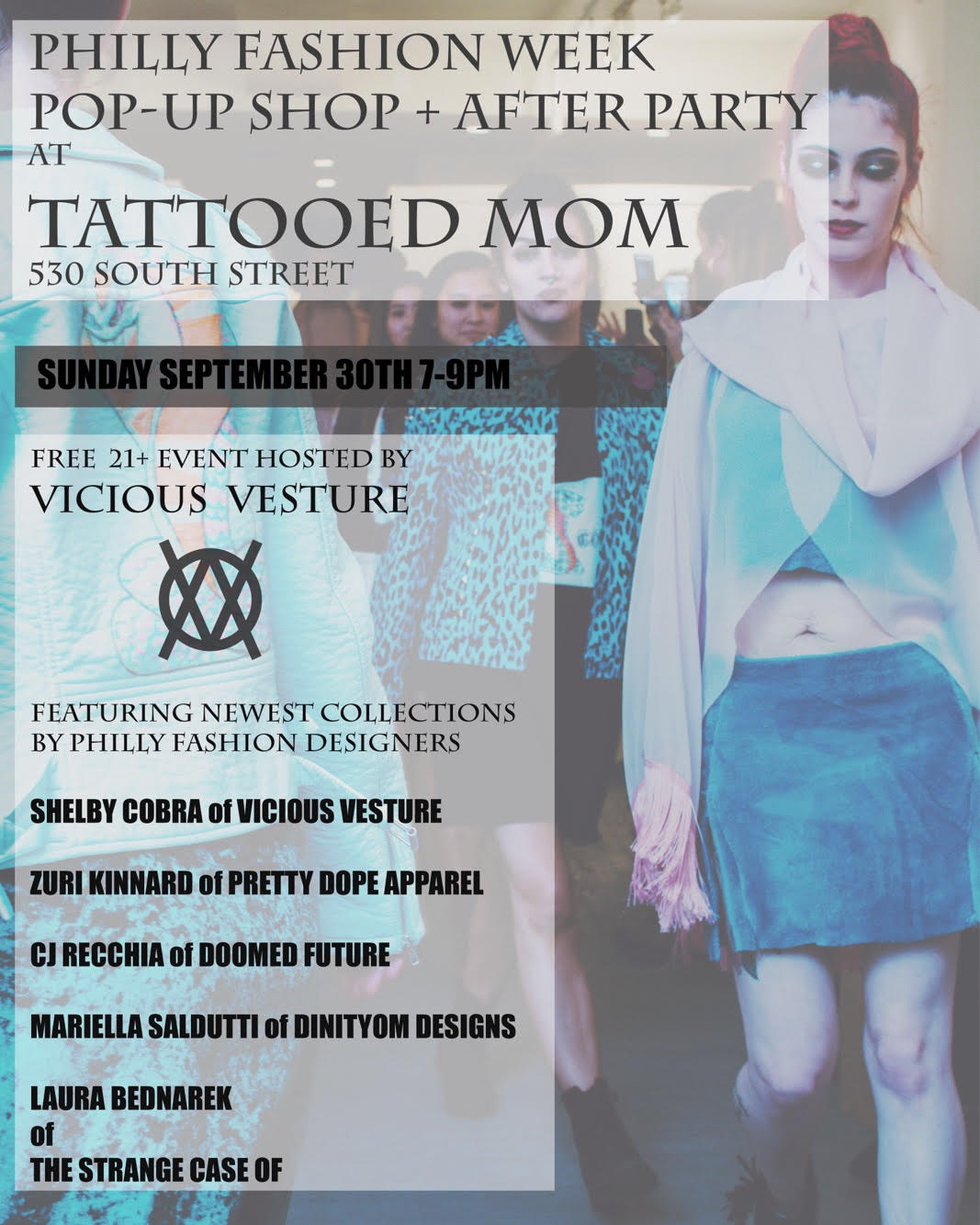 Philly Fashion Week Pop-Up Shop + After Party at Tattooed Mom
Free // 21+ Event hosted by Vicious Vesture to round out Philly Fashion Week, featuring the newest collections from Philly Fashion Designers + a raffle gift basket to benefit the Life Center of Eastern Delaware County!
Shelby Cobra of Vicious Vesture
A hand-made, DIY brand of one-of-a-kind and rocked-out clothing, featuring thrift store finds that are embellished to perfection.
// Instagram // Facebook // Website //
Zuri Kinnard of Pretty Dope Apparel
This streetwear brand ranges from bomber jackets, tees, and denim jackets, to skirts and shirts with detailed embellishments and patches. Zuri will extending the brand to a couture line called Zuri K. Which will include lace neck corsets, waist corsets, evening wear, and prom/homecoming dresses.
// Instagram //
CJ Recchia of Doomed Future
A prophetic symbol of warning, bearing witness to the dawn and demise of all things. Through this, one can accept human kind for what it truly is, and embrace the world as an imperfect place. Doomed Future transpires metaphysical beliefs into artistic design, creating a visionary brand deeply exalted in ideology.
// Instagram // Website //
Mariella Saldutti of Dinityom Designs
Dinityom accentuates the auras is God's and Goddesses around the universe. These crystal creations flow with your true vibrations and are handmade with the best intentions with findings from the earth. These one of a kind crystal accessories can be found at:
// Instagram // Website //
Laura Bednarek of The Strange Case Of
Handmade copper jewelry, with crystals hand picked by the artist and ethically acquired animal bones, bees, and other insects.
// Instagram //
Enjoy half priced drafts before & after this event from 5-7pm & 10-11pm
+ half priced tots & $2 PBR pounders from 7pm 'til close
Join the Facebook Event and invite all your pals!