Philadelphia local authors: Poetry reading and Glass Actress book release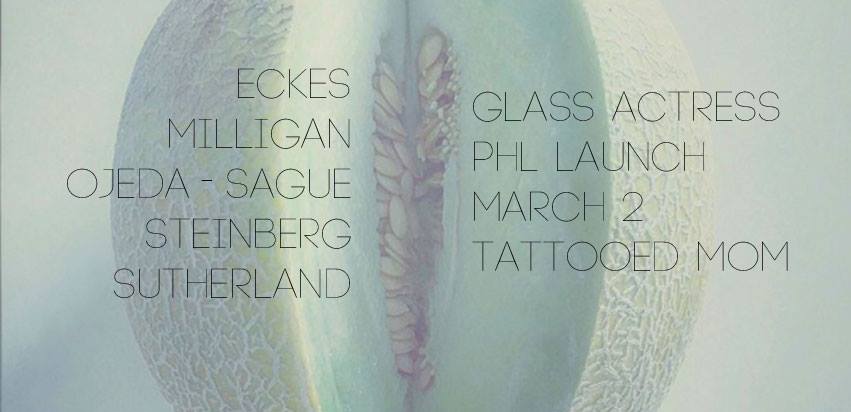 Celebrate Nicole Steinberg's new full-length poetry collection, GLASS ACTRESS (out on February 15), with a night of poetry from local Philadelphia poets and authors.  Support your local literary scene and bask in the beauty that is Philadelphia poetry!
Featuring:
RYAN ECKES
RACHEL MILLIGAN
GABRIEL OJEDA-SAGUE
NICOLE STEINBERG
KIRWYN SUTHERLAND
Doors @ 7 p.m. / Readings at 7:45
50¢ pierogi until 10pm
Half off all drafts 5-7 & 10-11pm
GLASS ACTRESS is available for pre-order at the Furniture Press Books website. FPB will donate 15% of FPB sales (all books and subscriptions) to the ACLU, between now and February 15.
PRAISE FOR GLASS ACTRESS:
"A speaker in Glass Actress asks, 'Can I even be sexually appealing / without a gun or a cigarette?' Women who have never been perplexed by this question may cast the first stone. Just what I thought—silence. Nicole Steinberg's poems sparkle, delight, shimmer, and let light through as they display their vulnerable fragility. Women's bodies—a deceased mother, hypothetical children of the future, young and old, fat and thin—shimmer on the surface belying their scholarly depths and private dreams. These poems capture what it is to be alive, alert, in this cultural moment."—Denise Duhamel
RYAN ECKES is a poet who lives in South Philadelphia. His books include Valu-Plus and Old News (Furniture Press 2014, 2011). He just finished a manuscript about labor and transportation called General Motors. You can read some of his poems in Tripwire,The Brooklyn Rail, Slow Poetry in America Newsletter, Public Pool and on his blog. He is the recipient of a 2016 Pew Fellowship in the Arts.
RACHEL MILLIGAN is a poet in Philadelphia. She is the author of Queen Carrion, chosen by Mary Ruefle as a finalist in the BOAAT Press 2015 Summer Chapbook Competition. She graduated from Temple University, the Iowa Writers' Workshop, and the US Department of State Critical Language Scholarship Program in Chinese. Her work can be found in The Iowa Review, BOAAT, smoking glue gun, and elsewhere.
GABRIEL OJEDA-SAGUE is a Miami -> Philly, Latino, queer Leo. His first collection, Oil and Candle (March 2016, Timeless, Infinite Light), is a set of writings on Santería, war, and the precarity of Latino-American lives. He is also the author of four chapbooks, most recently Where Everything is in Halves (Be About It, 2015), poems against death through The Legend of Zelda, and 'Yo' Quiere Decir Sunburn (2016), poems of anxious bilingualism. He has recently finished a manuscript on Jazzercise.
NICOLE STEINBERG is the author of Glass Actress (Furniture Press Books, 2017) and Getting Lucky (Spooky Girlfriend Press, 2013), as well as three chapbooks, most recently Clever Little Gang, winner of the 4X4 Furniture Press Chapbook Award. Her work has been featured or reviewed in the New York Times, Newsweek, Flavorwire, Bitch, and Hyperallergic. She's the founder of New York's EARSHOT reading series and she lives in Philadelphia.
KIRWYN SUTHERLAND [bio to come]
Details
Date:

March 2, 2017

Time:

7:00 pm - 10:00 pm

Event Category:

Event Tags:
Event Navigation