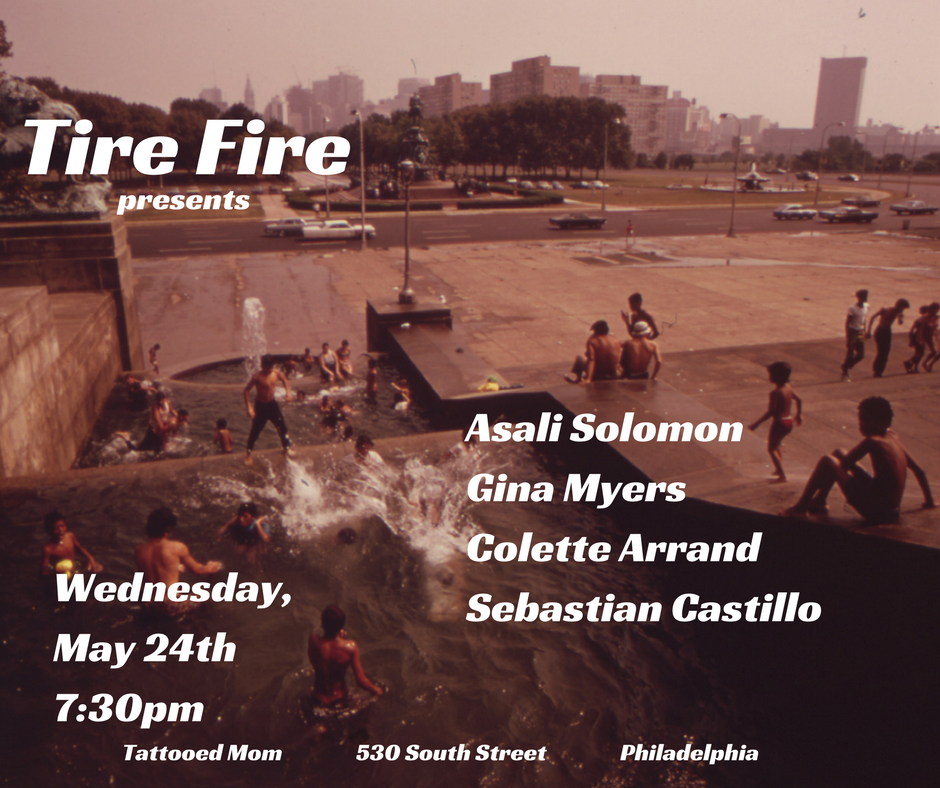 This is the LAST TIRE FIRE….until September.
Come celebrate with them on a rare burger Wednesday with readings from:

Like the Fresh Prince of Bel Air, Asali Solomon was West Philadelphia born and raised, but left the area for twenty years after high school. She attended college at Barnard College in New York, received a Ph.D. in English from the University of California, Berkeley and an MFA in Fiction at the University of Iowa. She's the author of Get Down (FSG, 2006) and Disgruntled (Farrar, Straus & Giroux, 2015), and an assistant professor of English at Haverford College.
Gina Myers is the author of A Model Year (2009) and Hold It Down (2013). Her essays and reviews have appeared in Fanzine, Frontier Psychiatrist, Coldfront Magazine, Philadelphia Review of Books, and other places. Originally from Saginaw, Michigan, Myers lives in Philadelphia.
Colette Arrand is a student at the University of Georgia, studying English Literature. She is the author of Hold Me Gorilla Monsoon (Opo Books & Objects, 2017). She is the founding editor of The Wanderer and the non-fiction editor of Heavy Feather Review. She currently lives in Athens, GA, where she runs Fear of a Ghost Planet, a zine press and distro.
Sebastian Castillo is the author of 49 Venezuelan Novels. He lives in Philadelphia, where he teaches writing. He asks that his friends and family put a video of Cam'ron counting a stack of money while freestyling on a 2003 episode of BET's The Basement on his grave, somehow.
This month, they'll be raising money for the Women's Law Project, "the only public interest law center in Pennsylvania devoted to the rights of women and girls. We are a leading voice in the fight for equal access to reproductive healthcare and abortion, improving institutional response to all forms of violence against women, challenging sex & gender discrimination, and advocating for workplace equality and economic justice. We're proud to be a state-based organization with a significant track record of national influence, and an extensive track record of legal precedents and policy reforms that advance the rights of women and their families—particularly those with few resources and little political power."
Doors at 7, reading around 8.
$4 Hamburgers & Vegan Burgers until midnight
$2 Narragansett Lager Tall Boys all day
Half off all drafts 5-7 & 10-11pm