Philly Vegan Bake Sale to Benefit Immigrant & Refugee Families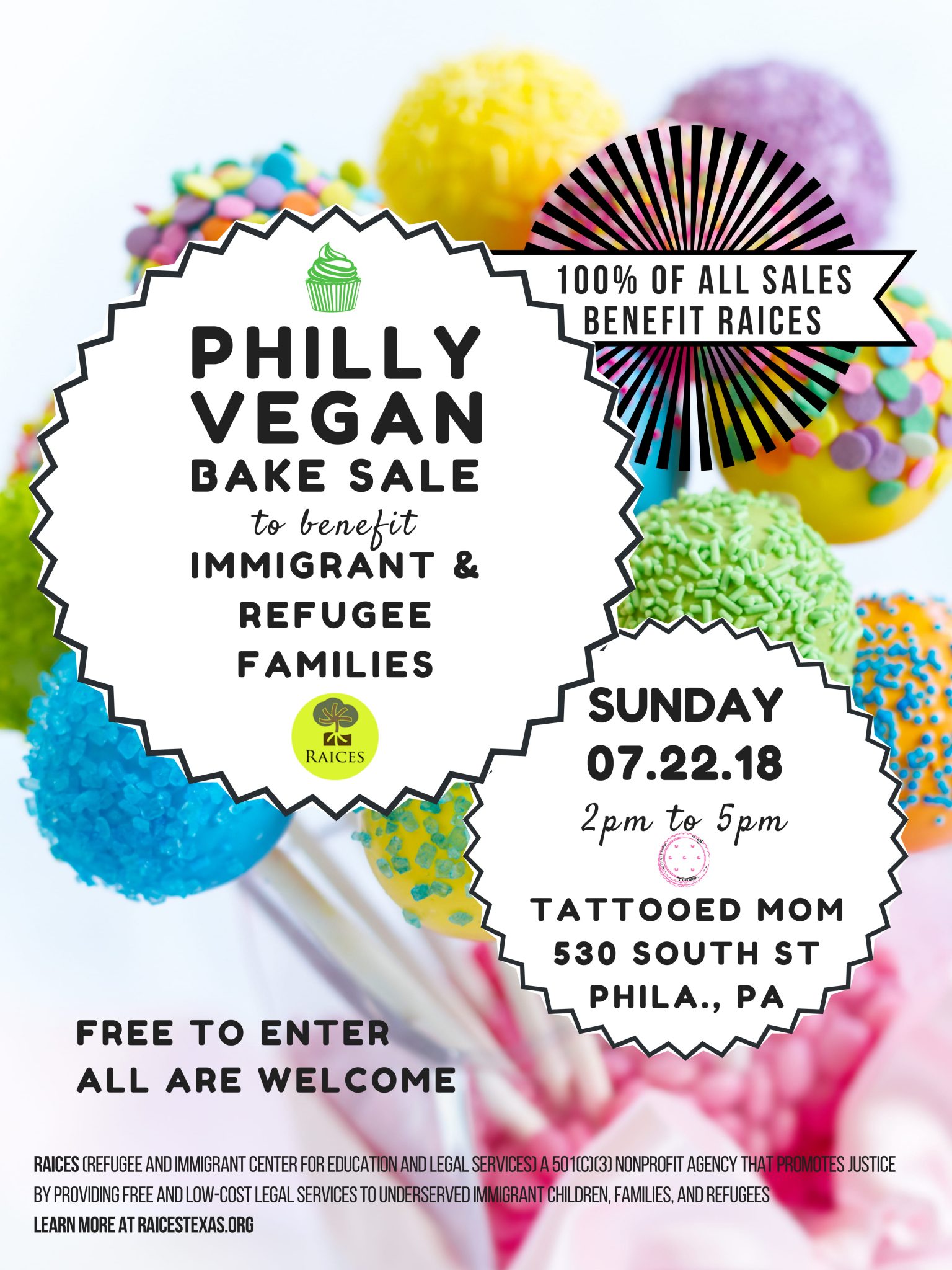 They say "it takes a village," but we're a whole damned city! Let's do this!
Inspired by Chicago's vegan bake sale organized by our friend Marla Rose of Vegan Street, V Marks the Shop & Tattooed Mom are honored to host a community gathering and ALL-VEGAN bake sale to benefit RAICES (Refugee and Immigrant Center for Education and Legal Services) to aid in their efforts provide support to immigrant families seeking asylum in the United States!
**100% OF ALL PROCEEDS FROM THE BAKE SALE WILL BE DONATED TO RAICES**
Baked goods include sweet treats & vegan delights from:
Du Lapin Bakery
Chef Fran Costigan
Sally B Munch Bars
V Marks the Shop
& MORE
HOW YOU CAN HELP:
SIGN UP TO VOLUNTEER TO BAKE & MORE: https://goo.gl/forms/yEHxqYGmM4nD2IbK2
If you're unable to attend, please share this event with your friends & family!
Other ways to help: https://bit.ly/2Kd0XnE
Preguntas más frecuentes (en español): https://tinyurl.com/y7b8lrav
ABOUT RAICES:
The Refugee and Immigrant Center for Education and Legal Services (RAICES) is a 501(c)(3) charity that provides free and low-cost legal services to under-served immigrant children, families and refugees. RAICES has grown to be the largest immigration legal services provider in Texas, and is unique among immigration organizations. Their advocacy and commitment to change are driven by the clients and families we serve every day as our attorneys and legal assistants provide legal advocacy and representation in an immigration system that breaks apart families and leaves millions without pathways to legal status.
LEARN MORE: https://www.raicestexas.org/
This event is FREE to enter and open to ALL AGES!
Disclaimer: This is not a vending opportunity. This is purely a volunteer-run fundraiser. All baked goods are donated for sale. All sale proceeds will be donated to RAICES.