Get In, It's An "Adult Swim" Drag Show!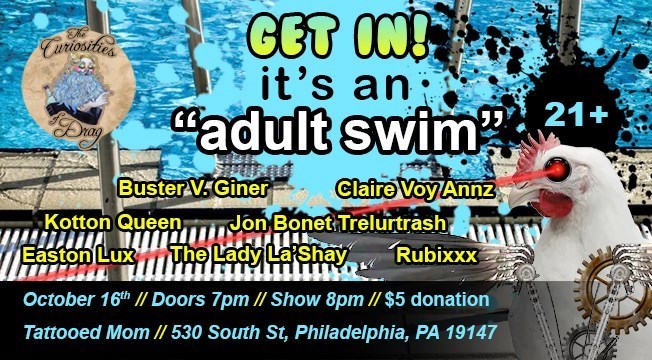 Long ago before there was Netflix, Amazon Prime, and Hulu, people were stuck watching cable TV and suffered through whatever was playing at the time. Many insomniacs and late-night party people were driven to watch either Nick at Nite reruns or infomercials when the clock struck midnight. Then a beacon of hope emerged from the brilliant minds at Cartoon Network to create young adult programming for those of us still fighting off Mr. Sandman.
With shows like Family Guy, Dethklok, Futurama, Robot Chicken, the Oblongs, Aqua Teen Hunger Force and more, Adult Swim has become an ethos in entertainment!
Come join us as we celebrate these shows & more as our Dragsters bring them to life on the stage. As with any Curiosities of Drag production, there will be games, prizes, a raffle, and more fun than should be legal!
Doors 7pm // Show 8pm
21+ w/ valid ID
$5 donation, but NOTAFLOF
♥️Tips Appreciated♥️
Cast:
Hosts: Claire Voy-Annz and Buster V. Giner
Performances By:
Kotton Queen
Rubixxx
Jon Bonet Trelurtrash
Easton Lux
Lady La'Shay
Kitten: Babe Ruthless
Enjoy this event with our Burger Wednesday specials:
$4 Mom's Beef Burgers & Mom's Vegan Burgers,
$2 Narragansett Lager Tall Boys,
a special Burger of the Month,
& half price drafts 5-7pm and 10-11pm
Join the Facebook Event and invite all your pals!