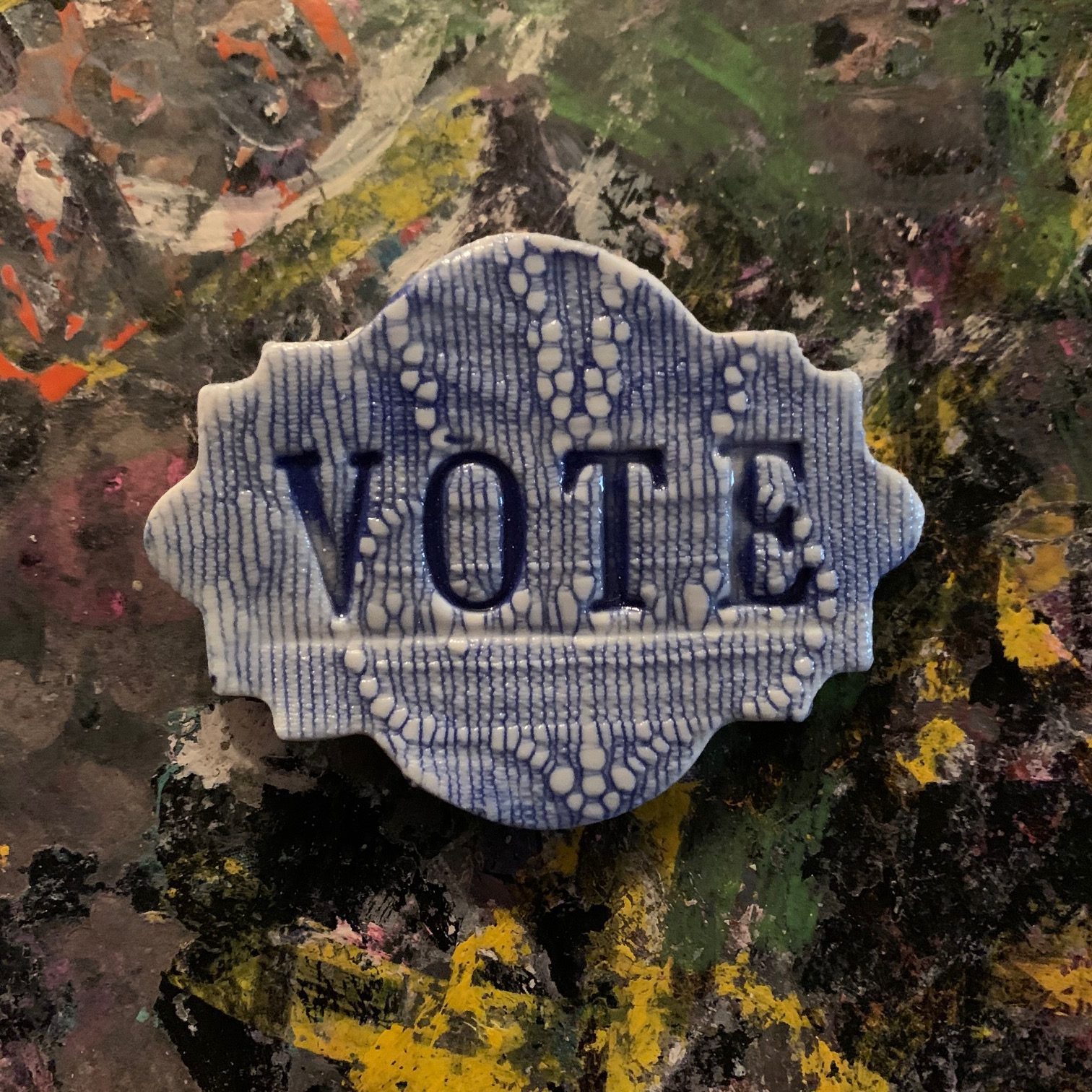 As part of our ongoing commitment towards conscientious activism and anti-racism, TMoms will be using this space, as well as our social media pages, to aggregate resources & information regarding:
No radical movement begins or ends with voting, but voting is a necessary & individual choice with a complicated historical significance. Voting is a privilege, and we must use that privilege along with activism & community care to help the most vulnerable among us.
This space is a work in progress. If you'd like to bring additional resources to our attention, feel free to email us.
***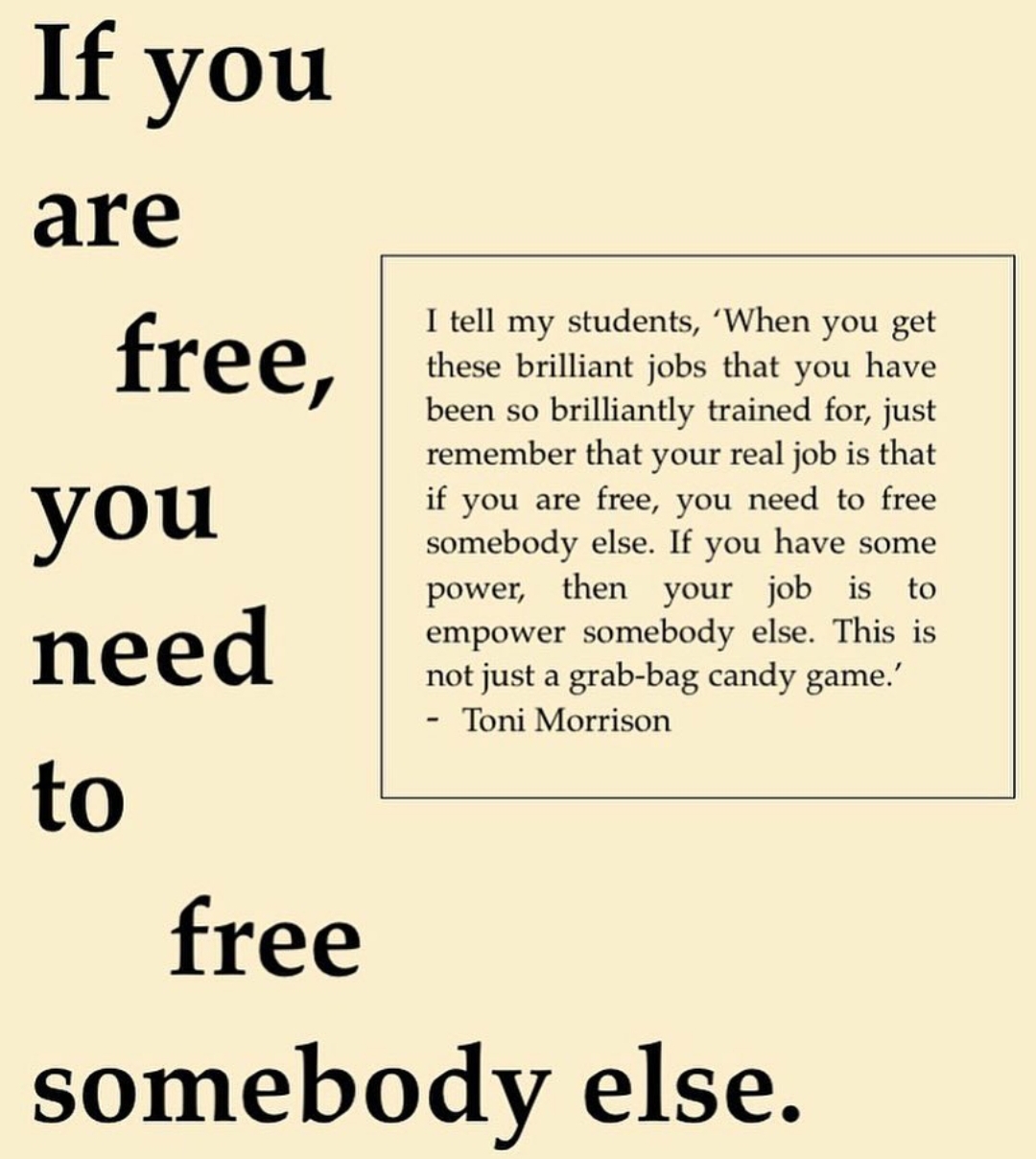 Quote by Toni Morrison. Art by SYLA STUDIO.
***
JUMP TO:
& MORE COMING SOON!
***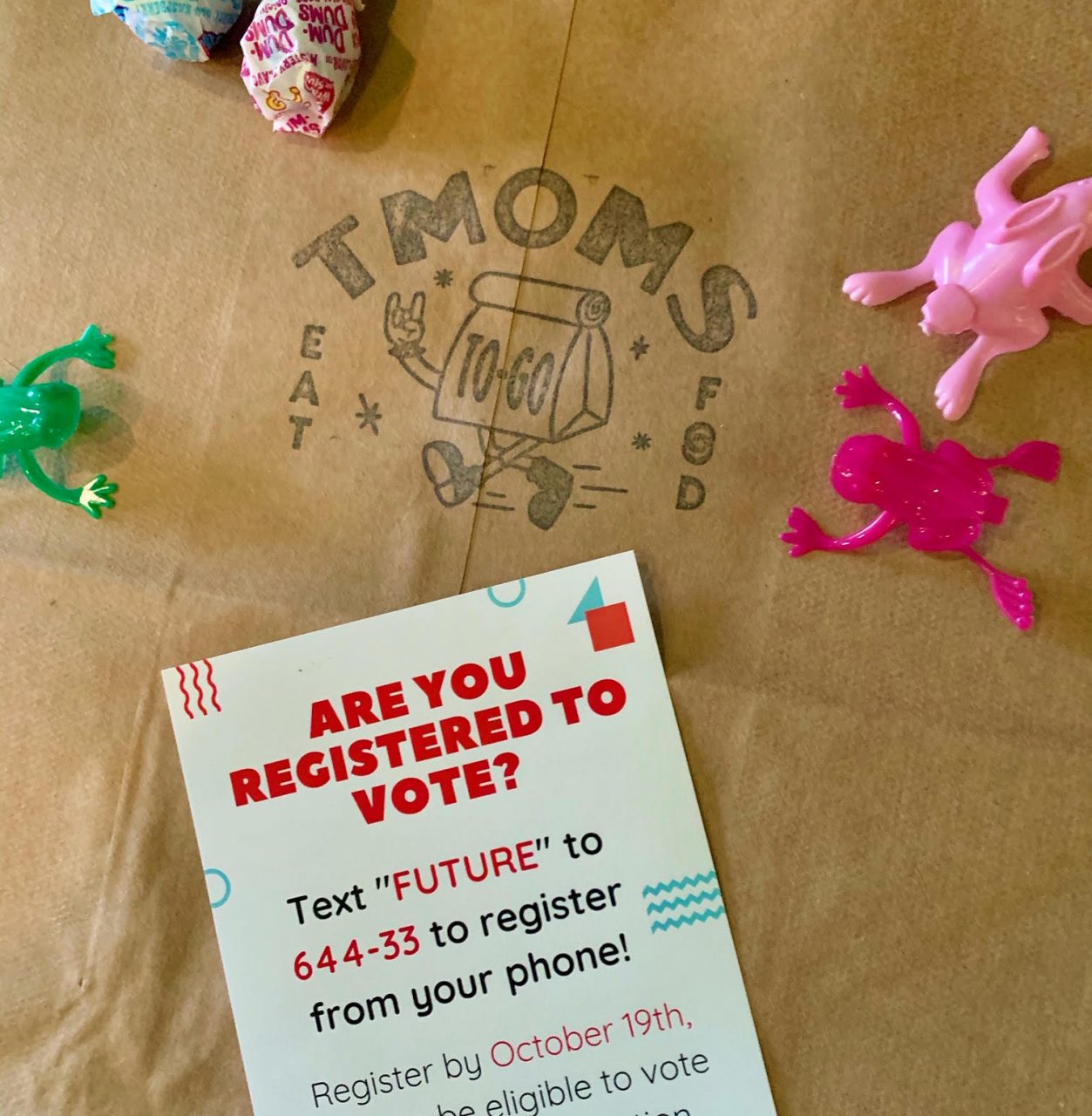 TMOMs To-Go design by Mellow Gold Studio. Voter information cards via Students Demand PA / TU Students Demand Action.
***
REGISTERING TO VOTE
Are you registered to vote?
► Text "FUTURE" to 644-33 to register to vote with the help of Students Demand PA / TU Students Demand Action.
► Text "VOTE" to 50409 to reach ResistBot, which can help you create a personalized voting checklist.
► You can also register to vote online using PA's Voter Registration Service.*
► Remember: You must register by October 19th to be eligible to vote in November's General Election.*
► Tip: Register to vote as early as possible, especially if you plan to utilize a mail-in ballot.
MAIL-IN BALLOTS
Worried about voting during the pandemic? Any registered voter in PA can request a mail-in ballot.
► How to vote by mail in Philadelphia — and make sure your ballot counts [article via Billy Penn].
► Trump vs. THE USPS: What you need to know [infographic via Complex].
► Remember: There are two deadlines for mail-in ballots. Mail-in ballot applications must be received in your county election office by 5PM on October 27th, either hand-delivered or by mail. Completed mail-in ballots must be received in your county election office by 8pm on Election Day, November 3rd.*
► Tip: Officials and politicians in Philadelphia are urging voters to postmark their ballots at least two weeks before the election. If you're voting by mail and want to show some extra love to the USPS, slap a First Class Mail stamp on your ballot. Mail-in ballots have pre-paid postage, but purchasing stamps injects extra funds into the USPS while also prioritizing your ballot's arrival.
***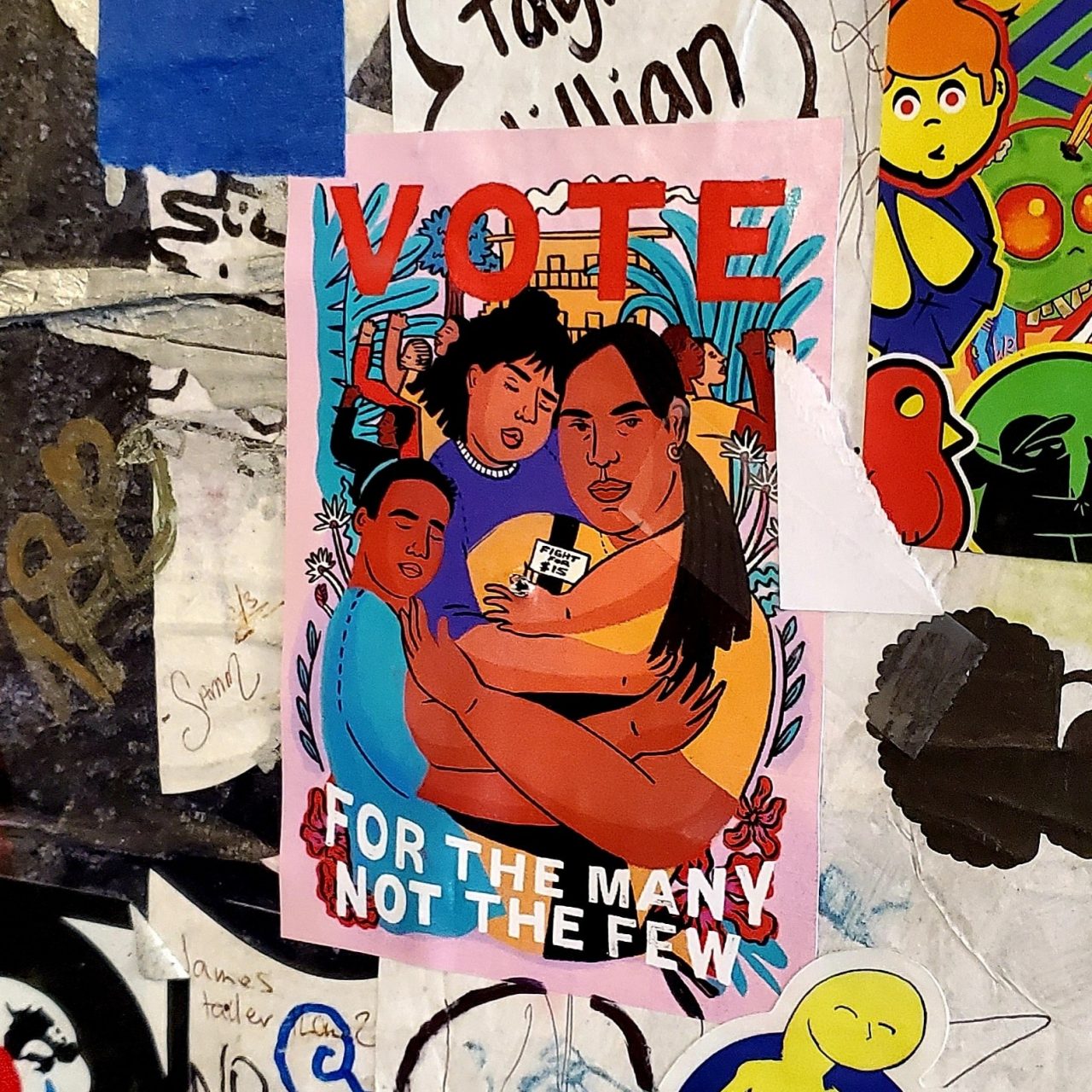 Wheatpaste and artwork by Ash Luka.
***
VOTER SUPPRESSION
Those in power have always sought to silence & subjugate non-white individuals, non-male individuals, and other marginalized identities. White, property-owning men were given the right to vote in 1789 when the Constitution of the United States was signed, and over two centuries later, we are still fighting for fair representation for all Americans.
White women were not granted voting rights until 1920. Individuals with Asian ancestry were not granted voting rights until 1952. Black individuals and Native individuals were not granted voting rights until 1965. The voting age wasn't lowered to 18 years of age until the 26th Amendment was passed in 1971. Every single one of these civil rights achievements was met with various forms of voter suppression, including now-illegal methods like poll taxes, literacy tests, and voter intimidation.
Residents of US-occupied & colonized lands, such as Puerto Rico, cannot vote. The right to vote is also withheld from incarcerated individuals who are convicted of felonies, and due to state regulated laws, many folks cannot regain the right to vote after conviction. To this day, we are still fighting unfair voter suppression tactics, including illegal voter purges, strict voter identification laws, and poll limitations that cause voting delays, polling closures, long lines, and unsafe voting environments.
► Voter Suppression: A Breakdown [infographic via The Slacktivists].
► Fair Fight, A Georgia-based PAC that promotes fair elections, encourages voter participation, and educates voters about voting rights.
► We need to talk about voter suppression [Infographic by biancaxgarcia / Information and statistics from The ACLU].
► Common Cause, a nonpartisan grassroots organization that focuses on a number of issues relating to voting rights. They are currently seeking both volunteers and donations.
► Preventing Problems at the Polls: Pennsylvania [article via The Center for American Progress].
► Remember: There are a number of ways to help fight voter suppression. Create a personalized ballot and ballot checklist with ResistBot or Vote411. Check your nearest polling location, or request a mail-in ballot ASAP. If you're voting in person, be prepared & bring all necessary forms of identification. Wear a mask and bring hand sanitizer. Be aware of your polling place's accessibility options for disabled individuals, and be prepared to intervene if you see someone being treated unfairly.
► Tip: Know your voting rights. If the polls close while you're still in line, stay in line—you have the right to vote. If you make a mistake on your ballot, ask for a new one. If the machines are down at your polling place, ask for a paper ballot. Voters are entitled to a provisional ballot, even if they aren't in the poll book. All polling places for federal elections must be fully accessible to older adults, voters with disabilities, bilingual and non-English speaking voters—report any issues to the ACLU & The Pennsylvania Department of State. If you experience or witness voter intimidation on Election Day, report it to your local election officials immediately.
► Tip: If you or someone you know has any last minute questions on Election Day, you can utilize Pennsylvania's Election Day Hotline. Interpreters are also available via this hotline.*
VOTER DISENFRANCHISEMENT
Voting is the most basic right within any democracy. In America, our electoral infrastructure is outdated, exclusionary, and "prone to partisan manipulation and deliberate voter suppression that often targets communities of color and young people," says the Brennan Center for Justice. "Voting is the most basic right in our democracy, but too many people are locked out of the process."
► Two methods of voter disenfranchisement are voter caging and voter purging. These tactics are used to highlight & challenge voter registrations that might be out-of-date or inaccurate. Caging is a process where political parties or partisan organizations send registered mail to the addresses of registered voters. All mail that is returned as undeliverable creates a "caging list," which is then used to systematically challenge the registration and therefore right to vote of the names on the list. Voter purges, if done properly, are meant to ensure that voter rolls are dependable, accurate, and up-to-date. Instead, voter purges often result in eligible, registered citizens showing up to vote only to discover that their name has been removed from the list. According to the Brennan Center for Justice, this process is "shrouded in secrecy, prone to error and vulnerable to manipulation."
► The Brennan Center for Justice advocates for voting reform that is free, fair, and easy. This includes alternatives such as automatic voter registration, early voting, and restoring the Voting Rights Act.
► State felony disenfranchisement laws withhold the right to vote from incarcerated individuals & individuals who have been convicted of a felony. In several states, individuals with misdemeanor convictions are also barred from voting. According to the ACLU, these laws prevent approximately 5.85 million Americans from voting. Further, the states with the most extreme policies, where individuals with a felony conviction are disenfranchised for life, are also among those that excessively suppress the voting rights of Black individuals.
► Since the prison-industrial complex disproportionately affects BIPOC, LGBTQ folks, poor folks, houseless folks, and folks living with mental illness, these individuals are more likely to be unjustly shut out of our democracy due to state felony disenfranchisement laws. This is anti-democratic. This ostracizes communities that are already marginalized and shut out by our society. This directly supports the carceral state, which entrusts the institutions of the prison and the police to solve every social problem, focusing on incarceration and punishment rather than rehabilitation, while relying on repeat offenders and the school-to-prison pipeline to support carceral capitalism—the ability to "throw away" incarcerated individuals is the bedrock of capitalism, and one of the largest threats to true democracy.
► Remember: Organizations like the Brennan Center for Justice lead the national conversation around voting rights restoration, but you can get involved at the local level with organizations such as ACLU Pennsylvania & Reclaim Philadelphia. Both of these organizations address the larger implications of structural racism & Pennsylvania history alongside their efforts to restore voting rights to all Pennsylvanians and Philadelphians.
► Tip: To avoid mishaps and accidental voter purges, check your voter registration regularly. Text "VOTE" to 50409 to reach ResistBot & confirm your voter registration in under 5 minutes.
***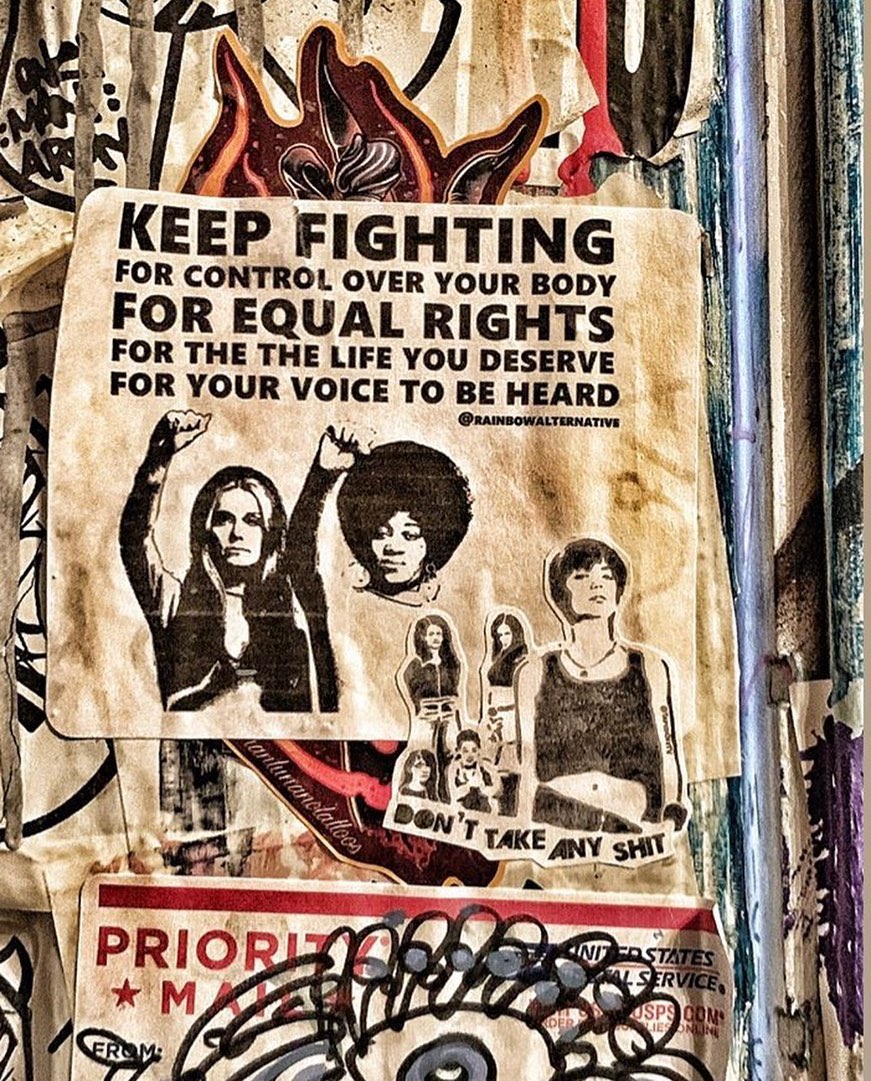 Wheatpaste and artwork by Taped Off TV (formerly Rainbow Alternative).
***
REDISTRICTING, GERRYMANDERING, & PRISON GERRYMANDERING
Our communities are separated into geographical territories known as districts, and these districts determine our representation at the state and federal level. This process originated in the colonial era, when districts were generally defined by town and county borders. As our populations, communities, and cities grew, district lines were not adequately or fairly adjusted, meaning citizens in suburban and rural areas had far more electoral power than those living in densely-populated, urban areas. For example, prior 1966, citizens from Pennsylvania's 15th District, located in Carbon, Monroe, Northampton, and Pike Counties, had nearly two times more representative power than those living in the 7th District, which was based solely in Delaware County (Kennedy, 2017).
Following a series of court cases in the mid-1960s, the Supreme Court held that under the Equal Protection Clause of the 14th Amendment, states were required to redistrict in order to provide "equal legislative representation for all citizens … regardless of where they reside" (Reynolds v. Sims, 377 U.S. 533, 1964). However, redistricting developed concurrently with the racial tensions of the Civil Rights Movement, and the process of redistricting has been historically led by white men, seeped in racism, racial bias, and partisan manipulation. Despite the passing of the federal Voting Rights Act of 1965, redistricting has been abused to dilute and silence the voices of BIPOC within our electoral system, including but not limited to "cracking" and "packing": "splintering minority populations into small pieces across several districts" and "pushing as many minority voters as possible into a few super-concentrated districts."
The most well-known form of redistricting manipulation is gerrymandering, which dates all the way back to 1812, and to no surprise—it's also racist! Gerrymandering refers to "the practice of drawing electoral district lines in favor of one political party, individual, or constituency over another," and as such, it is a tool of institutional racism & partisan oligarchic and plutocratic interests.
To this day, the most common and overlooked form of gerrymandering is prison gerrymandering, where disenfranchised, incarcerated voters are counted as residents of the rural legislative districts where they are incarcerated, instead of their home districts. According to a study by two Villanova University criminologists published in April 2019, if incarcerated individuals were counted based on their home addresses, Philadelphia would gain one, possibly even two, majority-minority state House districts. Summed up by the Philadelphia Inquirer, "Equal population doesn't mean equal number of voters, and in fact prisoners serving time for felony convictions cannot vote in Pennsylvania; they are silent blocs of nonvoters. Districts with prisons have fewer eligible voters than those without prisons. And that, in turn, means votes have different weights." Pennsylvania elections would look very different without prison gerrymandering—and until every vote is equal, every vote for a more just & progressive future is necessary and important.
► Redistricting in Pennsylvania [Information via Ballotopedia].
► This is the best explanation of gerrymandering you will ever see [Article and infographic via The Washington Post].
► Fair Vote, For A More Perfect Union. A national nonpartisan organization and champion of electoral reforms that give voters greater choice, a stronger voice, and a representative democracy that works for all Americans. Get involved by volunteering or donating.
► Fair Districts PA. A Pennsylvania movement for radical redistricting reform. Take action by supporting or donating.
► The Atlas of Redistricting, Pennsylvania: What should districts look like? [Interactive map via FiveThirtyEight].
► The Geeks Who Put a Stop to Pennsylvania's Partisan Gerrymandering [Article via Wired].
► Prison Policy Initiative. A national movement against prison gerrymandering & the prison industrial complex. You can help fight systemic racism within our electorate by taking action or donating.
► How 'prison gerrymandering' shifts political power from urban Pennsylvanians of color to white, rural ones [Article via The Philadelphia Inquirer].
► Remember: You can help by volunteering or donating to organizations like Fair Vote, Fair Districts PA, Prison Policy Initiative, and many more.
► Tip: You can find more information about your district & how it has changed over time via the Committee of Seventy. To find your district & information about who represents you, you can use Azavea's Elected Officials and Districts tool.
***
Artwork by Leroy Forney for Fair Districts PA.
***
THE ELECTORAL COLLEGE & THE IMPORTANCE OF PENNSYLVANIA IN 2020
Another hurdle between Americans and a fair, anti-racist, for-the-people, democratic society is the Electoral College. If you don't fully understand the Electoral College or its purpose, you are not alone. This multi-step system was designed to further funnel electoral power into the hands of "qualified" citizens, and these citizens are the ones who elect the President and Vice President through a method of "indirect popular election." Unlike most elections, the person who becomes president is not necessarily the candidate who receives the most votes on Election Day.
The Electoral College was implemented by the framers of the U.S. Constitution because they did not trust direct democracy & did not believe that voters would be capable of making informed decisions. Over two hundred years later, the survival of the Electoral College acts as a support beam for the racist, sexist, classist, ageist, and ableist infrastructure that the American government was founded on. But the Electoral College does not exist without objection or criticism—for example, in the 2016 election, Hillary Clinton won the popular vote by 2.9 million votes, yet lost in the Electoral College, and therefore lost the presidency. According to AP, this was the largest popular vote margin of any losing presidential candidate in U.S. history.
When we vote in a U.S. presidential election, our votes are actually counted towards a block of electors from the Electoral College. These electors, in turn, cast votes for the President and Vice President of the United States based on the votes of their constituency, although faithless and deviant electors are not uncommon. There is one elector for every member of the House of Representatives (435) and Senate (100), plus an additional three for the District of Columbia, leaving us with a total of 538 electors, meaning the winner needs a majority of 270 electoral votes. A state's number of electors is equal to that state's number of Congressional delegates (two Senators, plus the state's number of Representatives), and as discussed above, Congressional representation is constantly manipulated by redistricting abuse, gerrymandering, and prison gerrymandering, furthering the damage of institutional racism & discrimination against marginalized communities. A state's number of electors is also determined by its population, as reported every 10 years after the completion of the U.S. Census. In all but two states, the candidate that wins the popular vote in each state is awarded the entirety of that state's Electoral College votes.
According to FiveThirtyEight's presidential forecast, Pennsylvania is currently the single most important state of the 2020 election. Pennsylvania is a "battleground state," also known as a "swing state," meaning the state has shown split support for both Democratic and Republican candidates in recent election cycles. Due to Pennsylvania's political divide & high number of Electoral College votes (20), FiveThirtyEight's research shows that Pennsylvania has a 31% change of being the tipping-point state, further claiming that carrying Pennsylvania would give Donald Trump an 84% change of winning the presidency, verses a 96% chance for Joe Biden to win the presidency if he carries the state.
► The Electoral College, explained [via CNN].
► Does your vote count? The Electoral College explained [Video via TED-Ed].
► Electoral College Reform [via the Brennan Center for Justice].
► Faithless Electors [via FairVote].
► Why Pennsylvania Could Decide The 2020 Election [via FiveThirtyEight].
► Remember: Pennsylvania's representation in Congress & the Electoral College is based on population. If you haven't yet done so, remember to fill out the 2020 Census before the September 30th deadline. You can learn more about this year's Census, COVID-related extensions, and partisan interference via NPR.
► Tip: A candidate must earn at least 270 electoral votes to win the presidency. Since a large percentage of U.S. voters will be voting by mail in the 2020 election, news outlets will inevitably begin to forecast early election results. You can check the reliability of your news source by using The Media Bias Chart.
► Tip: When it comes to Election Night, The New York Times is a highly-ranked & reliable source for live updates, fact checking, and election predictions (according to The Media Bias Chart).
***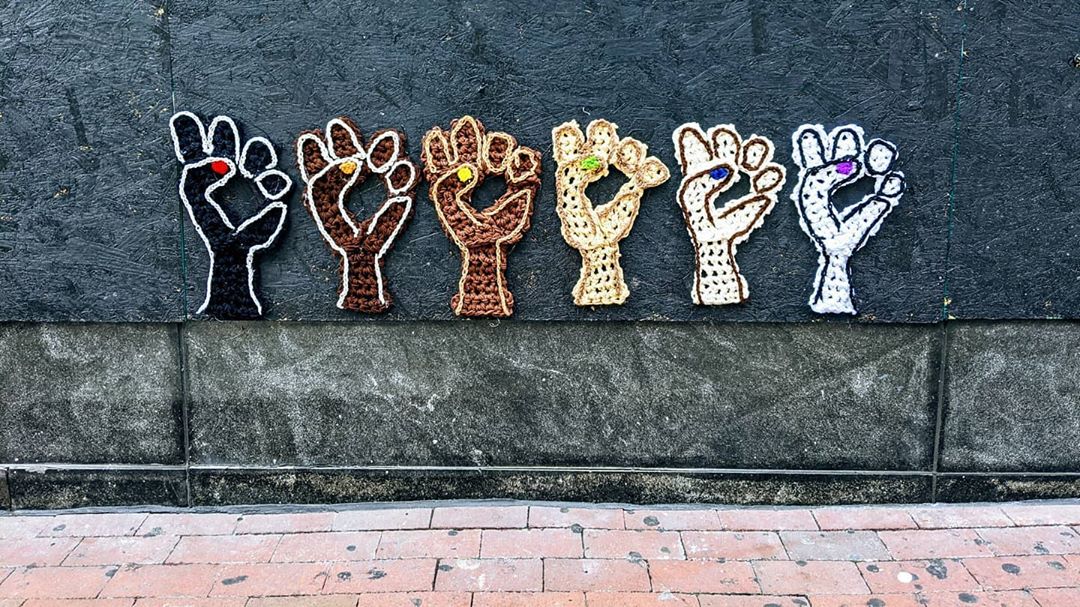 Yarn street art installation by Lace In The Moon. Located in Philadelphia & originally sold as prints to benefit Black Lives Matter Philly.
***
ACTIVISM & EDUCATION FOR A POST-COVID WORLD

Additional Political Resources
► The ABCs of Election Terms [Infographic via So You Want To Talk About].
► Getting Involved in Politics [Infographic via So You Want To Talk About].
► How to Easily Identify Misinformation and Propaganda [Infographic via shop.thoughtful].
► So You Want To Talk About: Fake News [Infographic via So You Want To Talk About].
► So You Want To Talk About: The United States Military Budget [Infographic via So You Want To Talk About].
► So You Want To Talk About: Progressive Foreign Policy [Infographic via So You Want To Talk About].
Local Activism, Volunteer Opportunities, and Community Care
► Reclaim Philadelphia [Philadelphia organization that aims to reclaim and restore political power back to the people. Get involved or donate].
► Black Lives Matter Philly [Philadelphia chapter for the Black Lives Matter movement. Get involved or donate].
► Juntos [A community-let, Lantix immigrant organization in South Philadelphia fighting for human rights as workers, parents, youth, and immigrants. Get involved or donate].
► Philly Needs Poll Workers [Call to Action & Virtual Meeting via Fairmount Votes].
► Artists Against Abernathy [Philadelphia Collective calling for a strategic re-evaluation of the hiring process for Philadelphia's Managing Director].
► The Fridge on 52nd [Local Philly coordinators seeking food justice in our communities. Donate here].
Virtual Activism
► Virtual Protesting 101 [Infographic via sa.liine].
► Art + Action [Resources & Discord Server from Rain Demetri].
► 40 Ways You Can Help Right Now [Infographic via Kimi Tallant].
► How Creatives Can Help If They Can't Protest [Infographic via Stephanie Twyford Baldwin].
Anti-Racism & Educational Resources
► How Black Lives Matter became a movement [Infographic by The Slacktivists].
► Resources for Supporting Black communities in Philadelphia [Infographic by aj quon].
► Black activists to follow right now [Infographic by biancaxgarcia].
► Black Lives Matter: Resources for Active Anti-Racism [Blog post via Tattooed Mom].
► Having Black friends doesn't mean you aren't racist [Infographic by WE THE URBAN].
► What does not wearing a mask have to do with racism? [Infographic by virginia calderón]
► How to (Actually) Listen and Learn [Infographic via Syrup]
► I recently saw a tweet that went something like this: "Reading about anti-racism doesn't make you anti-racist" [Comic via Brian Herrick].
► Talking to your racist family members [Infographic via So You Want To Talk About].
► On Reparations: How much should I give? [Infographic via ATX Reparations/Aid].
► 5 Ways to Check-In on Your Anti-Racism Work (AKA How to make sure you're keeping up the work!) [Infographic via Syrup]
Defunding, Dismantling, and Divesting: Social Justice Tools
► What to Say When People Deny the Reality of What's Going On Right Now [Infographic via dwardslife].
► What to Say When People Deny the Reality of What's Going On Right Now, Part 2 [Infographic via dwardslife].
► Protest Do's for Me & You / Protest Don'ts for White Folks [Infographic via corinne.creating].
► What are we protesting for? [Infographic via The Slacktivists]
► The history of Black protest [Infographic via The Slacktivists].
► What does it mean to abolish the police? [Infographic via The Slacktivists]
► "Abolish the police? But how would we stay safe?" [Infographic via wretched_flowers_]
► Alexandria Ocasio-Cortez Speaks Out on Police Militarization [Video via NowThis].
► On Police Propoganda: A Thread [Infographic via The Slacktivists].
► Abolish ICE: A Visual Breakdown [Infographic via The Slacktivists].
► Prison Abolition: A Breakdown [Infographic via The Slacktivists].
► HOW THE F*CK IS PRISON LABOR LEGAL? [Infographic by biancaxgarcia].
► So You Want To Talk About: Inmate Firefighters in California [Infographic via So You Want To Talk About].
► How to financially boycott prison labor with Black owned business, Part 1 [Infographic via shop.thoughtful].
► How to financially boycott prison labor with Black owned business, Part 2 [Infographic via shop.thoughtful].
► You've donated, you've protested, you've self educated… Now what? [Infographic via Syrup]
► Ideas for a Social Justice Framework in ALL SUBJECTS, Part 1 [Infographic via Educators for Justice].
► Ideas for a Social Justice Framework in ALL SUBJECTS, Part 2 [Infographic via Educators for Justice].
Self Care & Resource Overload
► A Few Tips (Help! Ah! My Brain!) For Dealing with Resource Overload (So Many Posts! So Much to Learn!) [Infographic via Vanessa Newman].
► How To Care For Yourself, To Help You Hold Space for Others (Self-care, so you can be an effective and long-term ally to the Black Lives Matter movement) [Infographic via Syrup].
► This is a Movement, Not a Moment [Infographic via Black Lives Matter Chicago].
► A Guide to Staying Informed w/o Becoming Overwhelmed and Depressed [Infographic via Syrup].
& MORE TO COME SOON!
***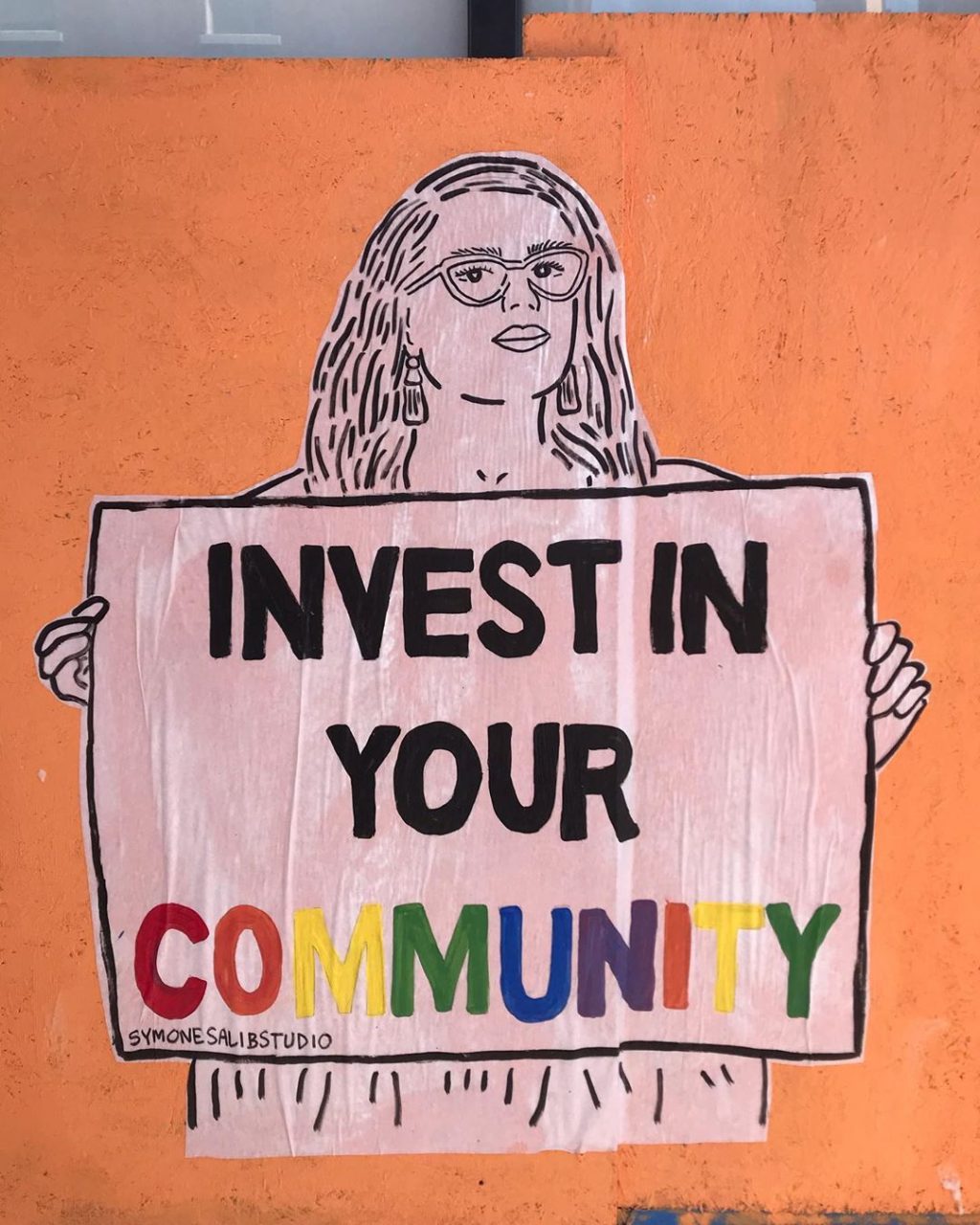 Artwork by Symone Salib.
***
Why do we vote?
Because the voices of Black & Brown folks, LGBTQ folks, poor folks, incarcerated folks, houseless folks, elderly folks, dis/abled folks, and women have been silenced for far too long.
Because every year, millions of voters are suppressed, denied equal rights, and disenfranchised.
Because, as Audre Lorde said, "Revolution is not a one time event."
This is Why We Vote.
***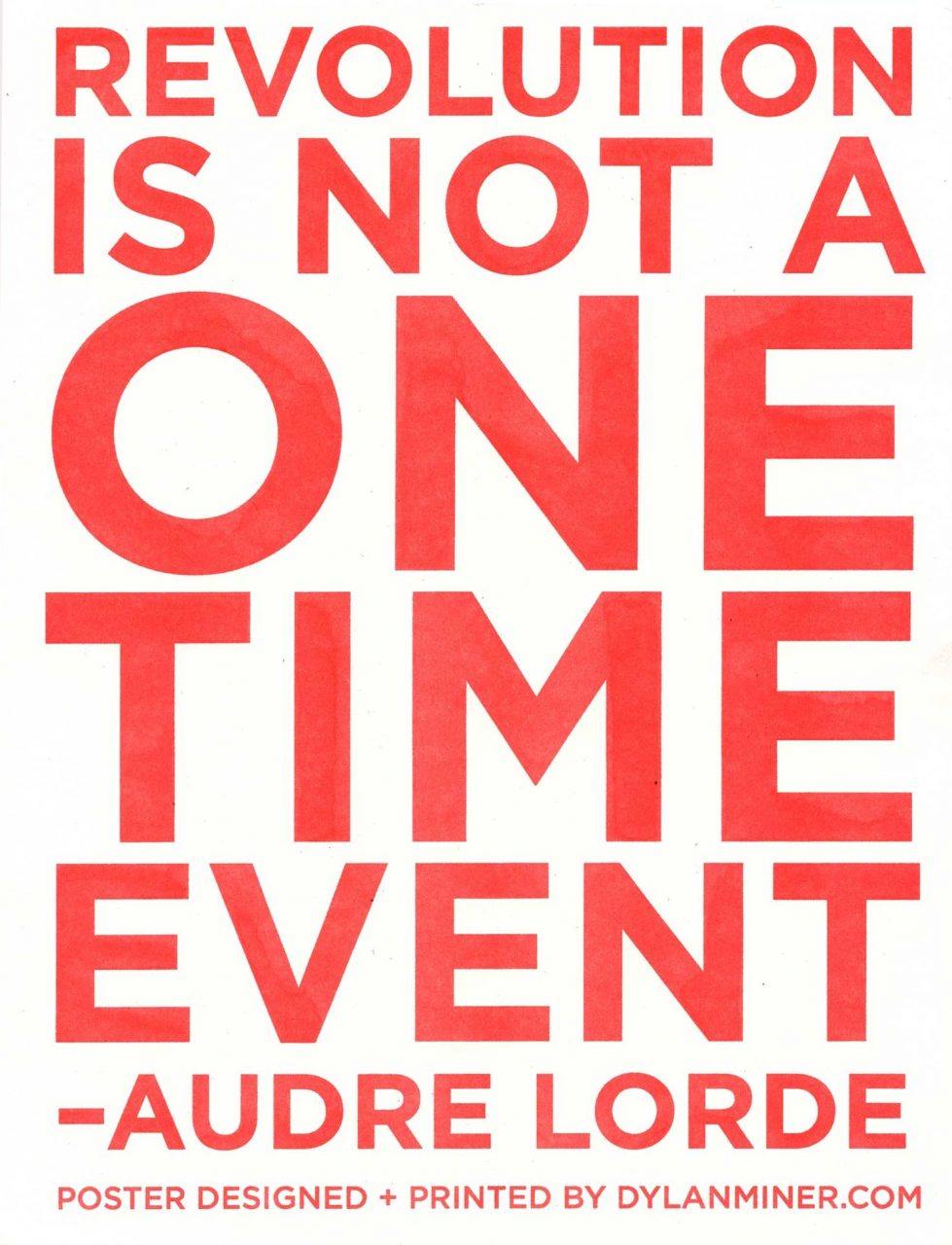 Poster designed + printed by Dylan A.T. Miner. Available for purchase via Justseeds.
***
Ceramic VOTE pin art by Hope Hummingbird.
*Note: All deadlines listed are specific to Pennsylvania. If you vote in a different state, your deadlines might be different. Check with your local voter registration service to find out more information.