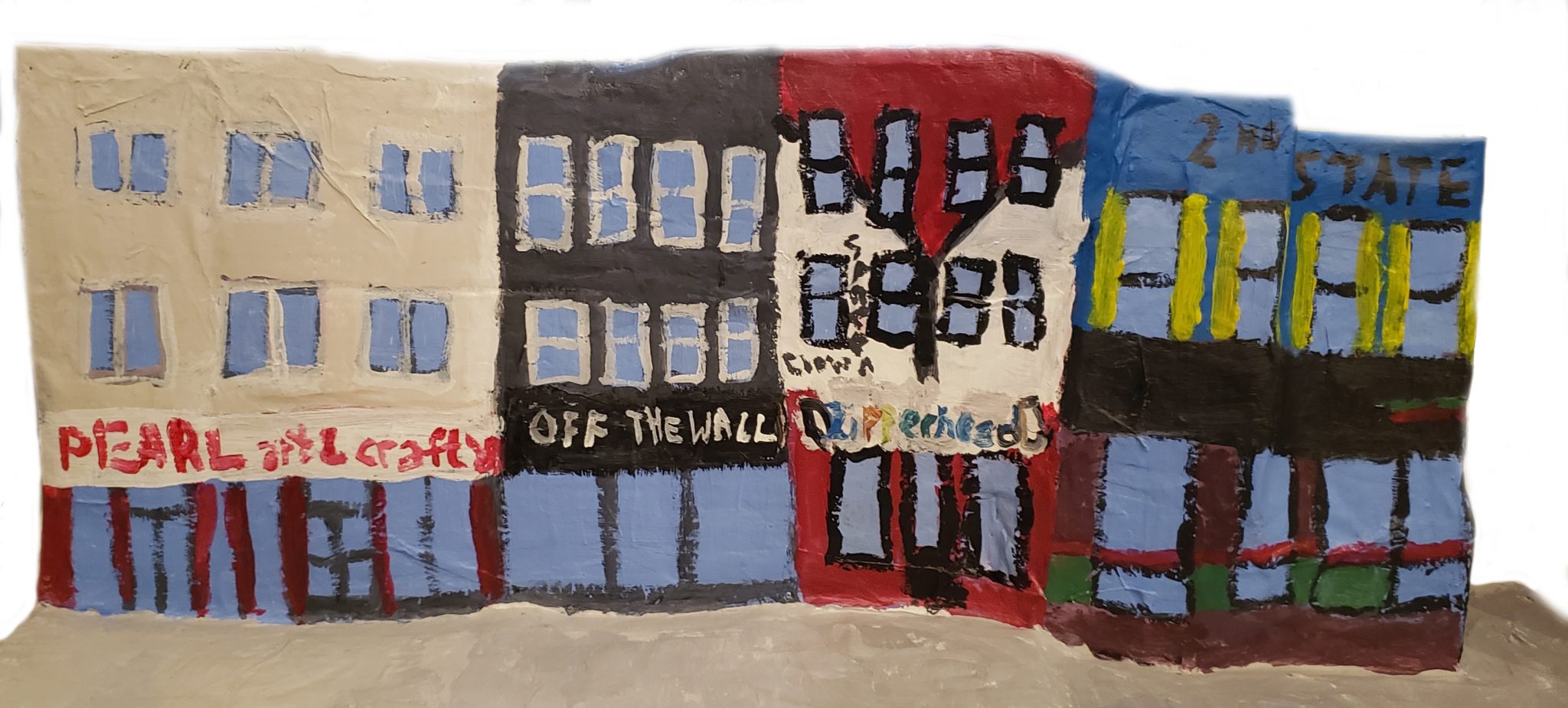 Join us for an after-party & t-shirt sale on Sunday, November 3rd, celebrating the opening of Phoebe Murer's solo mixed-media exhibition South Street from the 90's! Tattooed Mom will also have a limited exhibition of Phoebe's work in our downstairs dining room—all items for sale!
PLUS: Color your very own South Street with some exclusive coloring pages made by Phoebe!
A statement from the artist:
"I make art to revive my happy and stressful memories and to express myself using sensory materials such as screen printing, bright colors etc. My art has many styles and themes for a variety of audiences. I make this particular work for people who grew up in the 90's and live in or been to Philadelphia.
I remember going there as a teen in the 90's and renting videos at TLA video, and shopping at Tower Records and Pearl Paint. My friends and I loved to explore the place and check out the video game, book, music and punk rock stores. I loved to buy Jewelry and Manic Panic at Zipperhead and Soho. It was so convenient to buy art supplies because Pearl was a few blocks from my house. My friend always wanted to to Book Trader to pet their cat and check out the CDs. South Street of the 90's revives my happiest South Street Memories. The materials I use to make the armatures of the Diarrahamas are old Amazon boxes, receipts and other recycled materials. My process is about recycling South Street to preserve the good memories. Hopefully people will see my show and consider bringing back some of the old stores to South Street
My work is about how Gentrification can destroy the personality of the neighborhood. For example, I feel a lot of the old stores from the 90's have closed down due to raising rent and people have been struggling to keep businesses on South Street." — Phoebe Murer
The exhibition opens Sunday, November 3rd, with an opening reception at Da Vinci Art Alliance from 1-3pm. The exhibition runs November 3rd through November 24th.
Enjoy this event with FREE Sunday Arts & Crafts
plus TMOM's tasty food & drink menu!