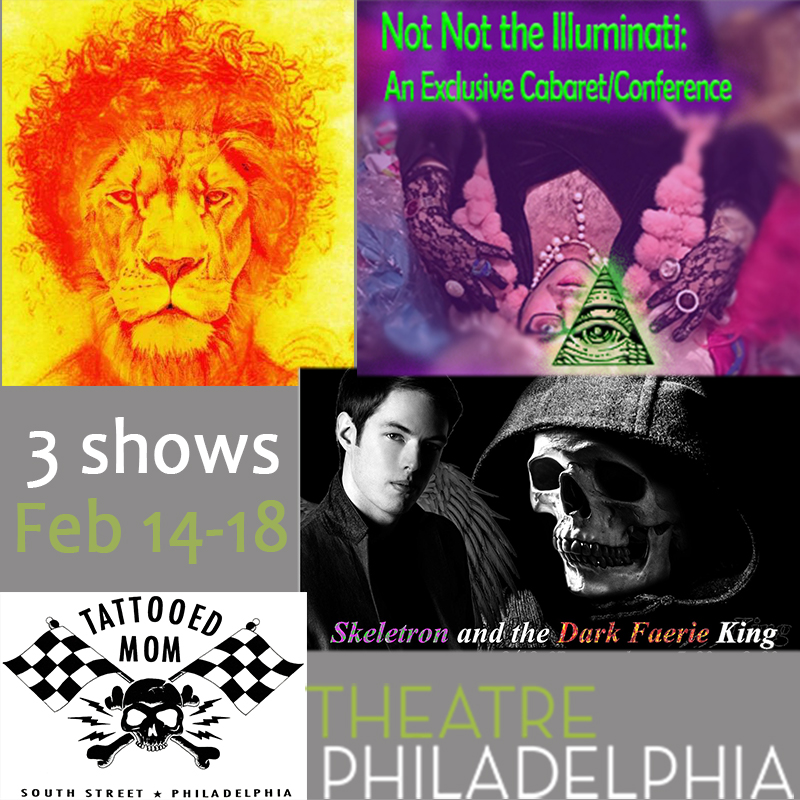 It's time for Philadelphia Theatre Week, and we've got 3 great shows performing at Tattooed Mom during this 10-day celebration of the vibrant Philly theatre community!
Wed, Feb 14th, 8pm: Drunk Lion follows an alcoholic Lion who spends his days drinking into oblivion in a cantina, until he meets Chris, a young foreigner learning how to speak Spanish. The unlikely pair forge an intoxicated bond over life, love, and alcohol. Tickets $15
Thurs, Feb 15th, 7pm: Not Not the Illuminati: An Exclusive Cabaret/Conference is an exclusive party/conference/cabaret/performance/funeral in honor of the death/retirement/ascension/rebirth of Sammi Starr: Performer to the Illuminati. Be prepared for a highly informative night of music, laughs, & powerpoint presentations! Pay-what-you-will admission.
Sun, Feb 18th, 7:30 & 9pm:  Skeletron and the Dark Faerie King are two evil doers that cannot seem to agree on how to evil. Watch as these two villains struggle to become the ultimate antagonist protagonist. Pay-what-you-will admission.