Tire Fire: November readings with Konik, Junot, Smith, & Mathieu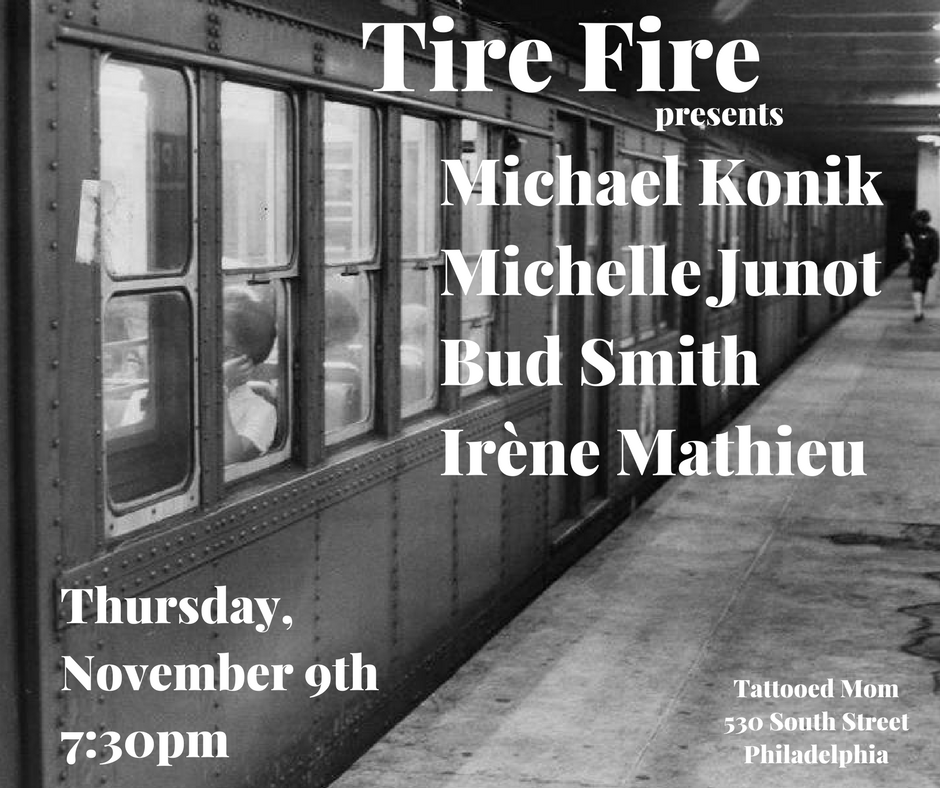 Tire Fire presents an evening of literature with Michael Konik, Michelle Junot, Bud Smith, & Irène Mathieu.  It's also the Philly book release for Michael Konik's YEAR 14, from Barrelhouse Books.
All donations collected will go to the CHOP Adolescent Initiative, who have been a leader in the evaluation, prevention, & care of adolescents living with HIV and prevention to high-risk youth. The clinic provides comprehensive, interdisciplinary primary and HIV specialty care since 1993.
Doors at 7, readings start around 8
FREE admission!
50¢ pierogi from until 10pm
Half off all drafts 5-7 & 10-11pm

MICHAEL KONIK has published several books, most recently The Termite Squad, has recorded and produced jazz albums, performed improvisational comedy at Second City Los Angeles, appeared with his dog Ella on a short-lived Animal Planet series, provided commentary for numerous FoxSports poker broadcasts, and hosted a weekly jazz show in Hollywood with his Tasty Band.
MICHELLE JUNOT is the author of Notes From My Phone* (Mason Jar Press, 2016) as well as and the floor was always lava. She lives and writes in Baltimore, MD.
BUD SMITH is the author of Work, (Civil Coping Mechanisms) and Dust Bunny City (Disorder Press) among others. He lives in New Jersey with his very cool wife.
IRÈNE MATHIEU is a pediatrician, writer, and public health researcher. She is the 2016 winner of the Bob Kaufman Book Prize and Yemassee Journal's Poetry Prize, and author of the book orogeny (Trembling Pillow Press, 2017) and poetry chapbook the galaxy of origins (dancing girl press & studio, 2014). Irène has received fellowships from the Fulbright Program and the Callaloo Creative Writing Workshop. She is a poetry book reviewer for Muzzle Magazine, an editor for the Journal of General Internal Medicine's humanities section, and a contributing author on the Global Health Hub blog. Irène holds a BA in International Relations from the College of William & Mary and a MD from Vanderbilt University. She is on the speakers' bureau for Jack Jones Literary Arts.