Mischief Night Pop-Up: A Halloween Art Show & Horror House
☓     TURN BACK    ☓
☓          FREE IF YOU DARE          ☓
Plenty of witches have walked through fire & made it out alive. The walls always try to speak—but who can trust what they say? Evil always disguises itself, but red hats make the perfect kindling. This October, for one night only, Mischief Night is wreaking havoc on Tattooed Mom. Are you afraid?
☓  Mischief Night Pop-Up: A Halloween Art Show & Horror House  ☓
FREE // 21+ // UPSTAIRS
∴ Chilling artwork & shocking installations 
∴ Free photobooth experiences that will terrorize and torment you ∴ An irresistible cocktail concoction 
∴
Tattooed Mom
's full food & drink menu
 ∴ Cobwebs, spider legs, holy water, haunted dolls, pumpkin carvings, and much more! ∴

Artists:
whodoyouthink215
Low Level
Marisa.VR
Taped Off TV
Night Own Designs
Wantful Things
Spooky Squash (Mike Levy)
& Photobooth Experiences by James Dream.
☓          The Delia Deetz          ☓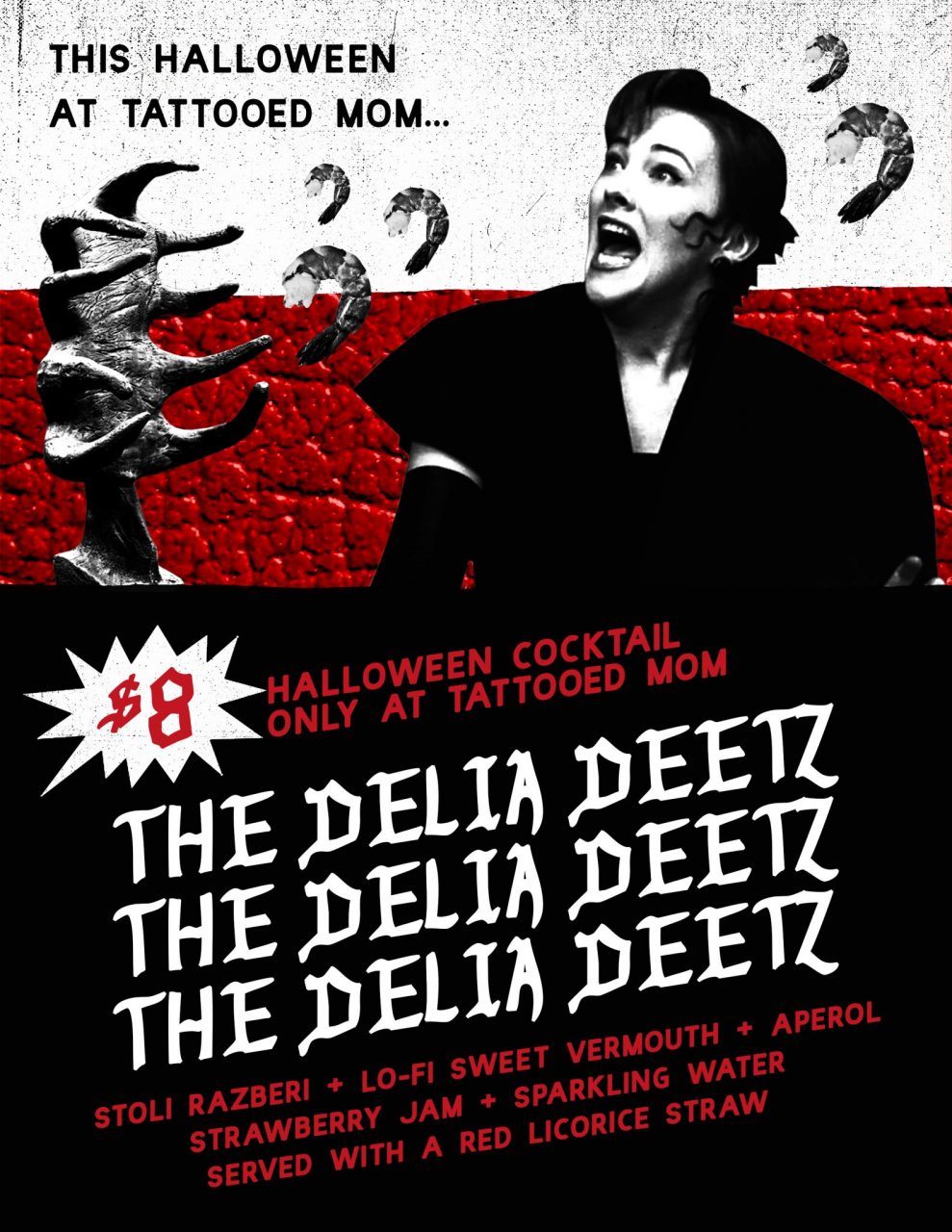 Stoli Razberi + Lo-Fi Sweet Vermouth + Aperol + Strawberry Jam + Sparkling Water + served with a red licorice straw. Available Wednesday, 10/29 through Sunday, 11/3.
**Accessibility Note: The 2nd floor of Tattooed Mom is only accessible via a set of stairs, which may be manageable for those who use mobility aids. No strobe lights will be used during this event.**
Enjoy this event with our Burger Wednesday specials:
$4 Mom's Beef Burgers & Mom's Vegan Burgers,
$2 Narragansett Lager Tall Boys,
a special Burger of the Month,
& half price drafts 5-7pm and 10-11pm
Join the Facebook Event and invite the whole coven.