You Can't Kill a Poet: Autumnal Equinox Edition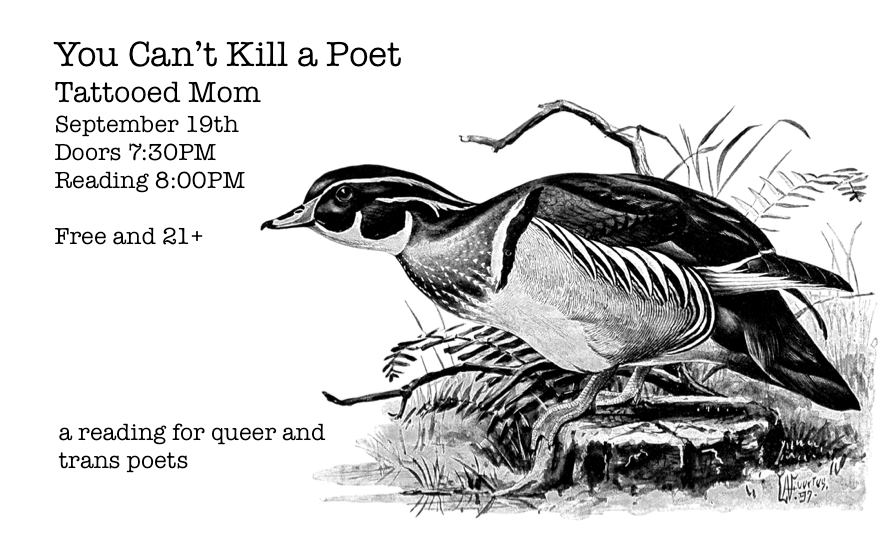 You Can't Kill a Poet is back from summer hiatus to bring you a line-up of totally badass queer and trans poets. Let's celebrate being back in the swing of things & experience another evening of queer joy and authentic writing together at TMOMs!
Doors 7:30pm // Reading 8pm
Free & 21+
Madelynn Nieves
Tie
amber auslander
Nora Hikari Shao
June Gehringer
K. Johnson
Boston Gordon
Enjoy this event with our Pierogi Thursday specials:
50¢ vegan potato & onion pierogi from noon-10pm
& half price drafts 5-7pm and 10-11pm
Join the Facebook Event and invite all your pals!

Reader Bios:
Madelynn Nieves grew up in Camden where she learned at a young age that words were the best way to express herself. Nothing is off limits in her writing, from growing up queer in a very religious and traditional Spanish family to making peace with her mental illness to her battles with substance abuse, every heartache and triumph makes it onto the page. For as long as anyone that knows her can remember she has been telling stories and writing poems about her life, the world and her place in it.
Tie is a radical educator who teaches in West Philly, and is committed to building community there. Tie has been writing poetry since grade school, and views it as a practice of survival, journaling, and maintenance.
amber auslander is a non-binary poet, clown rights advocate, and unfortunate homestuck enthusiast. you might want to follow them on twitter or instagram. no pressure though.
norabot is a trans lesbian poet whose gender is "robot. goth. dyke. christian." in that order. norabot is here to read sad poetry and chew bubblegum and she's all out of gum. norabot is available for inquiries regarding her writing or her status as goth gamer gf.
June Gehringer is the author of "I Don't Write About Race" (CCM 2018), an Entropy Best Book of 2018.
K. Johnson is a long time resident of Philly. A poet since a young age, they're striving to create a dialogue but also send visuals to those who will listen. Currently running around as Mr. Philly Drag King 2019 and reading poetry aloud to all those who have ever worn their heart on their sleeve.
Boston Gordon is a poet and writer living in Philadelphia, Pennsylvania. They run the You Can't Kill A Poet reading series – which highlights queer and trans identified writers in Philadelphia.. Their work can be found in places such as Apiary, Bedfellows, Tinderbox, PRISM International, and Guernica.
Details
Date:

September 19, 2019

Time:

7:30 pm - 10:30 pm

Event Category:

Event Tags:
Event Navigation