Artists Against Children In Cages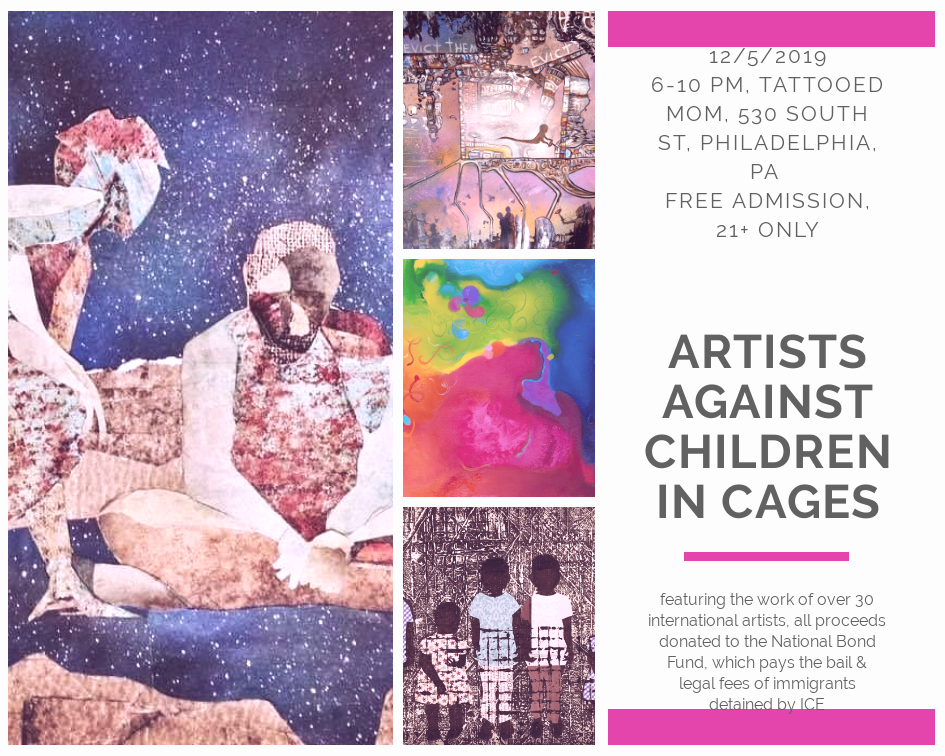 On Thursday, December 5th, from 6-10 pm, the diverse work of over twenty international artists will be showcased for sale at Tattooed Mom in an event called "Artists Against Children In Cages." All proceeds will be donated to the National Bond Fund, an organization which pays the legal fees and bail of immigrants detained by ICE. More information about the organization can be found on their website.
FREE // UPSTAIRS // 21+
There will be abstract art, protest art, figurative art, as well as hand painted skateboard decks, organic lotions and beauty products from a local artisans, original paintings, acrylic pour paintings, affordable yet unique prints from artists with styles ranging from surrealistic, dark cartoons to more traditional fine art, as well as a multimedia sculpture that features an animal skull and African porcupine quills. There will be music and holiday cookies, and this event is ideal to find hand made gifts for the holidays, while knowing all funds are going to a good cause!  There is no greater gift you can give another human being who is suffering this holiday season within the confines of ICE detention centers than a contribution towards their freedom and possible asylum.
Artists Include:
Susan Curry
Annette Leeder
Linda Fry
Issac Monteleone
Carole Goodwin
Steve Judges
Aaron Lynn
Lakota F. Meyer
Reda Rackley
Carole Floyd Coleman
Bradley Petrovich
Michael Kelly
Michelle Thomas
Erin Burley
James Neville
Su Knoll Horty
Chris Sheerin
Grace Schauer
Caridad Cisneros
Enjoy this event with our Pierogi Thursday specials:
50¢ vegan potato & onion pierogi from noon-10pm
& half price drafts 5-7pm and 10-11pm
Join the Facebook Event and invite all your pals!