Patchwork Presents: NSFW 2 • A Group Art Show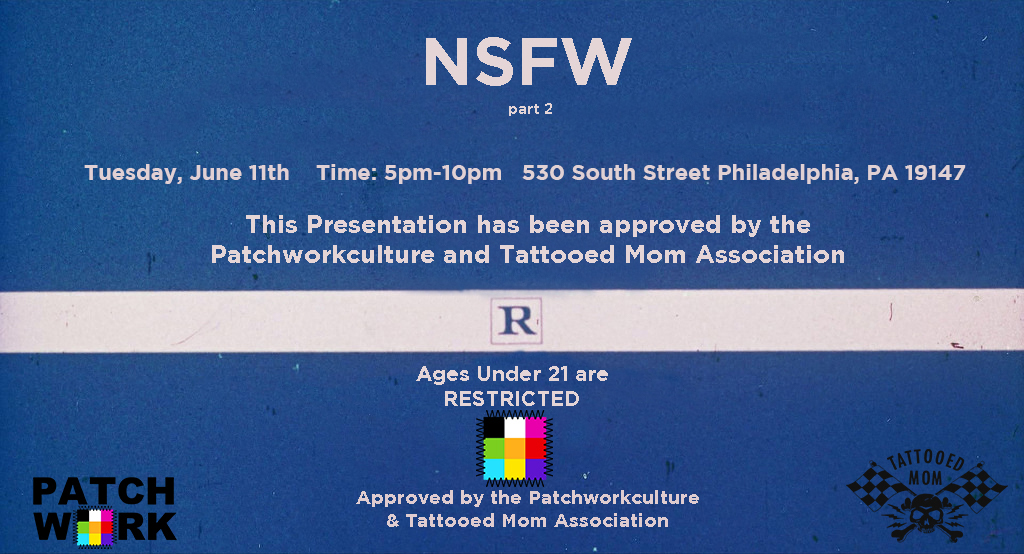 ** ADULTS ONLY ** MUST BE 21 OR OLDER **
Patchworkculture is a Philadelphia networking platform that curates events for local & urban artists. Patchwork acts as advocates for the arts and has united in passion to carry out the mission to promote artists of all genres and disciplines – from musicians & graphic artists to fashion designers & sculptors.
This summer, Patchworkculture is back at Tattooed Mom for their second NSFW event! Patchworkculture caters to all realms of art and aims to always abide by that. The artists featured for this event are of excellent talent and creativity, who push the boundaries of art and creativity. NSFW will create an atmosphere that may or may not be safe for work (unless you work here) but will effortlessly generate an amazing time with stimulating and sexual creations. Come drink and enjoy the Patchworkculture & Tattooed Mom's atmosphere!
FREE // 21+ // UPSTAIRS
Artists include:
Marissa
Jacque
Sam
Charles
Angelo
Salomé
Neha
Annabelle
& Sai doing custom speed paintings!
Enjoy this event with our Taco Tuesday specials:
$1 Tacos
$2.50 Tecate
a special Taco of the Month,
& half price drafts 5-7pm and 10-11pm
Join the Facebook Event and invite all your 21+ pals!