Cirque de Freak: art exhibition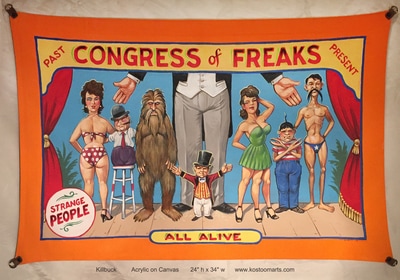 Conjoined twins, bearded ladies, pinheads, tall men, and swallowing swordsmen….human marvels whose existence defied explanation. Celebrate the lost art of the freak show with a pop-up art exhibition sponsored by ABD Photography.
Featured artists:
Yona Yurwit
Noelle Haire
Adrianna Wallace
Andrea Brooke
Kelly Mcandrew
TC Gqrdstein
Allison Sharpe
Samantha Blankley
Kimberlee Traub
Shelly Georgopulos
Laura Orfanelli
Bill Ross
-Face and body painting by Joey Taney
Half off drafts from 5-7pm & 10-11pm!